LOS ANGELES — From DJ Snoopadelic dropping the needle on an uncensored record to the skills competition–winning Atlantic Division chose the much-feared Metropolitan as its Round 1 opponent for Sunday's all-star game, Saturday's event was filled with fun times and bold moves.
Here are nine memorable moments from the star-studded showcase, in which a little kid and a lightning-quick 20-year-old stole the show.
Surprise! McDavid is the NHL's fastest skater.
Connor McDavid may be the only person on the planet who can make Nathan MacKinnon appear slow.
"I'm pretty fast, but I'm not Connor fast, that's for sure," MacKinnon said before the start gun.
The Pacific captain lapped the rink in 13.02 seconds, leaving the Avalanche forward in his dust while posting the best time of all contestants.
Since his heat was last, McDavid had little time to rest before a solo attempt to break Dylan Larkin's fastest-lap record, set last year in Nashville.
The Oiler came up a fraction short, conceding he was "a little winded from the lap before."
What a turtle.
McDavid got robbed of a running start, like Larkin had.
McDavid said he was "definitely aware" Larkin had a running start (from the blue line) in 2016 and was hoping to break the record, noting that he did shave 0.2 seconds off his lap during the Oilers' fastest skater contest.
"I wanted to go a little farther back to get a running start," said McDavid, who was instructed to begin his lap between the red line and a marker a couple feet back.
"I'm not sure who decides it or if it's just one guy who goes out there and says, 'That's good enough' and draws it right there. I'm not sure how scientific it gets.
"Maybe one day I'll beat Larkin."
In the team event, the Metropolitan is too skilled for you.
The most loaded division in hockey — which got even more star-studded Saturday, adding Wayne Gretzky as its substitute head coach for the absent John Tortorella — jumped to an early lead when it completed the Skills Challenge Relay in the fastest time (1:21.7).
While Atlantic dangler extraordinaire Auston Matthews suffered some yips in the puck-handling portion, Sidney Crosby aced his spin through the pylons, helping the Metro to a decisive victory.
"A little nerve-wracking to begin with," Matthews admitted. "It's tough going into those kind of cold, not really warmed up, but it was a blast."
The newest skills contest is super hard and confusing… but rewarding.
Trying to hit the corners of the net from the blue line, centre ice, far blue line and far goal-line looks impossibly difficult, so it was no surprise the new mini game led to plenty of misses.
"A little hole? The full ice?" Seth Jones questioned. "Oh, boy. That could take a while."
No wonder Ryan Kesler didn't even bother and instead gave his far-blue-line opportunity to a substitute: his six-year-old son, Ryker. Cuteness.
Check out the rules:
Still, Brent Burns did swish a three-pointer in the top left corner from centre ice.
And Coyotes goaltender Mike Smith made the impossible possible, nailing a 20-point shot five-hole from 180 feet away. First attempt.
Three seasons ago, Smith scored in an actual game against the Red Wings.
"There's actually less pressure in a game than there was here tonight," Smith said.
Crosby is not ready to pass any torch.
Maybe the reason Crosby attends so few all-star weekends is because the skills are too easy for him.
After McDavid set the bar by completing the four-corner Shooting Accuracy challenge in a brisk 15.64 seconds, Matthews improved on the older first-overall pick's time, going 4-for-5 in 12.28.
Crosby chirped the teenager.
"He was telling me before that he sawed my stick or something because he knew we were going head-to-head in it," Matthews said. "He said he was messing with my gear so that's probably why my first one was bad."
Earlier in the day, McDavid reminded us that Crosby is not only the world's best player; it's clear the Penguin will be for years to come. He bristled at the mention of this weekend as a passing of the torch.
Sure enough, Sid also went 4-for-5, needing just 10.73 seconds to beat the young Maple Leaf.
"He made me look bad there. I was feeling really good, too," Matthews said. "Four out of five, not bad. Great passing from Erik [Karlsson] and Frans [Nielsen], and then he goes four for five in, like, three seconds earlier. I guess that's the reason why he's got 26 goals this year."
The pressure got to Patrik Laine in Shooting Accuracy.
We asked Central sniper Patrik Laine about the event earlier in the day.
"I don't have to practise that. I've done that once, and I'll just try to improve my time," he said, matter of fact. Laine went a perfect 4-for-4 when the Jets held the contest.
"There's some more people watching," Laine foreshadowed, "so it might be a little more pressure."
The kid struggled a bit.
"The first challenge wasn't too good for me, so I tried to make up for it in the hardest shot, and that was really good," Laine said.
Marchand was one of a couple of last-minute pullouts.
Cam Atkinson ran into Brad Marchand, his scheduled fastest-skater opponent, in the players' hotel.
"You ready to rock 'n' roll for this?" Atkinson said.
No. No, Marchand was not ready to rock 'n' roll.
"He pulled the chute. He knew I was going to beat him so he didn't want to embarrass himself," Atkinson joked.
"I think he might have a groin or hip or something. Just precautionary."
Curiously, P.K. Subban also pulled himself out of the Hardest Shot contest.
The captain said it was "a coach's decision," meaning his own.
"There's a lot of standing around," Subban said, "so I just didn't want to do it."
Shea Weber is the master of his own domain.
As has become his routine, the Montreal Canadiens' "Man Mountain" walked away with the Hardest Shot.
His 122-flex stick blasted the puck 102.8 m.p.h., and Weber claimed his third straight victory in the event.
Laine was the only other player to hit triple digits.
"Webbs, he kinda disappointed me," Drew Doughty said. "I thought he was going to break the record [Zdeno Chara's 108.8 m.p.h.]."
How nasty is Weber's blast? Check out this list of victims (via reddit):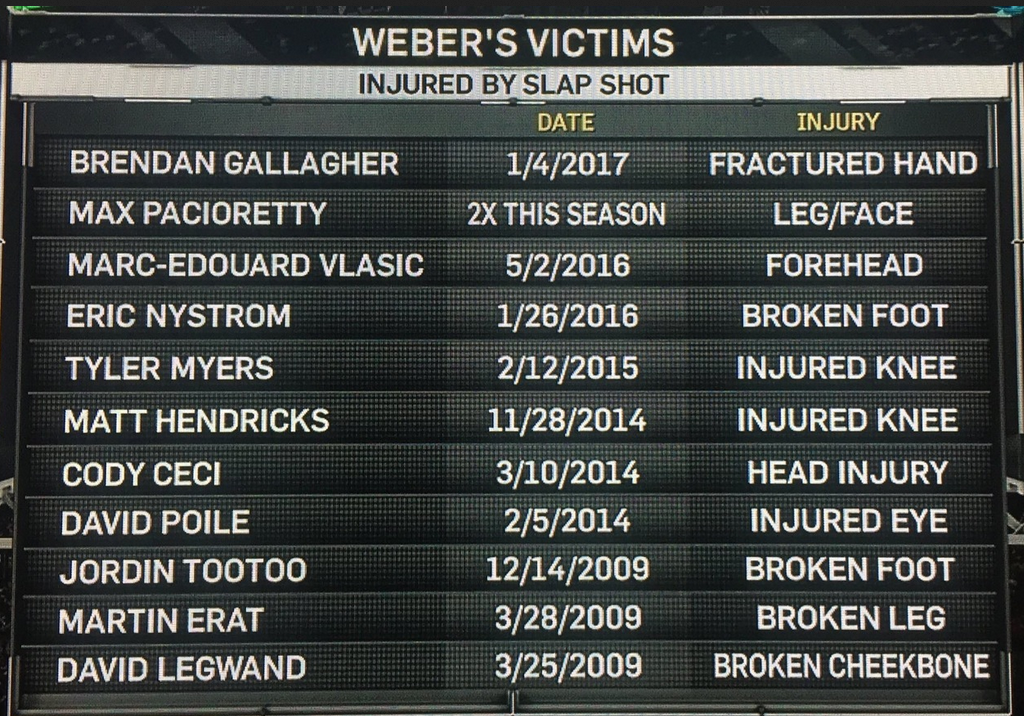 Carey Price's struggles hit new low versus Mini Kesler.
Little Ryker Kesler made his second cameo of the night in the NHL Shootout, doubling down on the adorable.
The kid beat Price, one of his favourite players, five-hole on a shot the Vezina winner definitely should've had.
"He watched enough YouTube clips, he knew [Price was weak between the legs]," the elder Kesler said. "I asked if he was nervous. He said, 'No, I got this.' "
Dad proudly filmed the goal — and the subsequent high fives — on his smartphone.
"In the intermission, he was like, 'Dad, this is the best day of my life.' Then he goes out and scores," Kesler said, holding court with his son in the dressing room.
"He got a lot more cheers than I did, that's for sure. I got a lot of boos. The fans switched. Now they like Kesler. The little Kesler, though. They still don't like me."
[relatedlinks]