NEW YORK/TORONTO – Today, the NHL announced that registration for the 2018 NHL Gaming World Championship, an esports bracket-style tournament, is now open. Players can register here.
The 2018 NHL Gaming World Championship is a venture with NHL global broadcast partners NBC Sports, Sportsnet and Viasat. The content will be available on NHL digital platforms, the digital platforms of our broadcast partners, and on NHL's Twitch channel. FACEIT, the Official Tournament Platform for the competition, will host and administer the tournament where players can follow the bracket.
"The NHL has one of the youngest and most digitally-engaged fan bases in all of sports, many of whom are EA SPORTS NHL® 18 players," said Keith Wachtel, NHL executive vice president and chief revenue officer. "The 2018 NHL Gaming World Championship tournament provides us with an opportunity to evaluate new and innovative fan engagement opportunities in the esports sector. Along with our global broadcasters and marketing partners, we are committed to investing in the next generation of NHL fans, and introducing the gaming community to hockey in a unique and exciting way."
Over four consecutive weekends starting March 24, registered players will showcase their skills in the single-elimination online, Qualifier tournaments. The Qualifiers will be open to players residing in Canada, the European Union and the United States.
Players may register and compete in each four online Qualifiers scheduled for their region. However, players who already have secured a spot in the Regional Finals may not participate in any further Qualifiers for any region.
All games will be played in standard competitive 'Online Versus 1-vs-1 Mode' within NHL18. For each region, two Qualifiers will be played on Xbox® One and two Qualifiers will be played on PlayStation4. Each Qualifier will produce a winner and runner-up who will each advance to the applicable Regional Final. The PS4 console will be the platform for the Regional Finals and World Final.
At the conclusion of all of the Qualifiers, eight players from each region will travel to a Regional Final, comprised of a double-elimination, in-person tournament. The European Finalists will compete at Viasat studios in Stockholm, Sweden, on Sunday, May 6. Canadian Regional Finalists will compete in Toronto, Ont., on Friday, May 11. U.S. Regional Finalists will compete at NBC Studios in Stamford, Conn., on Sunday, May 20.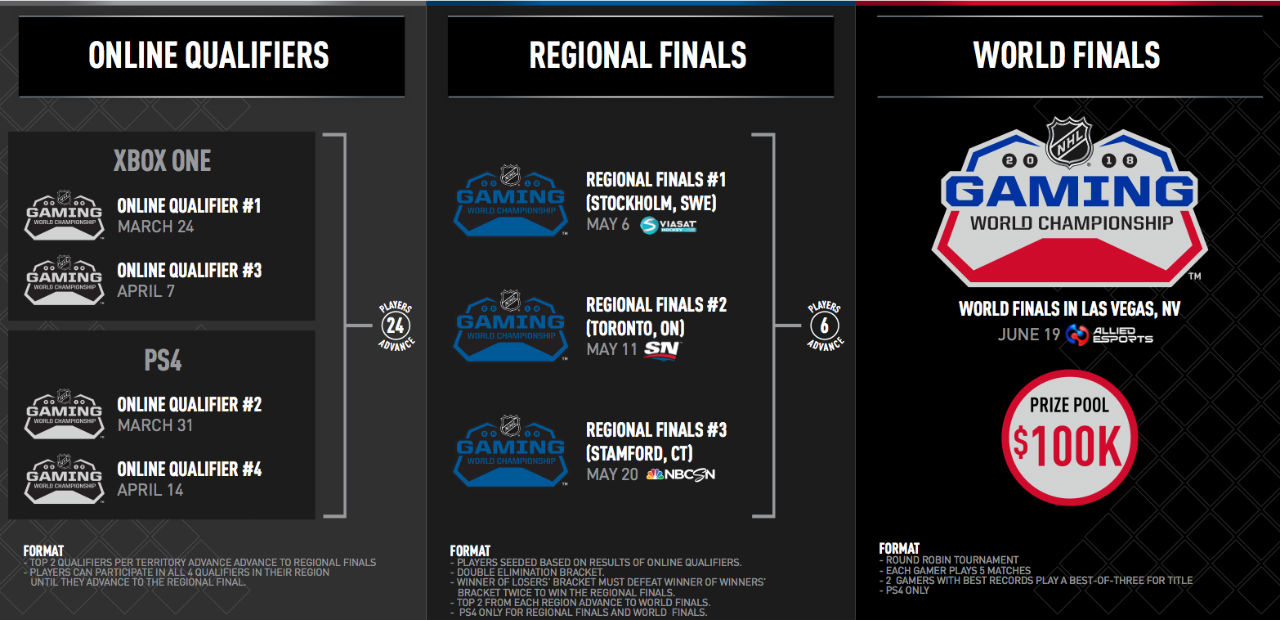 The winner and runner-up from each Regional Final will then advance to Las Vegas for the 2018 NHL Gaming Final – a round-robin style tournament – hosted at the new Esports Arena Las Vegas at Luxor Hotel and Casino on Tuesday, June 19. The top two gamers will emerge from the round robin to face-off in a best-of-three final round to determine the 2018 NHL Gaming World Champion. The winner will be presented with the Championship Trophy, receive a cash prize and take part in the 2018 NHL Awards.
"The NHL gaming community is passionate for hockey — whether it's at the rink, in the street, or with a controller in our hands, we're always looking to play the game we love," said Andrew Telfer, an avid EA SPORTS NHL 18 gamer from Columbus, Ohio who plays under the handle @TheNasher61. "The community is thrilled to have the opportunity to take our skills to the big stage. To say we're excited would be an understatement. This is one of the biggest things to happen in hockey gaming history and we're looking forward to seeing how it plays out."
Full rules, regulations and prize pool allocations can be found here.
Fans can follow the conversation using social hashtag #NHLGWC and by watching matches streamed on the various digital channels. Schedules and results will be posted in near real-time to the NHL's page on FACEIT.
To learn more, visit, www.NHL.com/Gaming.