Most of the talk during the NHL combine and before the first round of the NHL Draft on June 23 will revolve around the top of the class: who will go first overall, Nolan Patrick or Nico Hischier?
For the first time in a while there is a legitimate case to be made for either of these players to go first to New Jersey. Whereas in most years there is a clear choice at the top, it seems like it really could go either way in 2017.
Watch: 2017 NHL Combine on Facebook Live
Watch 2017 NHL Combine live on Facebook with hosts Jeff Marek and Sam Cosentino this Saturday, June 3 at 9:30 a.m. ET.
The 2017 NHL Draft is generally regarded as a weaker crop of prospects than we've become used to in recent seasons, but a lot of that could have to do with this competition for No. 1 overall and the lack of a generational talent along the lines of Connor McDavid or Auston Matthews. There will still be some significant NHL contributors taken in the first round this year, and we'll look at five of the most likely to do that below.
Every year, NHL Central Scouting ranks draft-eligible players in four separate categories: North American skaters, North American goalies, European skaters and European goalies. Players from overseas who spent the season in the CHL, NCAA or USHL are placed in the North American rankings. Here is what Central Scouting said about the top five North American skaters ahead of the combine in Buffalo.
1. NOLAN PATRICK, BRANDON WHEAT KINGS
The top-ranked player in the 2017 NHL Draft for a couple years now, the main concern around Patrick is his injury history. He was limited to just 33 games this season and missed Canada's summer world junior camp, the WJC tournament in December and his team's first-round playoff series loss.
His injury troubles go back further than that, though, as Patrick has played 75 per cent of his team's games just twice since he was 13. The good news is one of those years was in 2015-16, when Patrick scored 102 points with Brandon and then scored 30 points in 21 playoff games to earn post-season MVP honours.
He played 76 per cent of Brandon's games in 2014-15 and was named WHL rookie of the year with 56 points in 55 games.
He's got NHL pedigree as his father, Steve, played 250 games in the league while his uncle, James, played 1,280 games.
Director of NHL Central Scouting Dan Marr: "He has more than proven over the last three years that he is the real deal and will be an impact NHL player. The poise, the presence, the attention to detail, the way he processes and executes plays — everything has been far more precise, far more accurate and a lot quicker this season."
2. NICO HISCHIER, HALIFAX MOOSEHEADS
The challenger to Patrick's long-held top spot, Hischier wasn't considered a top two pick at the start of the year, but shot up the rankings with an 86-point season in the QMJHL and a standout performance at the WJC with underdog Switzerland.
Hischier was the runaway rookie of the year in the 'Q', finishing with 23 more points than the second-most productive freshman. He had seven points in five WJC games to finish just outside the top 10 in scoring, despite playing two fewer games than any other player around him.
The player Hischier most looked up to and tries to emulate is Pavel Datsyuk, which speaks volumes to his focus on the two-way game, something most prospects struggle with as they move up to the professional ranks. Hischier actually played 15 games in Switzerland's top league with SC Bern in 2015-16, scoring one point – when he was just 16 years old.
Like Patrick, Hischier is a centre, although he's three inches shorter at six feet tall. He looks set to become the highest-ever NHL draft pick from his home country of Switzerland, surpassing Nino Niederreiter, who was chosen fifth overall in 2010.
Dan Marr: "Hischier is definitely worth the price of admission. He has a high skill level, but what's most impressive is the way he competes, his drive and work ethic. He is a player who is first on the forecheck forcing a turnover and when the play transitions, he's the first player back. He's in that category as a special player."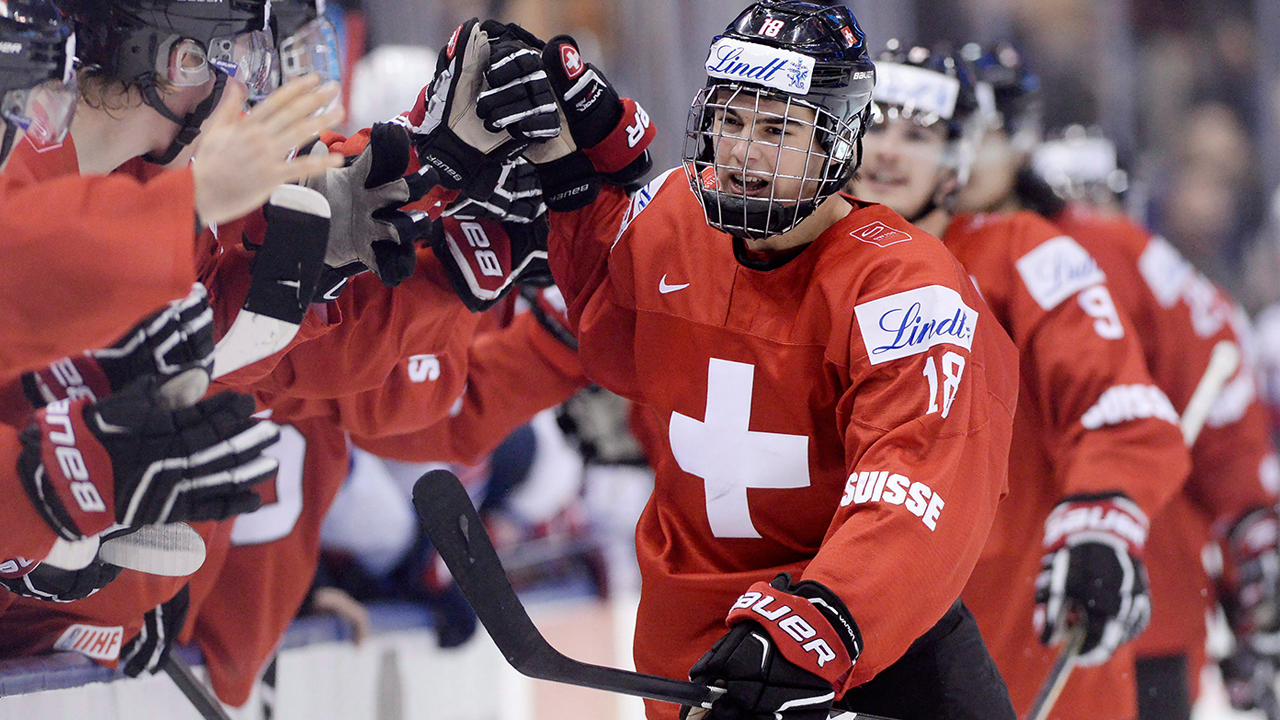 3. CASEY MITTELSTADT, EDEN PRAIRIE HIGH SCHOOL
Should Mittelstadt get picked in the top four at the NHL Draft, he'd become the highest-selected player out of Minnesota high school hockey ever, surpassing Blake Wheeler going fifth overall in 2004.
The six-foot, 201-pound centre/winger was the winner of this year's Mr. Hockey Award as the top senior player in the state of Minnesota. Nick Bjugstad (2010), Nick Leddy (2009) and Ryan McDonagh (2007) are three current NHLers who also won the award. Captain of Eden Prairie this season, Mittelstadt led the team with 21 goals and 64 points in just 25 games.
Mittelstadt also played 24 USHL games with the Green Bay Gamblers this season and had by far the highest PPG rate on the team with his 30 points. The highest scorer on the team over the full season was 20-year-old defenceman Connor Mackey, who posted 47 points in 60 games.
Mittelstadt styles his game after John Tavares and Tyler Seguin.
Dan Marr: "Mittelstadt is one of these anomalies that come along every few years [from high school hockey]. We've watched him play against his peers in international tournaments and have seen him play in the USHL and at various camps, and he always makes a difference. It doesn't really matter where he plays because you get the same game from him no matter the environment."
4. GABRIEL VILARDI, WINDSOR SPITFIRES
One of three Spitfires named to the Memorial Cup all-star team, Vilardi posted seven assists in four games at the tournament, capping off a championship season for him and his OHL club.
A six-foot-two power forward, Vilardi saw his production increase by 12 goals and 23 points in the OHL this season, despite playing 13 fewer games than he did in 2015-16. Vilardi suffered a knee injury at Canada's under-18 camp in August that sidelined him for six weeks and an appendectomy in November forced him out of more regular season action.
Despite missing time and playing just 49 games, Vilardi led the Memorial Cup champs in scoring. He's an analytics darling with strong possession numbers.
Dan Marr: "Vilardi is a high-end possession centre with excellent hockey sense and puck-handling ability. He plays a very composed game with the puck, using his vision and playmaking ability to influence the game in all three zones. Vilardi excels below the dots in the offensive zone, where he utilizes his size and reach to control the play and generate scoring opportunities."
5. MICHAEL RASMUSSEN, TRI-CITY AMERICANS
A huge centre at six-foot-five and 215 pounds (the biggest players of these top five), Rasmussen is a goal scorer with an underrated playmaking ability.
The Surrey, B.C., native enjoyed a big uptick in goals this season, jumping to 32 in 2016-17 from 18 in 2015-16. That's good enough for a top 30 spot in the WHL, although he played 50 games – 13 fewer than a year ago.
If you're looking for a little bit of a knock against that production, nearly half of Rasmussen's goals (15) came on the power play, so his even strength production was much more pedestrian.
For a big player, though, Rasmussen is a good, quick skater, which should translate well to the next levels. That combination of size and skating ability down the middle is a valuable asset at the pro levels.
Rasmussen styles his games after a couple of other large centres: Aleksander Barkov and Mats Sundin.
NHL Central Scouting's John Williams: "He's playing with much more confidence this season. He's adapted to playing a bigger role and playing heavy minutes against opponents' top lines and defence. The game has slowed down for him a little bit and he's just that much more poised. He can take that extra bit of time and understands he can take that time to make plays and score goals."