Hot from the summer sun? Why not cool off under the shade of a Trade Tree?
On the eve of the 2018 NHL Draft, and with deals expected to happen faster than you can say, "Mike Hoffman got traded again," let's look back 10 years ago to 2008.
Tampa Bay is expected to select a young, baby-faced sniper named Steven Stamkos. There's an even younger-looking sniper named Nikita Filatov, who is supposed to go somewhere in the Top 10. Picks No. 2 through 4 however are likely to all be defenders.
The Los Angeles Kings take Drew Doughty at No. 2. The Atlanta Thrashers – I know, time flies – take Zach Bogosian third. The St. Louis Blues take Alex Pietrangelo at No. 4.
Jeff Marek and Elliotte Friedman talk to a lot of people around the hockey world, and then they tell listeners all about what they've heard and what they think about it.
The New York Islanders own the No. 5 selection and with it they take…
Actually nobody because they traded the pick to the Toronto Maple Leafs.
Then Leafs general manager Cliff Fletcher – that weird second time he was Leafs GM after John Ferguson Jr. was fired – made a deal with the Islanders to move up. The Leafs traded their 2008 first (seventh overall), a 2008 third (68th overall), and a 2009 second (37th overall) to Garth Snow for the fifth overall pick.
With that pick, the Leafs selected big, bruising defender Luke Schenn. And soon after, it wasn't like he was burdened with high expectations like being the Leafs' future captain and the next Scott Stevens, or anything.
Schenn had an up-and-down tenure over four seasons with the Leafs that likely would have been helped if the Toronto teams he played on were a bit better. The Leafs finished 24th, 29th, 22nd, and 26th in Schenn's first four years.
In what ended up being his final move as Leafs GM, and arguably his best, Brian Burke traded Luke Schenn to the Philadelphia Flyers in exchange for James van Riemsdyk.
The deal ended up being a colossal home run for the Leafs.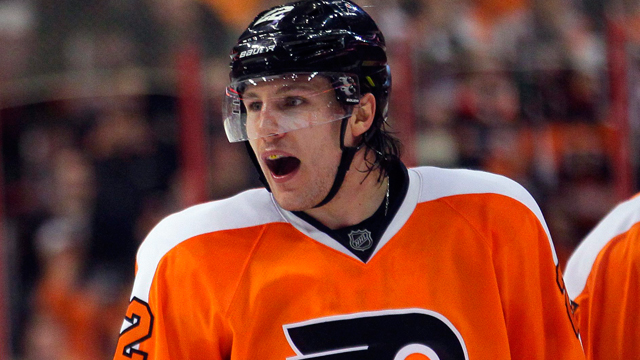 The Flyers had signed JVR, the former second overall pick, to a six-year deal in August of 2011 worth $4.25 million per season. Unfortunately, JVR played in just 43 games that season, scoring 11 goals. The teams swapped players they had drafted in the top five.
In 413 games with the Leafs, JVR scored 154 goals, including two 30-goal seasons, with 140 assists, and 294 points.
Schenn lasted just three seasons in Philadelphia and probably took too much flack. At just 28-years-old, he has played in 708 NHL games.
But this Trade Tree isn't just about the Leafs and Flyers, however.
More 2008 Trade Tree branches
The Columbus Blue Jackets selected Nikita Filatov with the No. 6 pick in 2008, and at seventh, the New York Islanders selected…
Nobody because they traded down again.
The Nashville Predators had the ninth overall pick in 2008. Why? The year before, they acquired a 2007 second, 2008 second, and a 2008 first from the Florida Panthers for goaltender Tomas Vokoun.
Vokoun ended up being good for the Panthers, posting a .923 save percentage over four seasons. The problem was the Panthers still weren't great, so the pick they gave up to Nashville ended up being ninth overall.
So the Predators traded the two 2008 picks they received from Florida – ninth and 40th overall – to the Islanders in exchange for the seventh overall pick. With that pick, the Predators selected big centre Colin Wilson.
At No. 8, the Phoenix Coyotes selected Mikkel Boedker. Finally, at ninth overall, the Islanders selected Josh Bailey.
Islanders fans have complained about Garth Snow for a long time, and sure enough, he was recently fired. On June 20, 2008 however, Snow was absolutely right.
Out of all the players selected from fifth to ninth in 2008, Bailey leads them all in games-played, goals, assists, and points. They traded down twice, got three extra picks, and still got the best player. Out of the entire 2008 draft class, Bailey is second in games-played, seventh in goals, seventh in assists, and sixth in points.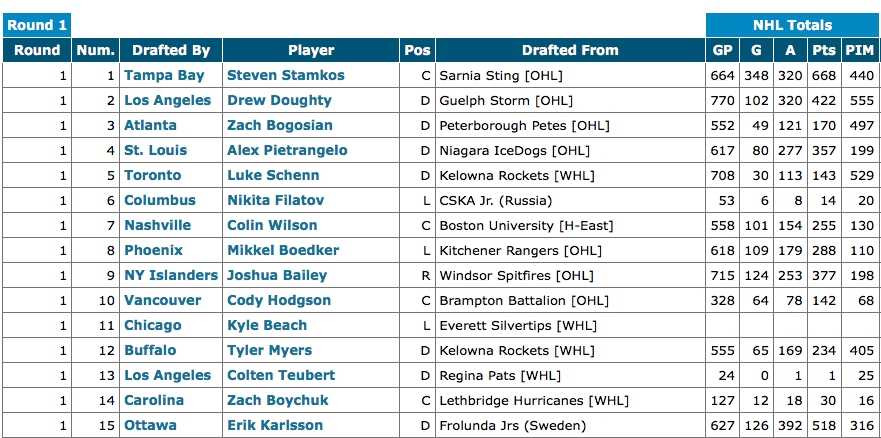 We're not done…
On the second day of the 2008 draft, the Islanders traded down again! This time the Isles sent pick No. 68, which they received from Toronto the day before, to the Chicago Blackhawks in exchange for picks No. 72 and 102.
In total, the Islanders traded down three times at the 2008 draft, netting them an additional four picks. The Islanders' plan was to grab all the picks they could and they completely nailed it.
Here's the problem: Getting a lot of draft picks is only half the battle. Picking great players with those picks is a completely different mission.
Wanna troll an Islanders fan? Here's some ammo:
• With the 40th overall pick in 2008, a pick they received from Nashville, the Islanders selected Aaron Ness (47 games played). Three picks later, Anaheim selected Justin Schultz. Sure, that didn't work out for Anaheim, but he was available
• With the 72nd overall pick in 2008, a pick they received from Chicago using a pick they received from Toronto the day before, the Islanders selected Jyri Niemi (zero NHL games played). The Islanders also had pick No. 73 and used it to select Kirill Petrov (zero games played). Lance Bouma was available five picks later, Zack Smith six picks later and Adam Henrique was available nine picks after Petrov.
• With the 102nd overall pick in 2008, a pick they received from Chicago using a pick they received from Toronto the day before, the Islanders selected David Ullstrom (49 games played). Nine picks later Dale Weise was available and 12 picks later T.J. Brodie was available.
Out of the three extra picks the Islanders got in 2008, only two played in the NHL and they combined for just 96 games.
It's not all bad for the Islanders, though. The Islanders had 13 picks in 2008. Their third second-rounder, 53rd overall, was Travis Hamonic who played over 400 games for the Islanders before netting them a bounty of picks from Calgary. They got seven seasons out of 2008 fifth-rounder Matt Martin. Then of course there was sixth-rounder Jared Spurgeon who has played over 500 NHL games… who the Islanders lost to Minnesota for nothing because he didn't sign with them.
Just because the Islanders' misses in 2008 were plenty doesn't mean they blew it. They gathered as many picks as they could, which is usually a great idea. They took a risk on trading down from fifth to ninth and won big on that. They got a player out of Matt Martin.
For their misses in 2008, the Islanders made up for it in 2009, drafting John Tavares, Calvin de Haan, Casey Cizikas, and Anders Lee.
But look at that. Look at the ripple effect a couple draft day moves had on several franchises. There was plenty more movement in that draft's first round that weren't even mentioned in this tree.
Those are the kinds fireworks we could be in for this weekend in Texas.