Hockey is a chaotic sport by nature, and at its core this is what makes it so entertaining to watch. The sheer unpredictability of the NHL season means virtually every game has an impact on the standings, and judging by eye which team today will be the best tomorrow is an intriguing challenge.
But in recent years, progress has been made in developing analytical models that help describe and predict team and individual performance.
The analysts behind Hockey Prospectus have been making use of Tom Awad's Goals Versus Threshold (GVT) rankings—also called VUKOTA—for individual skaters since 2009. War-On-Ice.com developers Andrew Thomas and Sam Ventura—who took on NHL consulting roles over the summer—have developed individual Goals Above Replacement (GAR), which can be translated into Wins Above Replacement (WAR). Tom Tango helped initiate a shift from focusing solely on shot differentials to expected goal values (xGF or ExpG). Ventura, Matt Cane and Dawson Sprigings have been using shot location, type, etc. information from NHL game sheets to post a variety of work around expected-goal performance for players and teams. It has shown to be superior in describing game outcomes versus the score-adjusted possession metrics that were pushing into the mainstream last season.
For our purposes I've posted the results of all three—VUKOTA, WAR and xGF—with overall NHL rankings for each, average ranking by team and their deviations. We can then use the average ranking and deviation to project expected point totals, and define low and high projections based on the deviation across the three models and points totals by standings position last season.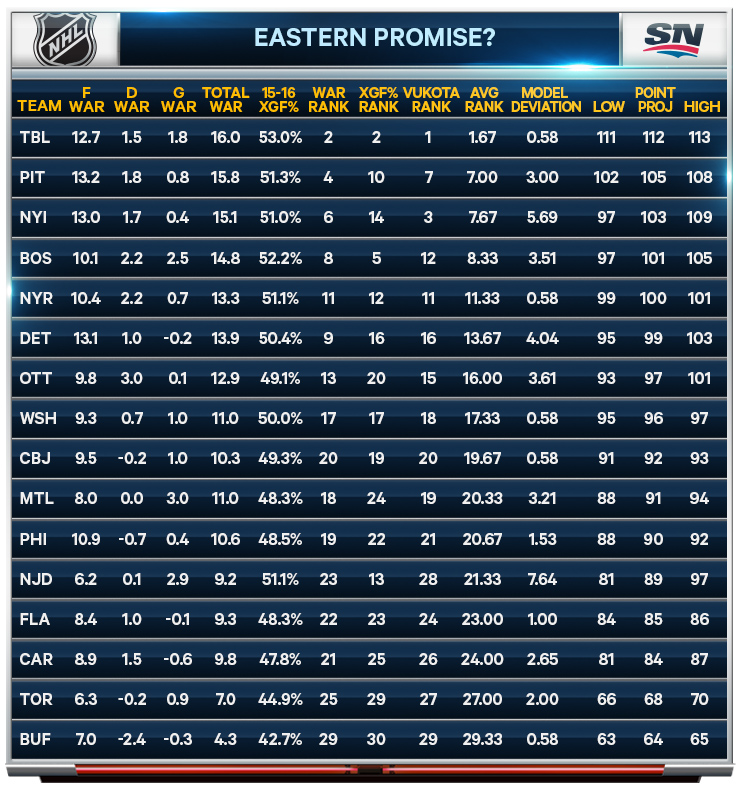 We can see that the models agree on a few teams, but diverge significantly on others. Tampa Bay is favoured heavily to repeat as conference champions. The Lightning actually have the top Average Rank in the entire NHL because the models disagree about who will finish tops in the Western Conference.
The Rangers are destined to finish comfortably in the playoffs, but all of the models agree they will finish well below their Presidents' Trophy pace of a year ago. Most projections have Washington lower than much of the punditry would rank them, while there is agreement that Columbus will be in the fight for the final playoff spot. No model projects that Carey Price will repeat his 2014–15 performance for a Montreal team unlikely to score enough to justify heightened expectations.
At the bottom, we can see that Toronto is expected finish just as the Leafs' new brain trust has suggested while Buffalo appears to be in tough despite overhauling its forward group via trades and adding a potential generational talent in Jack Eichel.
We will break down the Western Conference in the next post and try to provide further insight on where and why the projection models diverge significantly.
---

On print and digital newsstands now: iOS | Android | Windows
---