"Rest is a weapon." — Guy Boucher
It might have been easier for Pierre Dorion to list his healthy players instead.
As he took his podium Monday, the Ottawa Senators general manager leaned on his notes like a crutch. No way he could commit the rundown of all his hobbled horses to memory.
Take a deep breath, folks.
Here is what the Sens battled through only to come within a goal of reaching the Stanley Cup Final: Erik Karlsson had muscle issues and two fractures in his left foot; Mark Borowiecki and Alexandre Burrows both suffered high-ankle sprains; Cody Ceci broke his finger "17 times" and needed a freeze before every contest; Zack Smith pulled a rib and abdominal muscles; Viktor Stalberg had a rib injury; Chris Neil had a sprained hand; Dion Phaneuf pushed through a wrist injury; Craig Anderson injured his back, which "was in terrible shape during the Rangers series"; Tom Pyatt had an ankle injury; Derick Brassard's torn labrum needs surgery; Fredrik Claesson had a back injury; Marc Methot's finger — nearly slashed off by Sidney Crosby in the regular season — never healed 100 per cent; Mark Stone skated with a knee injury; and Ryan Dzingel sent Game 7 to overtime with a bad wrist.
Exhausted just reading that? Imagine how the players of the blackest and bluest Stanley Cup Playoffs feel.
The National Hockey League and its players wear Band-Aids like merit badges. From Bobby Baun scoring a 1964 Cup final OT winner on a broken leg to Gregory Campbell dragging a busted fibula around the ice to complete a 2013 playoff shift by limping into shooting lanes, hockey has always been about sucking it up. Pack ice around it, rub some dirt on it, stitch it up, squeeze a needle into it, and carry on.
But we can't recall an NHL war of attrition where the wounds cut as deep this spring's. Well over 200 man-games have been lost already, and there are plenty more puck battles on tap.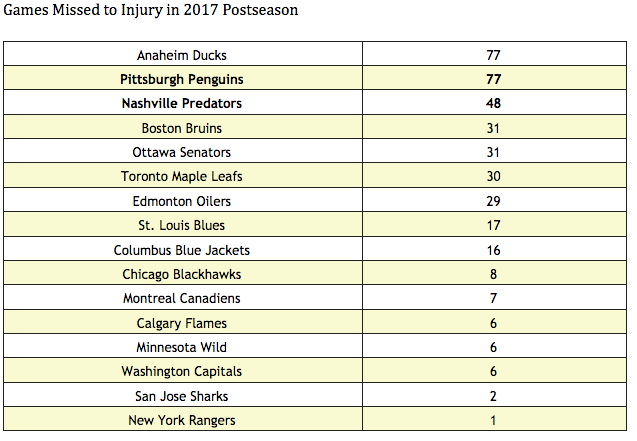 The banged-up Pittsburgh Penguins and injury-riddled Nashville Predators are the equivalent of the Black Knight in Monty Python's Holy Grail, having vital limbs severed and claiming it's only a scratch, charging for more.
No championship squad in a decade has managed to hoist the silver chalice without relying on standout performances from a stud No. 1 defenceman – No. 1 centre battery. Think Bergeron-Chara, Toews-Keith, Kopitar-Doughty, Crosby/Malkin-Letang, Zetterberg-Lidstrom.
All due respect, Mike Fisher and Brian Doumoulin, but that streak ends this month.
Already down Kevin Fiala (broken leg), Nashville relied on defence and a stellar Pekka Rinne to grab two more wins in the Western Conference Final after we learned that top pivot Ryan Johansen's season was over due to an emergency surgery on his left thigh.
Johansen wobbled out on crutches to cheese with the Clarence S. Campbell Bowl.
The Penguins — unfathomably — are within three Ws of becoming the cap era's only repeat champion despite suffering the biggest L of all. They've missed Norris-convo defenceman Kris Letang for the entire tournament, remarkably advancing on Advil and a defend-by-committee approach.
Core members Patric Hornqvist, Bryan Rust, Conor Sheary, Carl Hagelin, Justin Schultz, Trevor Daley, and Crosby have all missed post-season games due to pain. Only nine Pens left have a perfect attendance record this post-season.
"This group has so much character and talent that we're able to endure the injuries that we have," coach Mike Sullivan said, after updating one of his daily day-to-days.
[relatedlinks]
The Ducks endured the loss of both their 30-goal scorers, Rickard Rakell and Patrick Eaves, and were eliminated without their indisposed No. 1 goalie between the pipes.
Senators owner Eugene Melnyk said most his players' ailments would've prevented them from regular-season action, starting with captain Karlsson.
"You look at the guy and he could hardly walk. He was almost carried into the shower when he took his skates off. How he loses that or controls that pain, I have no idea," Melynk told Prime Time Sports.
"They somehow block [the pain] off. It's the same with all the others. I've got seven guys that would never play in a regular-season [game] right now ever. They'd be on the sidelines. They are pressing us to play and these are serious. I mean, I saw one of the boys. He had a cut into the right side just under his rib and it was as gross as you could ever see — and he's playing."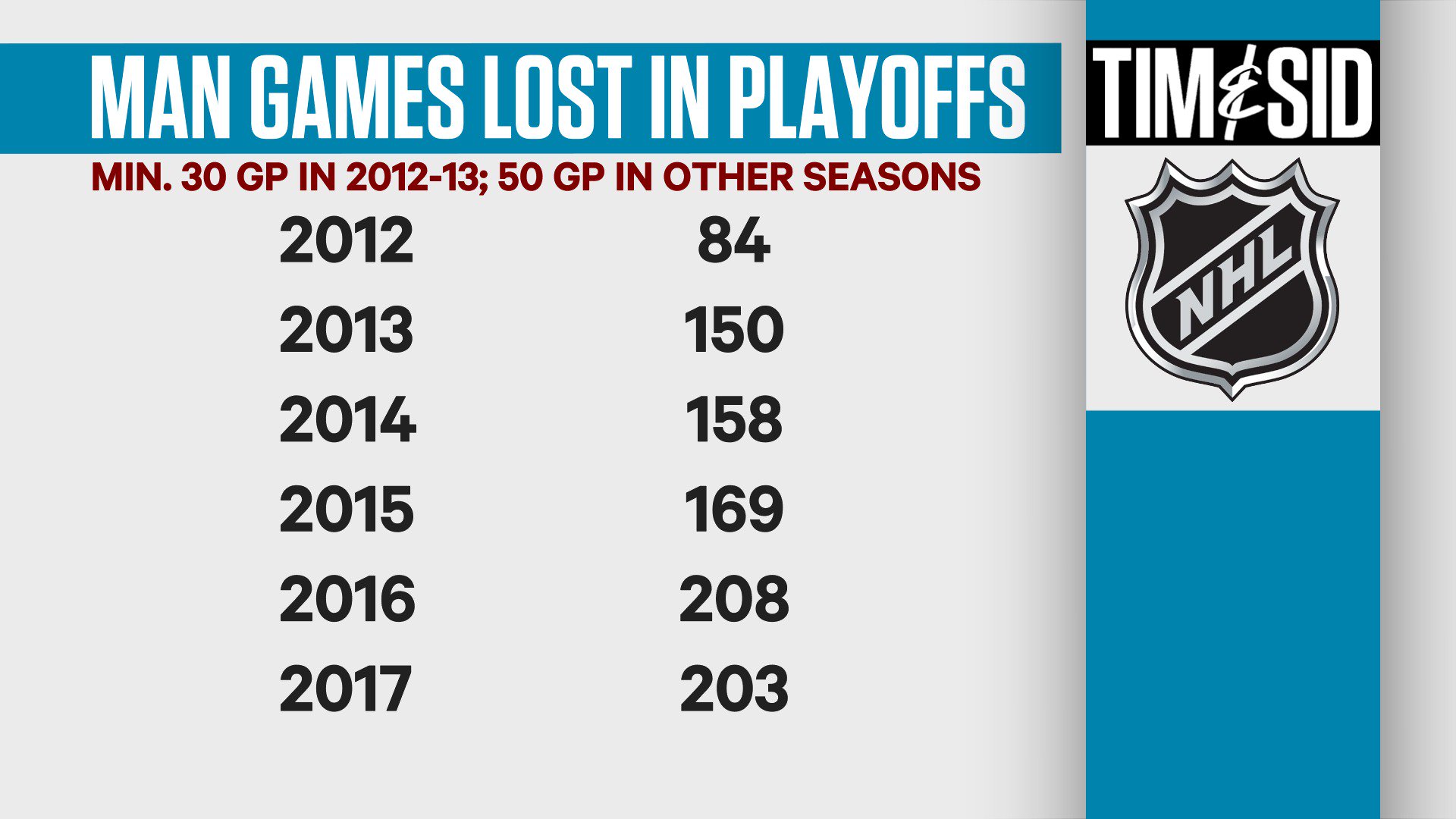 The bruises began before April's opening round but ballooned scary-fast, like a Johansen thigh.
Upon declaring defenceman Nikita Zaitsev (who missed Round 1 games due to concussion but returned) unfit for Russia's world championship side, Maple Leafs coach Mike Babcock said, "He's playoff ready."
The Penguins' march meant going through a half-mast, wholehearted Ottawa team after defeating a Washington side that featured third-liner Alex Ovechkin pushing through a nasty knee and hamstring injury after defeating Columbus, which lost its best defenceman to this:
The battered Preds survived the worse-off Ducks (top-four D-men Sami Vatenen and Hampus Lindholm will miss the start of 2017-18 as they recover from shoulder surgeries), who outlasted an Oilers team down one of its best defencemen. The Oilers got as far as they did, in part, because San Jose's Joe Thornton skated on a knee composed of jelly and hope.
We adore the intensity, the grit of sport's most taxing and challenging competition. We don't want to sap any speed from the game either. But this spring, especially, has us wondering about its pain threshold.
We're skeptical Gary Bettman and the 31 owners he represents would consider reducing the schedule down from 82 games for financial reasons, but it's a good idea. (We're also in favour of contraction over expansion, and quality over quantity.) The lockout proved 48 games is too short, but how about a return to 70? Or even 60?
A lighter schedule could not only permit more recovery time and reduce the frequency of dreaded back-to-backs, it would increase the importance of the regular season — a six-month grind that Sullivan says he puts very little sock in.
That idea would get ripped up by the bigwigs quicker than a coach ticket to Pyeongchang. Hockey-related revenue is too valued.
So instead we may see the PA argue for more off-days and coaches call for fewer morning skates, which became the norm in places like Columbus and Ottawa.
"I hate them with a passion," Boucher said. "To me, they are a waste of energy and waste of time.
"I really believe in practising hard and giving everything you've got in practice. Morning skates, you're rarely like that. I hate to see our players not go 100 per cent and giving everything they've got. Morning skates are something in between. I hate in between."
John Tortorella, up for the Jack Adams this year, said skipping the morning skate is beneficial.
"I know it's good for the athletes," said the Blue Jackets coach. "Our strength coaches know it's good for the athletes. It's just getting the athletes out of that routine they were so used to."
Or maybe elite NHL teams, like Pittsburgh and Washington, who know they'll qualify for a post-season in which seeding and home ice are becoming increasingly less relevant, should tear a page from the NBA playbook and start resting stars more often in the regular season.
According to instreetclothes.com, 2016-17 saw 203 instances of a healthy player sitting out an NBA game, up from 12 such occurrences a decade ago. Most famously and effectively, this strategy has been employed by finalists Golden State and Cleveland with their stars.
Rest for rest's sake doesn't jibe with hockey culture. It certainly doesn't sit well with the ticket-buying public, club owners, or commissioners.
The NHL suspends all-stars who would rather take their own break than participate in the league's mid-season showcase. NBA honcho Adam Silver fired off a memo to his board of governors in March, characterizing the resting of starters as "an extremely significant issue for our league."
But with the toll of the playoffs, as long as a playoff berth is within grasp, could you blame a Malkin or Crosby or Josi or Ovechkin or Karlsson from sitting more frequently if it meant more gas in the tank for the homestretch?
"Rest is a weapon," Boucher says.
The finals, both NHL and NBA, are underscoring that belief.
We're headed to the finals!! Smashville… It's #lit #standwithus #pkapproved @PredsNHL pic.twitter.com/3hbiIBGGHc

— P.K. Subban (@PKSubban1) May 23, 2017