It wasn't intended to be hockey's equivalent of Field of Dreams. Although once it was built, they sure did come.
Not only that, but the skills developed at the rink Dave Gagner made in his Oakville, Ont., backyard helped his son Sam, John Tavares, and some of their minor-hockey teammates reach the NHL.
"You just get a chance to be out there and play the game in its purest form," said Sam Gagner, the Vancouver Canucks winger, ahead of Sunday's Rogers Hometown Hockey stop in Oakville. "You go out there and figure out things for yourself. It's just trial and error. You learn to be creative."
The rink that helped produce several future NHLers was Dave's brainchild before he even embarked on his own NHL career.
He was in West Germany preparing for the 1984 Olympics, and Team Canada practised on an outdoor rink. It was his first time playing on one — and the experience was perfect.
This season, home is where the hockey is. Experience Rogers Hometown Hockey.
Dave retired in 1999 following a 15-year career with the New York Rangers, Minnesota North Stars/Dallas Stars, Toronto Maple Leafs, Calgary Flames, Florida Panthers and Vancouver Canucks. He then moved his family to Oakville and got his refrigerated outdoor rink business, Custom Ice, off the ground.
The pilot project was the one in his backyard. And it was Sam, who was 10 when the rink was built, who really put it to good use.
He spent upwards of 40 hours a week on the 50-by-90-foot sheet that was surrounded by tennis lights and loud boards.
"Our neighbours were really nice about it. They never really had any complaints," said Dave. "We tried to make sure Sam was off the ice by 10 o'clock."
Sam played AAA hockey for the Toronto Marlboros, and often hosted teammates for three-on-three games after school, on weekends or following practices. Once he reached high school, he would even come home to skate during lunch.
In addition to Tavares, the Islanders' captain, Gagner backyard alumni include Rangers defenceman Brendan Smith and his younger brother, Reilly Smith (Vegas Golden Knights), as well as Cody Goloubef (ex-Columbus Blue Jackets and Colorado Avalanche) and Akim Aliu (ex-Calgary Flames).
"I can't think of anything better," said Sam. "We'd go out there and play for hours on weekends and order pizza right to the rink, have some pizza and just keep going. Our weekend activity was just playing hockey all the time."
The most notable guest was Tavares — both in terms of name recognition and hours worth of ice time. He and Sam played hundreds of one-on-one games against each other.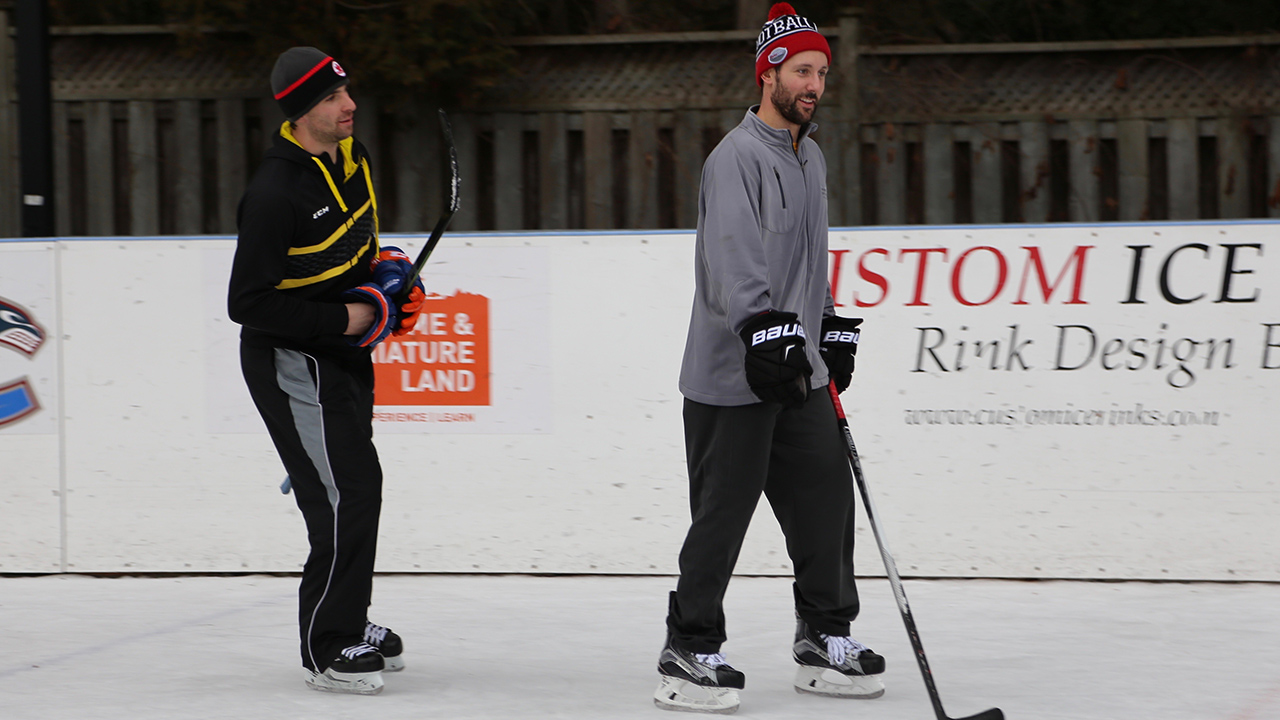 "He didn't live very far from me, so he was over lots. His mom (Barb) put in a lot of hours in our driveway waiting for him to wrap up playing," said Sam, chuckling.
These games weren't just for fun, either. They were serious business. Because there was no netminder, goals counted only if the shot went in off a post.
There wasn't much gloating from the winner since the loser was bound to be furious.
"I remember the one time Johnny grabbed a random skate — we had a little dressing room — and he threw it at me," said Sam. "Whoever lost was temper-tantrum city. And then you'd get over it and play again. That's the way it went."
While Sam was the biggest beneficiary of the rink, maintaining it was a fun hobby for Dave. He also continued playing by hosting neighbours on Thursdays. Daughters Jessica and Renee took advantage, too. (Jessica went on to play at Dartmouth College.)
"My wife thought I was a little crazy. But once we got it up and running, she saw the lifestyle it gave us with all the kids coming over all the time," said Dave. "It was really good for our children to be able to share all those memories."
Check out the Rogers Hometown Hockey broadcast as Sam Gagner and the Vancouver Canucks take on the New York Rangers this Sunday, Nov. 26, at 1:30 p.m. ET (10:30 a.m. PT) on Sportsnet.
An era came to an end when the Gagners sold the house and another family arrived in 2005.
By then Sam had finished up his minor-hockey career. He played for the USHL's Sioux City Musketeers in 2005-06 and moved on to the OHL's London Knights the following season before the Edmonton Oilers selected him sixth overall in the 2007 NHL Draft.
The Oakville house was ideal for the incoming Brenninkmeijer crew, especially since the four boys in the family — Charles, Eduard, Lucas and Oliver — all play hockey.
Then, a couple years after the Gagners moved, Sam's mom, Jo-Anne, called the Brenninkmeijer boys' mother, Mimi, with a favour to ask.
"She says, 'The only Christmas present I can give Sam is if he can come and skate on his old rink.' Of course, we were honoured," said Mimi. "Who wouldn't want that, right?"
Thus, a still-running tradition was born.
At first, Sam would just skate with friends. Tavares and Goloubef made their returns.
But over the last three years, Sam and Dave were joined by the Brenninkmeijer boys. Last Christmas, Sam and Oliver, now 13 and a AA player for the Oakville Rangers, were teammates during a game.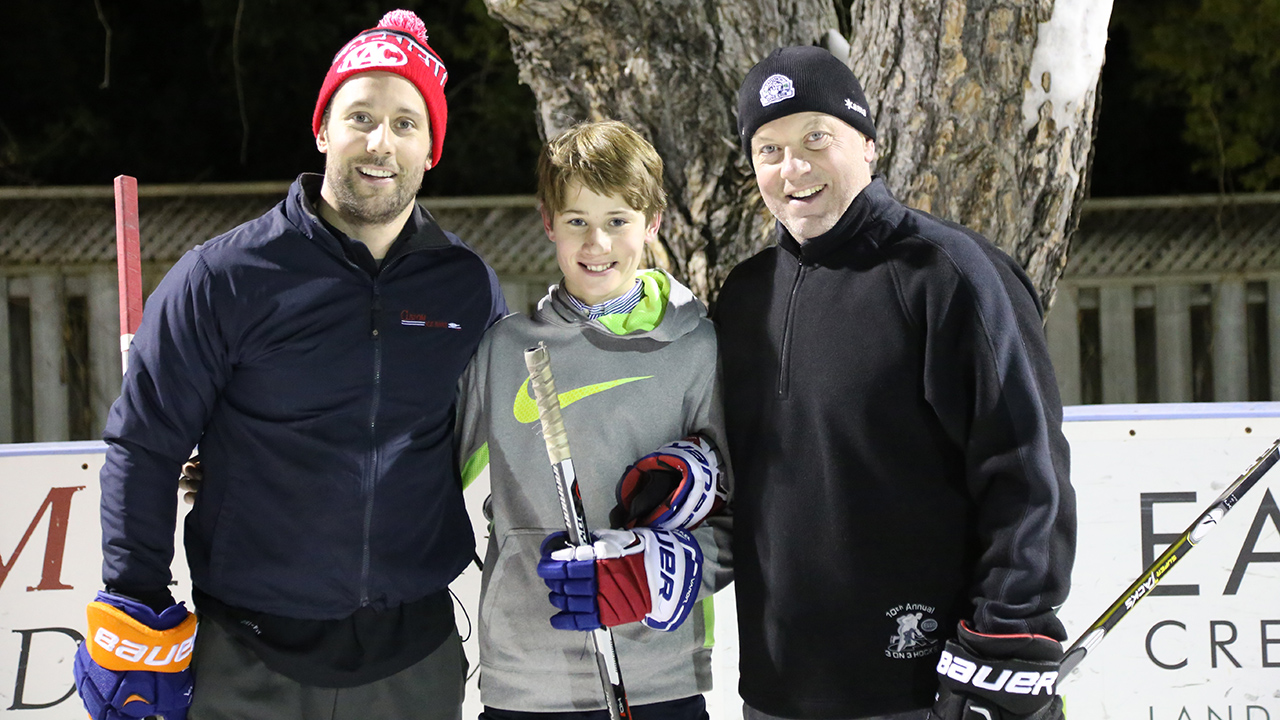 "They have fun together," said Mimi.
"It's nice that I still get to go back there and use the rink," said Sam, adding he skated there after the 2012–13 lockout ended before heading to Edmonton. "They've been great in letting me do that."
For Sam, the visits take him back to his childhood, where he and his teammates naturally fine-tuned their skills that helped them reach the NHL.
"It took up all our time. It allowed you to build your passion for the game and just enjoy it."