The NHL playoff push is our regular look at the post-season picture as the battle to make the Stanley Cup Playoffs intensifies.
EASTERN CONFERENCE
If the season ended today…
(M1) vs.
(WC2)
(A1) vs.
(WC1)
(M2) vs.
(M3)
(A2) vs.
(A3)
---
More: How the Stanley Cup Playoffs format works
---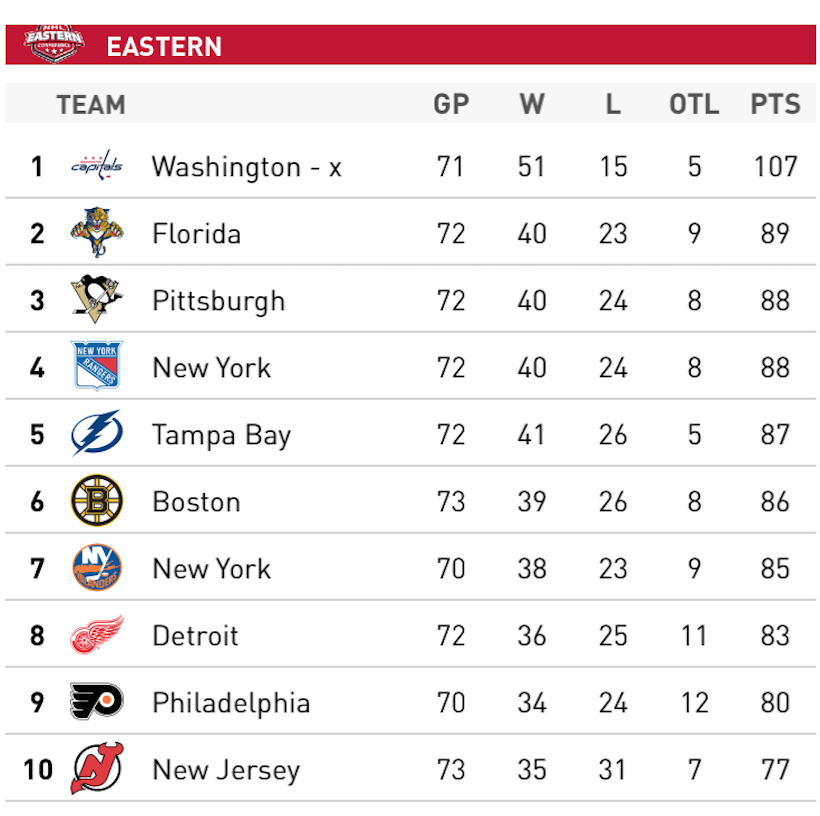 Series we'd love to see: Pittsburgh Penguins vs. New York Rangers. Sidney Crosby facing Henrik Lundqvist in a high-intensity setting is always fun (see Sochi 2014 gold medal game). Crosby has nine points in his last five games, including two assists in Sunday's 6-2 win over the Washington Capitals. The Penguins captain is a big reason why his team is currently on a six-game winning streak.
What'd I miss? The Detroit Red Wings are back to their winning ways after road wins against Columbus on Thursday, and a big 5-3 victory over the Florida Panthers on Saturday. The two wins gave them a three-point advantage over the Philadelphia Flyers, who are chasing them in the East wild-card race. Detroit continues its road trip on Tuesday when it faces the Tampa Bay Lightning.
Fun fact: Ben Bishop's 32-save shutout on Saturday against the Arizona Coyotes was his second in his last two games. The Lightning goaltender stopped 37 shots in Tampa Bay's 4-0 shutout of the Columbus Blue Jackets on March 13.
Monday's game to watch: Philadelphia Flyers vs. New York Islanders. The Flyers trail New York by five points entering tonight's matchup and need a win after a 4-1 loss to Pittsburgh on Saturday. It's the first of a four-game road trip this week for the Flyers.
WESTERN CONFERENCE
If the season ended today…
(C1) vs.
(WC2)
(P1) vs.
(WC1)
(C2) vs.
(C3)
(P2) vs.
(P3)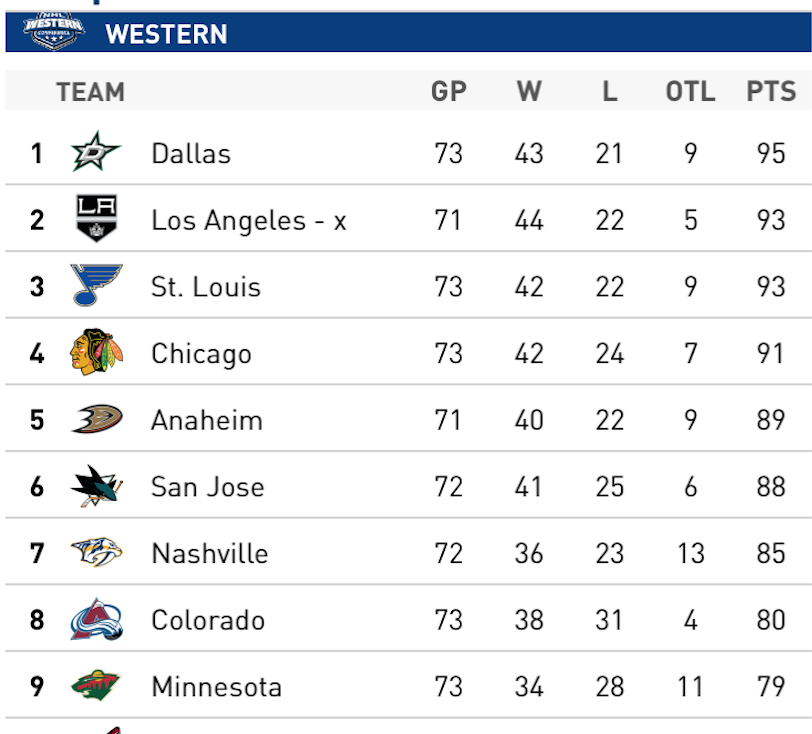 Series we'd love to see: St. Louis Blues vs. Chicago Blackhawks. The Blackhawks have struggled to piece it together since the trade deadline, but are always a threat in the playoffs. St. Louis has lots to prove in the post-season and there's no better team to do that against than Chicago.
What'd I miss? The Los Angeles Kings became the first team in the Western Conference to clinch a playoff spot with a 2-1 win over the Boston Bruins on Saturday.
Monday's game to watch: The Kings travel to Nashville to face the Predators. As things stand, Los Angeles would face the Preds in the first round of the playoffs. Will Nashville be able to snap the Kings' four-game winning streak?