The NHL Playoff Push is our daily look back and ahead at the post-season picture as teams position themselves for the Stanley Cup Playoffs.
EASTERN CONFERENCE
If the season ended today…
(M1) vs.
(WC2)

(A1) vs.
(WC1)

(A2) vs.
(A3)

(M2) vs.
(M3)
Note: The NHL changed the playoff format last season. Click here for full details.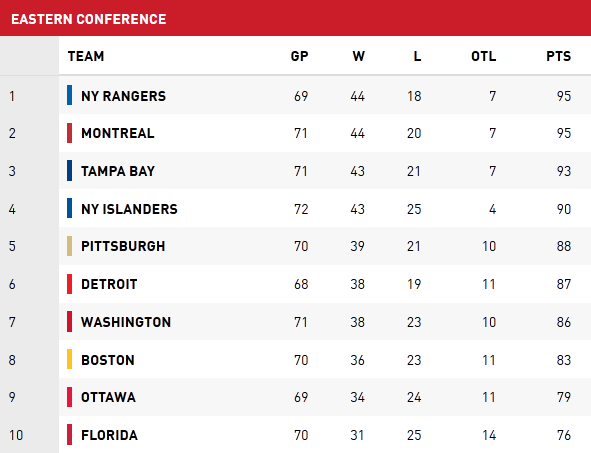 Series we'd love to see: New York Islanders vs. Pittsburgh Penguins – When these two teams met in the first round in 2013 they produced some highly entertaining hockey. Pittsburgh won that series in six games, but it was also somewhat of a coming out party for John Tavares seeing as it was his first post-season venture in the NHL.
What'd I miss? The Rangers were shut out for the first time in 22 games as they fell 1-0 to the Blackhawks at Madison Square Garden.
Thursday's game to watch: Boston Bruins vs. Ottawa Senators Can the Senators close the gap on Boston? Entering Thursday, Ottawa is just four points behind the Bruins in the wild card standings and still have a game in hand. They've split the season series 2-2, however the Senators required overtime and a shootout to pick up their victories while the Bruins managed to get theirs in regulation. Ottawa has won 12 of their last 14 games with one of the losses coming at the hands of the Bruins, who look to snap a two-game losing streak.
The rest of tonight's sked:
– Red Wings vs. Panthers: Detroit is closing in on the Lightning and Canadiens, while Florida tries to stay in the race.
– Hurricanes vs. Canadiens: Should be an easy win for Montreal, on paper at least.
– Capitals vs. Wild: Washington is climbing towards a divisional first-round matchup.
– Penguins vs. Stars: Pittsburgh looks to regain some momentum in Dallas.
– Flyers vs. Flames: This Western road trip is Philly's last chance.
Fun fact: Scott Hartnell of the Columbus Blue Jackets has the most goals in the NHL since March 3.
WESTERN CONFERENCE
If the season ended today…
(P1) vs.
(WC2)

(C1) vs.
(WC1)

(C2) vs.
(C3)

(P2) vs.
(P3)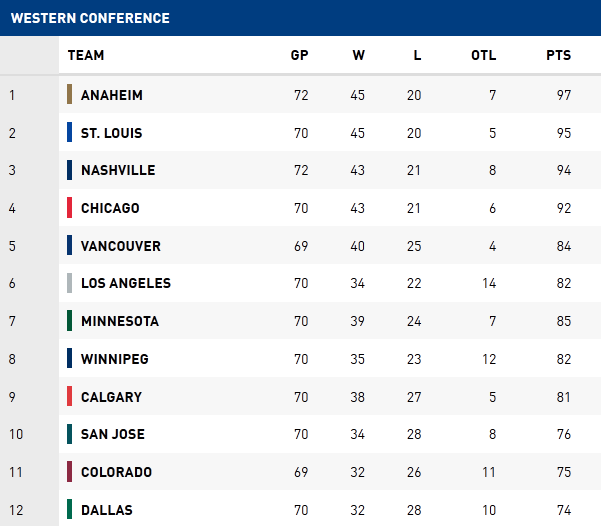 Series we'd love to see: Chicago Blackhawks vs. Nashville Predators – It's a match-up we've only seen once in the post-season but it seems every time these teams meet it's a close contest. Also, both Seth Jones and Paul Gaustad used to wear similar jerseys to Chicago's when they played for the Portland Winterhawks. Whoa.
What'd I miss? Scott Darling was a darling as his Blackhawks extended their win streak to four games by blanking the Rangers…The Ducks now sit in the pole position in the Presidents' Trophy race with an OT win over the Kings, who picked up a valuable point.
Thursday's game to watch: St. Louis Blues vs. Winnipeg Jets: This is the fourth meeting between the Blues and Jets this season with Ken Hitchcock's club getting the better of Paul Maurice's group in each of the first three meetings. Dustin Byfuglien and Bryan Little are close to returning to the Jets' lineup but they won't be available against a streaking Blues team that is still without defenceman Kevin Shattenkirk. The Blues have shut out their opponents in three of the last four games, so the Jets will have to be economical with their scoring chances.
The rest of tonight's sked:
– Blue Jackets vs. Canucks: Missing Ryan Miller hasn't slowed down Vancouver.
– Sharks vs. Maple Leafs: San Jose is falling out of contention quickly.
– Capitals vs. Wild: Minnesota is red-hot with Devan Dubnyk between the pipes.
– Flyers vs. Flames: Calgary is in a highly-contested battle with Winnipeg and L.A.
Fun fact: Jonathan Toews needs just one more point to become the third player from the 2006 NHL Draft to register 500 career NHL points.