The NHL playoff push is our regular look at the post-season picture as the battle to make the Stanley Cup Playoffs intensifies.
EASTERN CONFERENCE
If the season ended today…
(M1) vs.
(WC2)
(A1) vs.
(WC1)
(M2) vs.
(M3)
(A2) vs.
(A3)
---
More: How the Stanley Cup Playoffs format works
---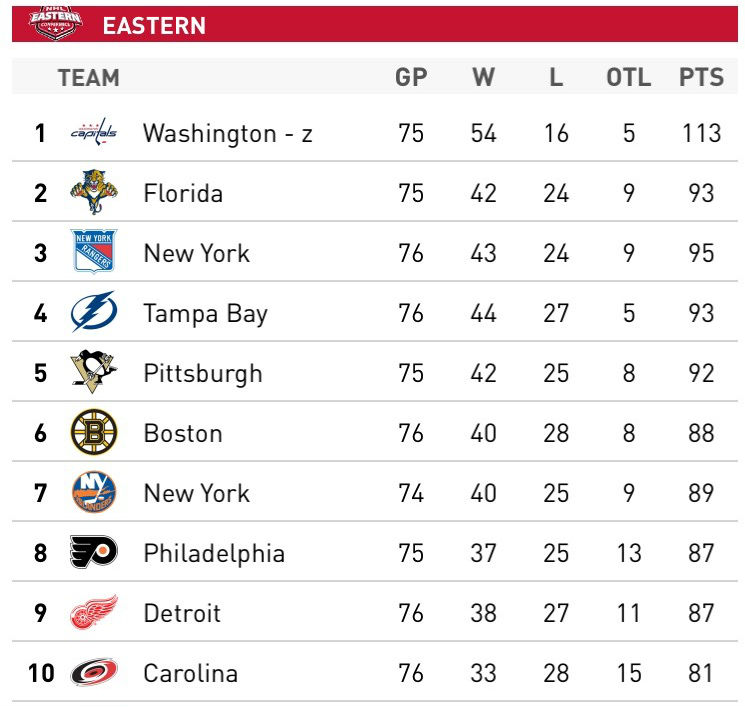 Series we'd love to see: Washington Capitals vs. Philadelphia Flyers. It's the NHL's best team against the league's hottest team. The Flyers are on a roll of late, going 6-2-2 in their last 10 games. Philadelphia's Claude Giroux is also turning it on at the right time. The Flyers captain scored the overtime winner on Monday night in Philadelphia's 3-2 win over the Winnipeg Jets to gain a crucial two points. Giroux has now scored in four of his last five games.
What'd I miss? The Washington Capitals are officially the best team in hockey this season. The Capitals (54-16-5) clinched their second Presidents' Trophy in franchise history with a 4-1 win over the Columbus Blue Jackets Monday night.
Tuesday's game to watch: The Detroit Red Wings have a tough road to climb, facing playoff-bound teams in four of their final six regular season games. (The Red Wings and Flyers both have 87 points although Philadelphia has played one fewer game.) Detroit plays one of those non-post-season teams in the Montreal Canadiens on Tuesday. The Red Wings have won two of the three games against the Habs this season.
WESTERN CONFERENCE
If the season ended today…
(C1) vs.
(WC2)
(P1) vs.
(WC1)
(C2) vs.
(C3)
(P2) vs.
(P3)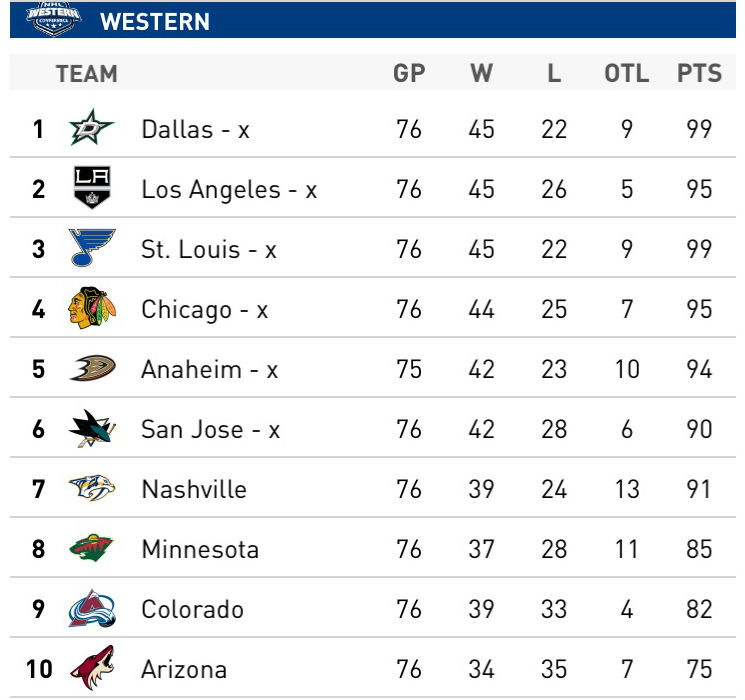 Series we'd love to see: St. Louis Blues vs. Chicago Blackhawks. The Blackhawks may have turned the corner after a brief slide following the trade deadline. A Blues vs. Blackhawks series would feature a ton of talent. Take Andrew Ladd, who was acquired by Chicago at the deadline, for example — he has been hot in the team's last two games (both wins), scoring three goals and adding an assist.
What'd I miss? The Nashville Predators lost more than just their home game to the Colorado Avalanche Monday night — they also lost a top-six forward ahead of the post-season. Prospect Jimmy Vesey from Harvard announced that he wouldn't sign with Nashville and would instead test free agency in August.
Tuesday's game to watch: Chicago Blackhawks vs. Minnesota Wild. The Wild's five-game winning streak has given them a three point cushion over the Avalanche in the Western Conference wild-card race. Minnesota has also limited opponents to just three goals in its last three games. Chicago will be looking for revenge after falling to the Wild on March 20.