Things are beginning to look a little too familiar for the Boston Bruins.
Sitting comfortably in playoff position just a few short weeks ago, the Bruins have once again fallen victim to a late-season skid. Combine that with a few win streaks from clubs hot on their tails, and we could be looking at a Bruins-less post-season bracket for the third straight season.
After winning four of its first seven games of March, Boston has now lost four straight—three of which have come against Eastern Conference opponents in the Toronto Maple Leafs, Ottawa Senators and Tampa Bay Lightning—and have dropped from third in the Atlantic to the second wild-card spot.
"We need to re-educate ourselves and learn how to get back to our winning ways," Bruins forward David Backes told reporters after Thursday's 6-3 loss to the Lightning. "When you string losses together, you lose your recollection of what was happening when things were going right."
There's a chance that, by night's end, the Bruins could find themselves outside the playoff picture altogether, as the Islanders could jump into wild-card position with a regulation win over the Pittsburgh Penguins. New York has two games in hand over the Bruins, giving them the advantage here.
Tampa Bay is also very much in the mix here with 81 points. A win over the Detroit Red Wings on Friday night means they'll keep the heat on the Islanders and Bruins.
All this action tees up a huge game between the Bruins and Islanders on Saturday night.
Here's a closer look at how the playoff picture looks right now as we head into an important weekend of NHL action.
EASTERN CONFERENCE
If the season ended today…
(M1) vs.
(WC2)
(A1) vs.
(WC1)
(M2) vs.
(M3)
(A2) vs.
(A3)
Yes, you read that right: Battle of Ontario in the first round of the Stanley Cup Playoffs. Even crazier? A Leafs-Canadiens matchup is very much possible.
Here's what the Eastern Conference standings look like today:
—
WESTERN CONFERENCE
It wasn't long ago that the San Jose Sharks looked like they had run away with the Pacific Division title, but a lot can happen in the month of March. The Sharks still top the division with 91 points, but are now only two points up on the second-place Anaheim Ducks and third-place Edmonton Oilers, both of whom have 89.
The Sharks (vs. Dallas) and Ducks (vs. Winnipeg) both play on Friday night. No matter the outcome of each game, San Jose will still hold the top spot by night's end due to ROW, but a Ducks win and a Sharks loss could make things interesting going into the final stretch.
If the season ended today…
(C1) vs.
(WC2)
(P1) vs.
(WC1)
(C2) vs.
(C3)
(P2) vs.
(P3)
Here's what the Western Conference standings look like today: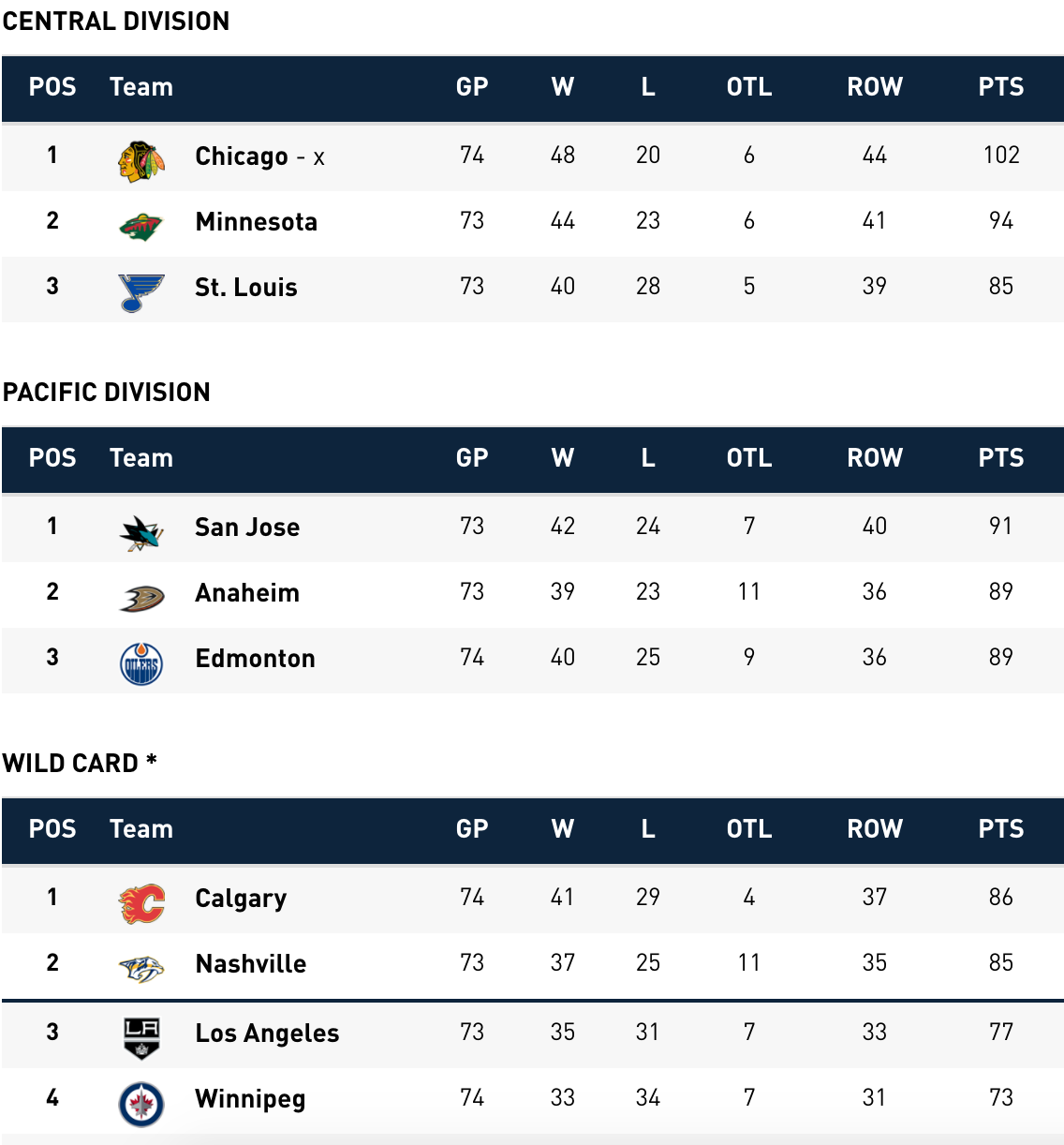 [relatedlinks]