The NHL playoff push is our regular look at the post-season picture as the battle to make the Stanley Cup Playoffs intensifies.
EASTERN CONFERENCE
If the season ended today…
(M1) vs.
(WC2)
(A1) vs.
(WC1)
(M2) vs.
(M3)
(A2) vs.
(A3)
---
How the Stanley Cup Playoffs format works
---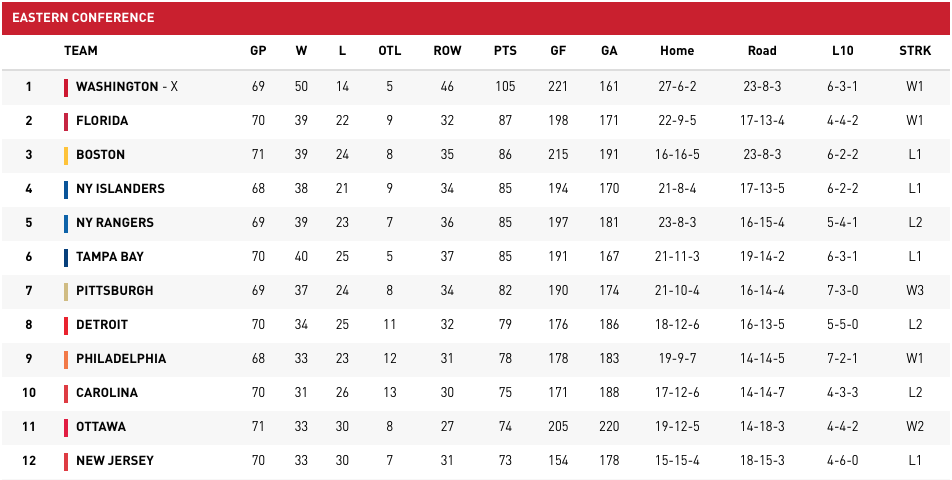 Series we'd love to see: New York Rangers vs. New York Islanders. Manhattan vs. Brooklyn. Henrik Lundqvist once again trying to win a championship. John Tavares once again trying to survive the first round. No jet-lagged legs, and everyone sleeps in their own bed, presumably.
What'd I miss? The suddenly scary Flyers outshot the faltering Red Wings 46-37 en route to a crucial 4-3 victory — a "four-point game" that, sitting just one point back with two games in hand, gives Philly control of its own destiny. Under rookie head coach Jeff Blashill, the Red Wings — losers of five of their last seven — are in danger of missing the post-season for the first time in 25 campaigns. This would end the NHL's longest playoff appearance streak. According to sportsclubstats.com, Philly now has a 61.5 per cent chance of making the dance, while Detroit's shot dropped to 43 per cent with the loss.
The Washington Capitals clinched the league's first playoff berth, and in dramatic fashion, when Alex Ovechkin sniped yet another OT winner…. The Ottawa Senators, aided by a healthy Craig Anderson and pretty much certain Norris winner Erik Karlsson, stayed in the distant hunt with a 3-2 OT win over Minnesota…. Florida took advantage of losses by Boston and Tampa to jump back into the Atlantic Division lead.
Fun fact: Penguins captain Sidney Crosby became the only NHLer to cobble together two separate point streaks of at least nine games. He has assists in five straight contests.
Quote of the night: "I'd like to be a kidnapper right now and kidnap Dylan Larkin. Stick him in a bathroom or something, till at least after the game." — Paul Holmgren, Flyers president
Wednesday's game to watch: Philadelphia Flyers vs. Chicago Blackhawks. The underdog Flyers travel to Chicago, where the slumping Blackhawks catch them on the vulnerable end of a back-to-back. A chance for Philly to jump into a wild-card spot over idle Detroit.
WESTERN CONFERENCE
If the season ended today…
(C1) vs.
(WC2)
(P1) vs.
(WC1)
(C2) vs.
(C3)
(P2) vs.
(P3)
Series we'd love to see: Anaheim Ducks vs. San Jose Sharks. We're dreaming of this all-California matchup, in which Bruce Boudreau could be coaching for his job and a Sharks squad flush with playoff demons and sentimental favourites — Joe Thornton, Brent Burns, James Reimer — tries to play spoiler. We'd expect at least five starting goalies in this series. Also curious to see how much more unruly Brent Burns' beard can get.
What'd I miss? The Pacific-leading Kings stomped the Central-leading Stars 5-2, and Anze Kopitar scored a beauty in a possible Western Conference final preview. The win moves L.A. within two points of St. Louis and Dallas for the Western Conference crown.
The Sharks kept pace with idle Anaheim by defeating Boston…. And the Wild wasted a chance to increase its lead over Colorado for the West's final berth. Should the Avs and Wild end up tied in points, it's worth noting that Colorado now owns the ROW tiebreaker.
Fun fact: Though he would've preferred a better outcome, the Stars' Lindy Ruff coached his 1,400th career game Tuesday, knotting him with Pat Quinn for sixth place in NHL history.
Wednesday's game to watch: Colorado Avalanche vs. Vancouver Canucks. The well-rested Avs, who haven't played since Saturday, can hop over Minnesota for the conference's final wild-card spot with a win at Rogers Arena, but they'll have to do it without captain Gabriel Landeskog (suspended) in the lineup.
The rest of Wednesday's sked: