The NHL playoff push is our regular look at the post-season picture as the battle to make the Stanley Cup Playoffs intensifies.
EASTERN CONFERENCE
If the season ended today…
(M1) vs.
(WC2)
(A1) vs.
(WC1)
(M2) vs.
(M3)
(A2) vs.
(A3)
---
How the Stanley Cup Playoffs format works
---
Series we'd love to see: Pittsburgh Penguins vs. Florida Panthers. The Panthers have been this season's biggest surprise. While we knew they were building something big, we didn't quite think they'd be where they are atop the Atlantic. The Penguins have been surprising in a whole different way, but they seem to be clicking at the right time. Plus, we'd love to see Jaromir Jagr in the playoffs again.
What'd I miss? The Detroit Red Wings reclaimed their wild card spot from the Philadelphia Flyers. Check out last night's scoreboard and find out what we learned around the league last night. Plus, it was only a matter of time, but the Toronto Maple Leafs are officially out of the playoffs.
Fun fact: Friday marks the 124th birthday of the Stanley Cup. Canada's Governor-General, Sir Frederick Arthur Stanley, proposed the creation of the Cup on March 18, 1892.
Friday's game to watch: Boston Bruins vs. Anaheim Ducks. The Bruins have a tough stretch ahead of them, and their West Coast road trip is no exception. If they want to keep their second-place spot in the Atlantic — or make a play for No. 1 — they'll need to power through. If they can get past the big, defence-heavy Ducks, they'll face an even tougher opponent in the Los Angeles Kings Saturday. (Let's not even mention games against the New York Rangers and Panthers once they head east next week.)
WESTERN CONFERENCE
If the season ended today…
(C1) vs.
(WC2)
(P1) vs.
(WC1)
(C2) vs.
(C3)
(P2) vs.
(P3)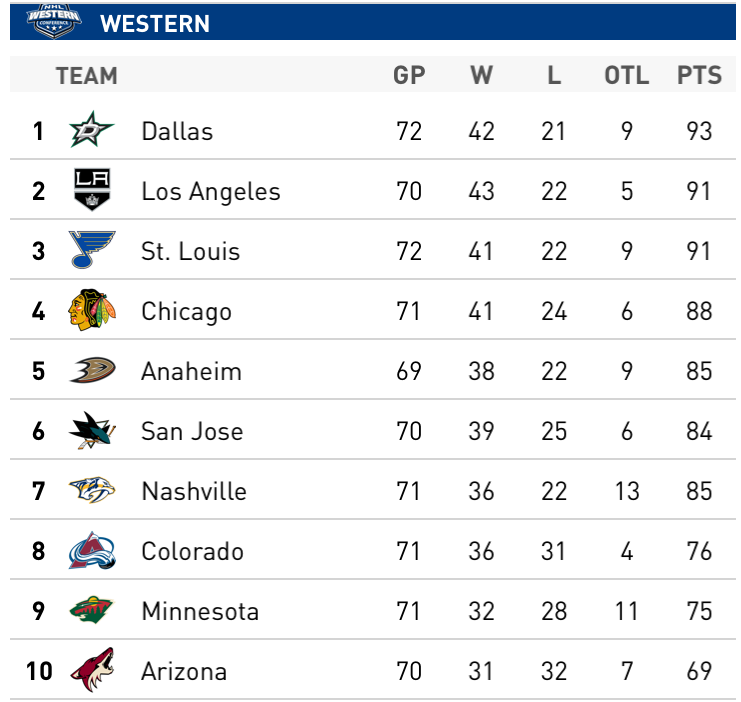 Series we'd love to see: Nashville Predators vs. Los Angeles Kings. The Kings look unstoppable, and the Predators will have their work cut out for them. (Speaking of which, the Predators can't seem to catch a break in the post-season. Last year, the Blackhawks; this year, the Kings?)
Friday's game to watch: Colorado Avalanche vs. Calgary Flames. The Avalanche need all the points they can get as they're just one point up on the Minnesota Wild in a tight wild card race. Plus, it's another homecoming for former Flames captain Jarome Iginla.
The rest of Thursday's schedule: