Will they stay or will they go?
NHL teams are facing important decisions on their teenage prospects as the 10-game mark looms.
If a club decides to keep an underage junior on its NHL roster beyond the nine-game threshold, they burn one year of the player's affordable entry-level deal.
A second milepost arrives 39 games into the young rookie's career. Play a 40th game in at the top level, and you inch one year closer to free agency. For example, if the New York Rangers' Anthony Duclair skates in 40 NHL games this year, he will move one year closer to unrestricted free agency.
We already know Oilers centre Leon Draisaitl is staying for a 10th game (that's the Edmonton way).
But as other notable NHL rookies approach the 10-game mark, we take a look at which teenagers will stay in the big league and which ones are likely to be sent down before burning that precious first year of their entry-level contract.
---
More NHL on Sportsnet:
Subscribe: Rogers GameCentre Live
Rogers Hometown Hockey | Broadcast Schedule
Sportsnet Fantasy Hockey
---
Sam Reinhart

The second-overall pick of the 2014 draft has registered one assist in his first seven games for the Buffalo Sabres. The centre has averaged just over 10 minutes per game and has struggled mightily in the face-off dot (24.2%). We're betting the 18-year-old returns to the Kootenay Ice before Game 10.
Aaron Ekblad

Considering 2014's first-overall selection is getting top-four minutes on the Panthers' blueline and is a respectable minus-1 through seven games on a bad team, expect Ekblad, 18, to complete the immediate leap from the draft floor to an NHL roaster. Two assists so far, plus time on the team's second power-play unit.

Curtis Lazar

The 17th-overall pick of the 2013 draft has been living in veteran teammate Chris Phillips' basement, and he might be billeting a bit longer. Through five games, the former Edmonton Oil King has fired eight shots on net and registered one assist. He ranks fourth among Sens' centremen in ice time (13:58).
Curtis Lazar on Twitter: "Asked @CPhillipsFour if he had any video games in the house for Ben and I to play, cant beat the classic Atari! #pong http://t.co/u71oubQhjk"

Nikita Zadorov

The Sabres' 2013 first-rounder has played a combined eight NHL games but only one this season. That he played just over six minutes in that game indicates he isn't ready yet. It's likely the Sabres will try to return the six-foot-five Russian defenceman to the London Knights, but don't rule out a stint in the KHL for the prospect. Zadorov is big enough (235 pounds) to go into the corners with grown professionals, and the money will be an attraction.
Bo Horvat

Currently on a conditioning assignment with the AHL Utica Comets, the Canucks' ninth-overall pick from 2013 (a.k.a. the guy they traded Cory Schneider for) has yet to make his NHL debut. The 19-year-old, Ontario-born centre could still be returned to the London Knights. Rehabbing a shoulder injury, Horvat is pointless in three AHL games, and the jury is still out on whether he's ready for the NHL — but he should get a nine-game peek.

Jonathan Drouin

No more development needed. Drouin, 19, already has consecutive 100-plus-point seasons in the QMJHL. Time for Lightning fans — nay, NHL fans — to enjoy his chemistry with Steven Stamkos on the big stage. After three points in four games, he's not going anywhere.

Anthony Duclair

An exciting offensive threat on a team in need of them, "The Duke" already has five points through his first seven games as a redshirt Blueshirt. The 19-year-old is getting more than 13 minutes of ice time per game, so don't be surprised if he never wears a Quebec Remparts sweater again.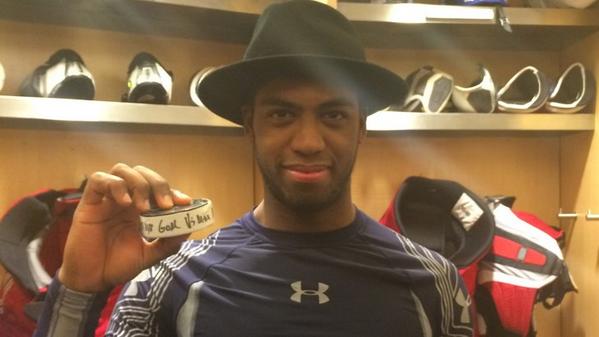 Andre Burakovsky

We'd be shocked if Burakovsky goes back to the Erie Otters. During Tuesday's practice, the rookie was bumped up to the Capitals' top line, centering Alex Ovechkin. Through eight games, the centre's numbers (two goals, five assists, plus-4) are more impressive than those of Nicklas Backstrom — especially when you consider he's getting seven minutes' less playing time.

Mirco Mueller

A sure sign a player is eager to stay n the NHL? He's chirping Ryan Getzlaf. The San Jose defenceman won't turn 20 until March, and through seven games he's already averaging more than 18 minutes of ice time. He's a plus-2 with one assist thus far.