National Hockey League games may not be the first place you think to go stargazing. Centre ice in St. Paul ain't exactly courtside at the Lakers.
And still, every NHL fan base has been touched with celebrity.
As Will Arnett and Mike Myers hog Jumbotron time in Toronto, Conor MacGregor inspires Brad Marchand's Bruins, and Jon Hamm hops in the broadcast booth in St. Louis, we've been frequently reminded over recent days that the playoffs will bring the more famous among us to the rink.
In our NHL Power Rankings: Your Team's Celebrity Fan Club Edition, we single out the most famous supporter of each of the 31 clubs.
As always, the teams are ranked according to who's shining the brightest. (Surprise! Tampa Bay is still No. 1.)
The write-ups give a quick glimpse at some of the big names who've cheered them on.
[snippet id=4242051]
Florida man Hulk Hogan has a history of riling up the Bolts crowd, and during the 2015 Stanley Cup Final got involved in a super-cheerleader exchange with Chicago backer CM Punk.
Sure, we could go with Denis Leary here, considering the guy actually plays the game, wouldn't dare step on the Spoked B and understands how face-offs work. But Leary never made quite the one-night impact by showing up at the rink the way Conor McGregor did last Saturday.
Fun fact: Angus MacGyver, the '80s TV genius who could craft an atomic bomb out of a couple of pipe cleaners and a wad of chewing gum, was a big Flames fan, sporting Calgary caps in multiple episodes.
Richard Dean Anderson, the actor who played MacGyver, however might not be. Born in Minnesota, it's no stretch that he'd be a hockey fan, but he was caught in Vegas revving the siren for the Golden Knights during the Stanley Cup Final.
One of the greatest sidebars of Washington's 2018 run to their first Stanley Cup was watching word man Pat Sajak and Wonder Woman Lynda Carter battle for the title of Most Famous Caps Fan.
WWE superstar Chris Jericho grew up a rabid Jets fan, and the club tapped him to voice its in-arena pump-up video for 2018's wild Whiteout.
For a young franchise, the Golden Knights wasted no time jumping into the NHL's top five when it comes to recognizable fans. Criss Angel, ZZ Top, Michael Buffer, Carrot Top, and Lil Jon (who apparently has recovered from his Atlanta Thrashers fascination) have all shown their support.
But the biggest and most ardent fan is probably Bryce Harper. Baseball's second-highest-paid player went so far as to stamp the VGK logo on the knobs of his bats.
Word is, Canadian rocker Neil Young is a San Jose Sharks season-ticket holder on the low, and Metallica made its presence felt when the band ripped through the "Star-Spangled Banner" at the Tank during the 2016 final.
Couple of #StanleyCup rockstars.
Diehard Isles fan Ralph "The Karate Kid" Macchio was in the building a couple weeks back when the home team crane-kicked John Tavares and the Leafs.
"My whole childhood was at Nassau Coliseum," said Macchio, who may or may have not thrown his own bobblehead on the ice during warm-ups.
Also: Watch Cobra Kai. It's great.
Thumbs up for @ralphmacchio bobblehead night!

Coming to Barclays Center this Friday: https://t.co/p1RPAdNcV4 pic.twitter.com/KPh2CdP0BE

— New York Islanders (@NYIslanders) December 20, 2016
Mega star Carrie Underwood loves the Predators so much, she pops by to sing the national anthem, tweets playful jokes at Ryan Johansen, and married Mike Fisher.
Carolina-raised talk-show host Stephen Colbert held the mantle of Most Famous Hurricanes fan until Evander Holyfield knocked him out of the top spot this winter by adding some star power to that buncha jerks' Storm Surge.
Local boy done good Michael Keaton is a proud supporter of Pittsburgh sports teams, showing up during the 2008 and 2009 Stanley Cup Finals and guesting at the NHL Awards gala.
Wrestler Shawn Michaels, bizarrely, was dragged into the championship fight in 2016, when the HBK Line was all the rage.
Mike Myers has always been bled blue and has done his part in taking hockey culture mainstream ("Car!"). Myers was spotted at the Leafs game Friday alongside fellow hilarious actor Will Arnett, who popped in to do guest spots in both the radio and TV play-by-play booths.
[relatedlinks]
A few years back, sportscaster and TV personality Erin Andrews once attended a game at Nationwide Arena proudly sporting a Blue Jackets sweater, so that's good enough for us. (In truth, the one true celebrity at Columbus hockey games is the cannon.)
14.
St. Louis Blues
Mad Men star Jon Hamm has been a true Blues fan since Day 1 and probably has Wayne Gretzky on speed dial. Earlier this month he was in the play-by-play booth and casually ended up calling a goal for his favourite team:
15.
Dallas Stars
Former Cowboys QB Tony Romo has been spotted at multiple Stars games and can be heard predicting offside calls before they even occur.
Fun anecdote: When Viggo Mortensen filmed The Lord of the Rings trilogy, the actor made sure to slip a Canadiens shirt underneath his armour, most notably during The Two Towers' epic Helm's Deep battle.
Still, we have our doubts that he's as passionate about the Habs as Goon mastermind Jay Baruchel, who wrote an entire book of his fandom. (More like Baru 'Chel, am I right?)
Actor David Boreanaz (Buffy the Vampire Slayer, Bones) is such a hockey nut, he once wrote a blog about his love for the Flyers. But the way Gritty is trending, has Philly's own mascot not also become its most famous fan?
18.
Arizona Coyotes
Alice Cooper is a massive Yotes fan because of course he is. Enjoy your nightmares, kids:
"Rule No. 76: No excuses. Play like a champion." —Vince Vaughn, Wedding Crashers
20.
Minnesota Wild
We can't exactly confirm that Katy Perry is rabid Wild supporter, but during an appearance at Xcel Energy Center, someone made her a custom bejeweled Wild sweater with her name on it and she held it up for a camera. Good enough!
[snippet id=4269767]
21.
Florida Panthers
True story: Ariana Grande rode the Florida Panthers' Zamboni as a young child after getting hit not once but twice with an errant puck. Totally worth it.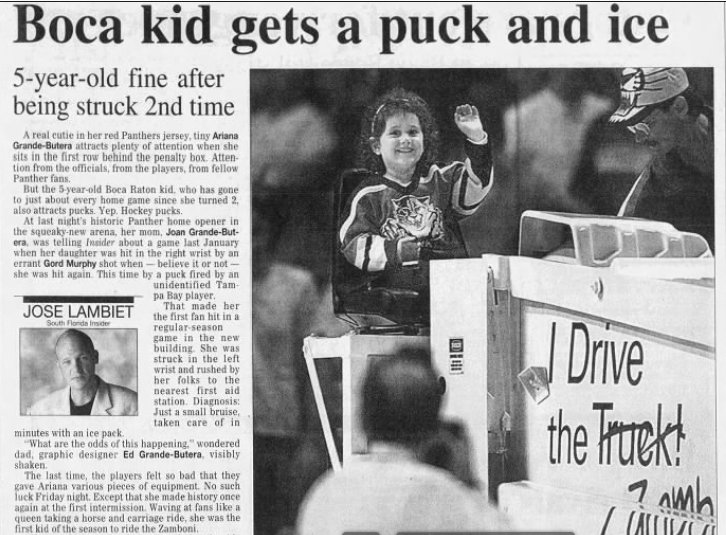 Greater Denver–born South Park creator Trey Park paid homage to his hometown Avalanche in a Season 10 episode titled "Stanley's Cup."
23.
Edmonton Oilers
Comic creator Todd McFarlane (The Amazing Spider-Man, Spawn) co-owned the Oilers for a while and even designed an alternate sweater. The irony here? McFarlane was born in Calgary.
Your auntie's favourite crooner, Michael Buble, is a gigantic Canucks fan who rarely misses a game and can talk hockey with the best of 'em.
25.
Anaheim Ducks
Emilio Estevez would be the easy pick here, but we have to wonder if the actor's Ducks fandom isn't just a teeny bit self-serving.
Snoop Dogg takes some mild heat for being the Drake of hockey fans because he'll wear whatever jersey makes the people happy that day. He gloriously rocked a Penguins sweater in his "Gin and Juice" video, and for his recent Nardwuar interview he wore a L.A. Kings jacket over top of a Canucks flying skate throwback.
From Long Beach, the Honda Center is a slightly quicker drive than the Staples Center, so we're sliding the S-N-Double-O-P right hizzere.
Snoop Dogg is a huge Anaheim Ducks fan, he's all the celeb fan we need. pic.twitter.com/pJJ2XWvEFp

— CameronTurner (@cameronmurray) January 21, 2017
26.
Buffalo Sabres
When you think "celebrity," the first American city that naturally pops to mind is of, course, Buffalo.
Iconic Bills chucker Jim Kelly is always down for the Sabres, the other Pegulas-owned franchise that has come this close to winning a championship.
27.
New York Rangers
The Rangers rank right with the Kings in terms of their collective faces-in-the-stands Q Score. Liam Neeson, Kate Upton, Spike Lee, Susan Sarandon and Tim Robbins have all been spotted. But only John McEnroe had the nerve to form a freaking rock band with Henrik Lundqvist. Tour coming soon, seriously.
Kevin Smith may have milked his most memorable character a little too long, but Clerks influenced mid-'90s indie cinema nearly as much as his Devils influenced late-'90s clutch-and-grab hockey. That said, he's been spotted throwing support behind the Oilers lately.
(Patrick "Puddy" Warburton is giving Smith a serious run for his money lately.)
Connor & Silent Bob Strike Back! pic.twitter.com/dRlQaADgpq

— Edmonton Oilers (@EdmontonOilers) October 20, 2018
29.
Ottawa Senators
We'll always remember that time Rihanna donned an Ottawa Senators sweater to a nightclub, but Ottawa-raised Matthews Perry has been a friend of the club since his pre-fame days.
On a personal note, nothing will ever top a young Tom Green representing for the home squad with his Starter cap selection in Organized Rhyme's classic "Check the O.R." video:
True story. After Chris Chelios's Hockey Hall of Fame induction he strolled into the same bar I was sitting in with a posse that included Kid Rock and John Cusak.
In 2018, the NHL defended its selection of Rock, a Donald Trump supporter, as its All-Star Game performer.
No franchise has more star sightings or Hollywood access than the Kings, especially during their two Cup runs this decade. Despite our Grade 6 crush on Alyssa Milano, we're featuring Will Ferrell here on account of his being one of the most hilarious humans to walk the earth. (Shout out to the late, great Alan Thicke, though.)