With the exception of Toronto and Winnipeg, the Canadian teams most hyped-up in the summer have struggled to meet or fallen well short of off-season expectations.
"Expectations make it a little harder on a club, mentally, physically," Oilers coach Todd McLellan explained last July, adding that because Edmonton hadn't been through it before he still looked at them as a growing team.
"We have to go through that now. Teams will be ready for the Oilers, they'll be prepared to play against us, night-in and night-out. People expect us, our fans in particular, to win on a more regular basis than we have in the past, so our task just gets tougher."
The Oilers are winning a lot less than was expected in the summer. It's something they share in common with three of Canada's four playoff teams from last spring.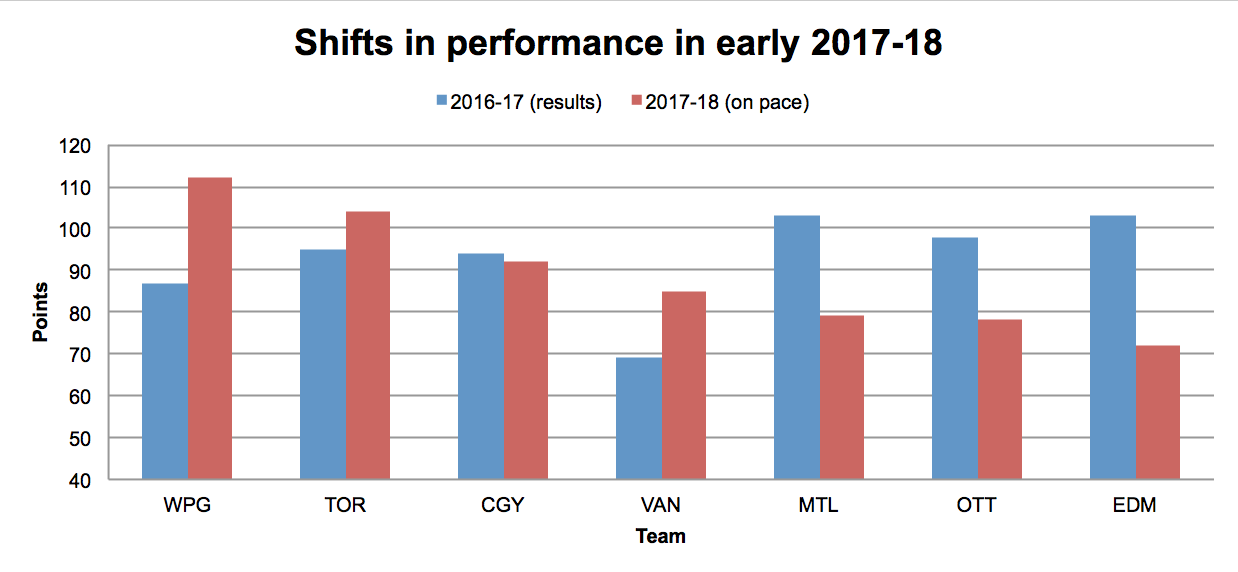 Montreal, Ottawa and Edmonton won 20 playoff games between them in 2017. Now all are on a sub-80-point pace, each trailing Vancouver over the season's first 25 or so contests.
Nobody expected much of the Canucks in a rebuilding year, but they've been competitive. Head coach Travis Green has been creative, Brock Boeser a revelation and Anders Nilsson a superb free agent find. They've also lost 10 of their last 15 games after a hot start, yet are still ahead of those three teams that entered the year with serious ambitions.
It's not over for the Oilers, Senators and Canadiens, and while it's hard to look at any of them right now and say they are the best in Canada, it would be wrong to forget about what happened last season. Their collective playoff hopes aren't dead yet, and come April things may look very different.
Montreal is the best bet to return to the picture, given that Carey Price is back and looks like he's himself again; the team's shot metrics aren't so bad either. The Sens are probably the worst of the bunch, given how much smoke-and-mirrors went into their record last season and how unremarkable their underlying numbers are. Edmonton falls between those extremes, though closer to the Habs than to Ottawa.
[snippet id=3638287]
Calgary's early campaign hasn't been as disappointing, but it's still south of what they hoped. Mike Smith has been everything the team hoped for in net, but early returns on the Travis Hamonic trade are not good and young hopes Sam Bennett and Curtis Lazar have a single goal between them. At this point the team looks set to run in place by virtually every metric: points, goal differential and shot metrics all point to a middle-of-the-road club.
If the standings are to be believed, all five of those teams are out of the running for the title of Canada's best NHL squad. That makes it a contest between two clubs, each on a 100-plus point pace: the Toronto Maple Leafs and Winnipeg Jets.
There are some striking similarities between the two franchises. Each is taking the planned next step in a multi-year rebuild, with the Leafs doing so a little ahead of schedule and the Jets just in the nick of time. Winnipeg has won seven of its past 10 and 15 of 25 overall; Toronto has won seven of its past 10 and 16 of 26 overall.
The Leafs are plus-14 excluding empty net and shootout goals while the Jets are plus-11, with both clubs making most of their hay at even-strength.
In terms of their underlying numbers, neither the Leafs nor Jets are extremely impressive, but both also have an excuse. Traditionally, analytics people like to see teams dominate shot volume, and for good reason: goalies and shooters are streaky by nature, but you can set your clock to a team that wins the territorial war.
Winnipeg's excuse is that it is a better team now than it was at the start of the year.
In the Jets' first 13 games, they ran up a superficially impressive record (7-3-3) thanks mostly to the loser point. They were only plus-one at 5-on-5, and were probably lucky to be even that good, since they were only getting between 45 and 46 per cent of chances, shots and shot attempts, while their opponents took 54 to 55 per cent of them.
That's changed. Over the past 12 games, Winnipeg has pulled away, going 8-3-1 with a plus-nine rating in 5-on-5 situations. The Jets have taken between 51 and 52 per cent of chances, shots and shot attempts over that span. They've had great goaltending and great shooting, but even if they were average in those areas they'd still be a solid team.
Toronto has gone the other way. Over the Leafs' first 13 games, they scored 53 per cent of all goals at even-strength while taking 52 per cent of all shot attempts at 5-on-5. Over their past 13, however, they've been out-shot, but are actually taking home a higher share of goals.
[relatedlinks]
It's been especially bad lately. The Leafs have allowed 35-plus shots in six of their past 10, but have a stunning 5-1 record in those contests. They can thank goalie Frederik Andersen for that, whose .958 save percentage over Toronto's past 10 games makes him the hottest goalie in the league.
What the Leafs can plead is that this is a temporary aberration. Toronto had its breakthrough campaign last season, and while the Jets and Leafs were closer last year than is commonly realized (both were 40-42, with Toronto getting more of its losses in overtime than Winnipeg) the truth is that the Leafs have the superior long-term record in most categories.
Right now that makes Toronto the Canadian team to beat, though that's probably not the most important takeaway. The important takeaway is how narrow the gap is. Since the start of 2016-17 six of the seven Canadian teams have between 120 points (Ottawa) and 128 (Toronto), with Vancouver the lone exception.
Notwithstanding early disappointments, there's still reason for optimism from coast-to-coast for fans willing to take a longer view.