The Columbus Blue Jackets were the hottest team in the NHL prior to the start of the 2015 Stanley Cup Playoffs, winning 16 of their final 17 games. Only problem with that? They didn't come close to qualifying for the post-season because they struggled so mightily early in the year.
Based on the strong finish to the 2014-15 campaign there should be optimism surrounding this team heading into 2015-16, but they'll need to significantly improve on the defensive side of the puck if they have aspirations of emerging as a contender in the Metropolitan Division.
Head coach: Todd Richards
GM: Jarmo Kekalainen
Team payroll: $67.6-million cap hit on $71.4 million cap
Last season record: 42-35-5, 89 points, 11th in the East
Goals for: 236
Goals against: 250
PP: 21.7 per cent, ranked 5th
PK: 80.2 per cent, ranked 23rd
Corsi for per 60: 50.1
Key acquisitions: Brandon Saad, Gregory Campbell
Key departures: Artem Anisimov, Marko Dano, Mark Letestu, Jeremy Morin, Corey Tropp, Brian Gibbons
Rookies to Watch: Zach Werenski, Gabriel Carlsson, Sonny Milano, Kerby Rychel, Nick Moutrey, Paul Bittner, Blake Siebenaler, Dillon Heatherington, Oliver Bjorkstrand, Markus Hannikainen
Jarmo Kekalainen has done an excellent job of stockpiling talented young assets since he took over as GM in 2013. Werenski, the eighth overall pick from the 2015 draft, could be the best prospect of them all. The blueliner grew up idolizing fellow University of Michigan alumnus Jack Johnson, who should be the perfect mentor for him.
Video highlight of 2014-15
Probably when Brandon Dubinsky became the only player in NHL history to fight both Sidney Crosby and Alex Ovechkin.
Pre-season letter grades
Forwards
On paper this is one of the best forward groups in the league. The top three lines could potentially be Foligno-Johansen-Saad, Hartnell-Dubinsky-Jenner, Calvert-Wennberg-Atkinson plus a veteran grind line of Bourque-Campbell-Clarkson. It's something Todd Richards can work with. The addition of Saad not only upgraded the top line, but it was a message to the players that management is serious about building a contender and will make bold moves in order to do so. GRADE: A-
Defence
Opposing teams outshot the Blue Jackets by an average of 4.5 shots per game. Common sense dictates (and the stats nerds will tell you) that consistently being outshot is not a recipe for success. David Savard is developing into an excellent defenceman, Jack Johnson provides leadership and plays with a physical edge, while the team still hopes Ryan Murray can develop into the player many feel he can be. GRADE: C
Goaltending
Sergei Bobrovsky's numbers have steadily declined since winning the Vezina Trophy in 2013. A fractured finger he suffered in October and a groin injury in January hampered his 2014-15 campaign. With the team's backup being Curtis McElhinney, Bobrovsky's health is paramount to the Blue Jackets' success. GRADE: B-
The Blue Jackets will have a successful season if… they can stay healthy. It's simple. No team was bitten by the injury bug as hard or as frequently as Columbus was last season. It's no coincidence that being healthy towards the end of the season contributed mightily to their success.
Just check out this graphic from Man Games Lost.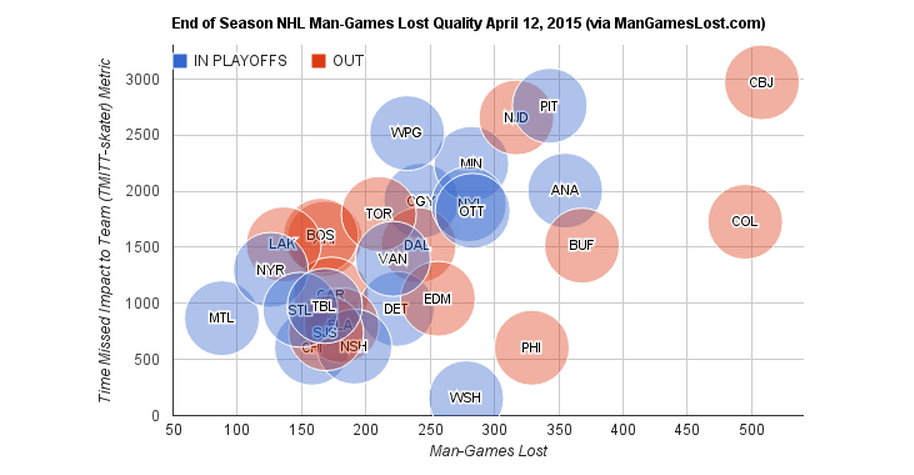 The Blue Jackets will have a disappointing season if… they continue to lose on home ice. Injuries aside, they were a top-10 team on the road but had a dismal 19-20-2 record at Nationwide Arena. The only teams with worse home records were the bottom dwelling Buffalo Sabres, Edmonton Oilers and Arizona Coyotes. Maybe that damn goal cannon they have is a contributing factor?