This week we've detailed who the best goal scorers and playmakers are among the forwards rumoured to be available come the NHL trade deadline on Monday, and luckily for teams in the market to buy, there's a plethora of strong options at forward.
On defence though, it's a lot tougher to find the kind of high-quality players who are available at the forward position. Earlier in the season, when both the St. Louis Blues and Carolina Hurricanes seemed to be destined to miss the playoffs, names like Dougie Hamilton, Alex Pietrangelo, Colton Parayko, Brett Pesce and Justin Faulk were out there. But St. Louis has roared back into the playoffs and Carolina is knocking at the door.
It's possible one of the Hurricanes' defencemen will move at the deadline for forward help, but it seems relatively unlikely. With those two teams in playoff contention, the field of available defencemen is relatively small, especially blue-liners who can make a big impact.
Nevertheless, there are players available who could help teams in specific areas, filling in gaps on second and third pairings to solidify a team's depth. Most teams at this stage aren't looking for a power-play quarterback, so the focus for available defencemen comes in two areas: moving the puck up the ice and defending.
Today, we'll look at which available defencemen are the most proficient puck movers.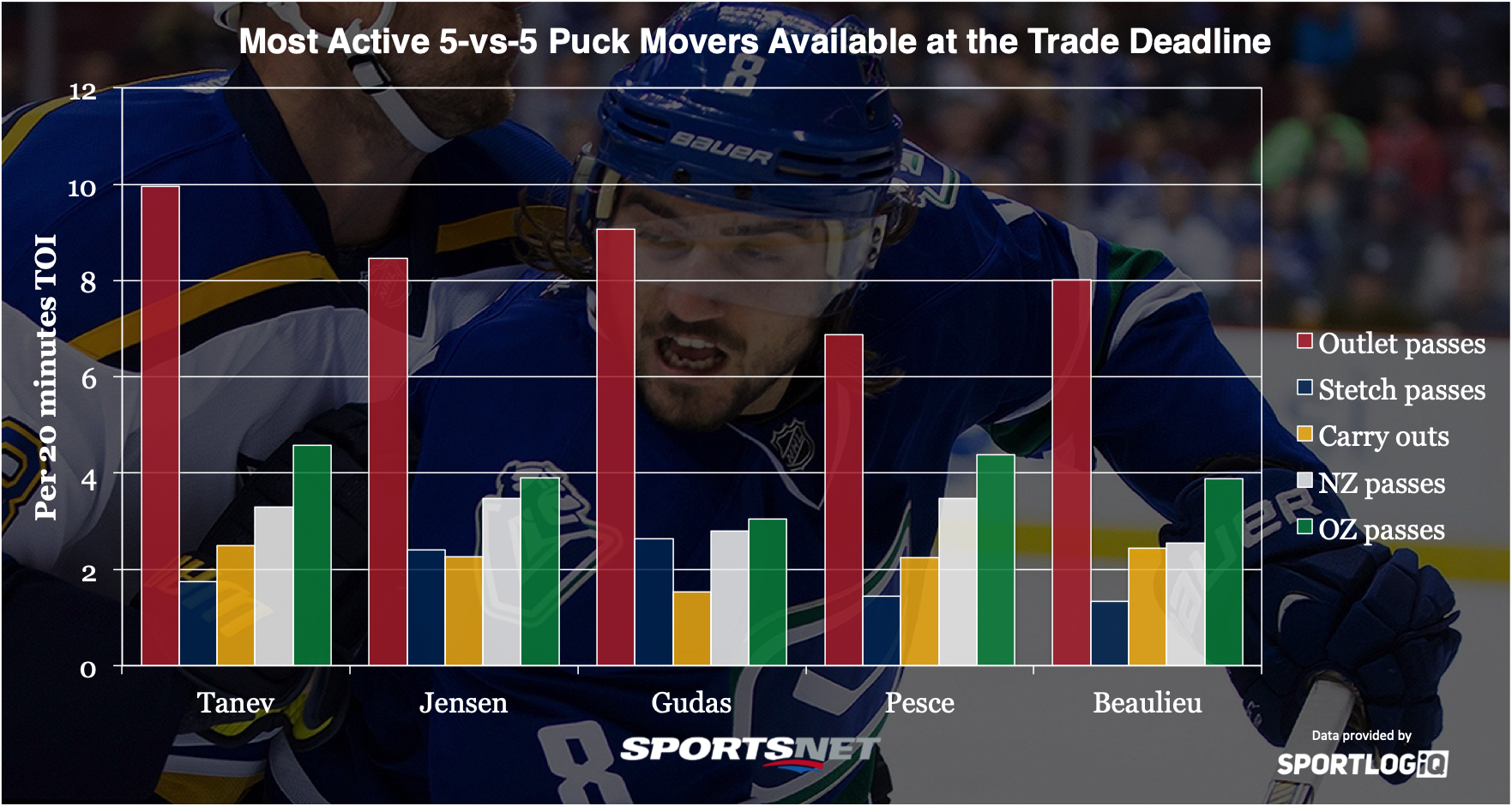 The first question you have to answer when evaluating puck moving defencemen is: who is making the most successful plays the most often? Followed closely by: what plays are they making exactly?
Of the defencemen who could be available at the deadline, the player who makes the most plays to transition the puck up the ice per minute of ice time is Chris Tanev, and it seems like this is the second or third deadline, at least, that there have been rumours he could be traded.
One of the reasons I really like Tanev as a player is he's not just a stellar defensive defenceman – which is what most people talk about in regards to his skill set – he's also an excellent puck mover. He prefers to make safer plays than some others, opting for shorter outlet passes as opposed to longer stretch passes, and he's also an effective skater with the puck, exiting the defensive zone with the puck in his possession more often than any other defenceman who is likely to be moved.
Tanev also jumps into the play offensively more often than any defenceman in this cohort aside from Dougie Hamilton, so on top of the transition play, he flexes some puck moving skills in the offensive zone too. He may not get tons of points, but he helps in all three zones.
[relatedlinks]
Nick Jensen is a player who has been quietly efficient for a couple of years now, with his name starting to appear on the lists of underrated players in the NHL. He's right up there with Tanev in overall transition ability except he opts for the stretch pass more often, which can be a bit less successful and a bit riskier, but carries with it a bit more reward as well. Curiously, Jensen finished right beside Tanev in a quick ranking of the best defensive defencemen in the league this season, and they're both right handed. If Tanev isn't available, Jensen is the player teams should focus in on.
The oft-suspended Radko Gudas has the reputation of a bruiser who is either ruthless or careless, but his physicality isn't his whole game, just a bonus on top of a strong all-around defenceman who moves the puck well. Gudas isn't a big puck carrier, but he nails a shocking amount of stretch passes and overall completes more passes out of the defensive zone than anyone else available aside from Tanev, who ties him.
Pesce is an interesting case because nothing really seems to stand out there – he does a little of everything. One thing that's true of all three possibly available Hurricanes defencemen is they carry the puck out of the defensive zone a lot and fairly rarely pass it out. They like to do their passing more in the neutral zone with the Hurricanes moving more as a tight five-man unit up the ice. Pesce also jumps into the offence a lot as a support player, and he's another guy that helps in all three zones despite few points in his career.
[snippet id=3816507]
Nathan Beaulieu came into the NHL with loads of potential that wasn't fulfilled, and he seems to have settled in as a third-pairing defenceman. He's not a player you're going to trade for to solve a top-four issue, but he has had an under-the-radar strong year despite not always getting into the lineup in Buffalo. He's got back to his strengths in making safer, shorter passes, and carrying the puck with his excellent skating.
Of this group, it should be noted that Jensen and Tanev boast two of the lowest turnover rates in the entire NHL. Not only are they active puck movers, they don't make many mistakes. Pesce and Beaulieu turn the puck over a bit more often, with Beaulieu struggling specifically in the neutral zone.
Beaulieu carries the most risk of this group, but I think he could help a lot of third pairings in the NHL, and he's certainly a good insurance policy in case of injuries as well.