It seems this season if we're not talking about the mumps, we're talking about the NHL potentially putting a team in Las Vegas.
With that in mind, here's what's trending up and down across the league.
TRENDING UP: The NHL's All-Mumps Team
The mumps are spreading through the NHL like pandemonium at a Wal-Mart on Black Friday. A growing list of players have been diagnosed with the virus – including the world-class trio of Sidney Crosby, Corey Perry and Ryan Suter – and dozens more have been tested. The mumps show no prejudice either; it's doesn't matter if you're the best player in the game or a fringe NHLer.
While the mumps can be serious, especially in adults, it's hard not to poke some fun at what's happening in the NHL because of its odd nature. Earlier this week, Reddit user PKSubban_EGO created the graphic below illustrating what an NHL All-Mump roster would look like. To be honest, it's shaping up to be a decent squad.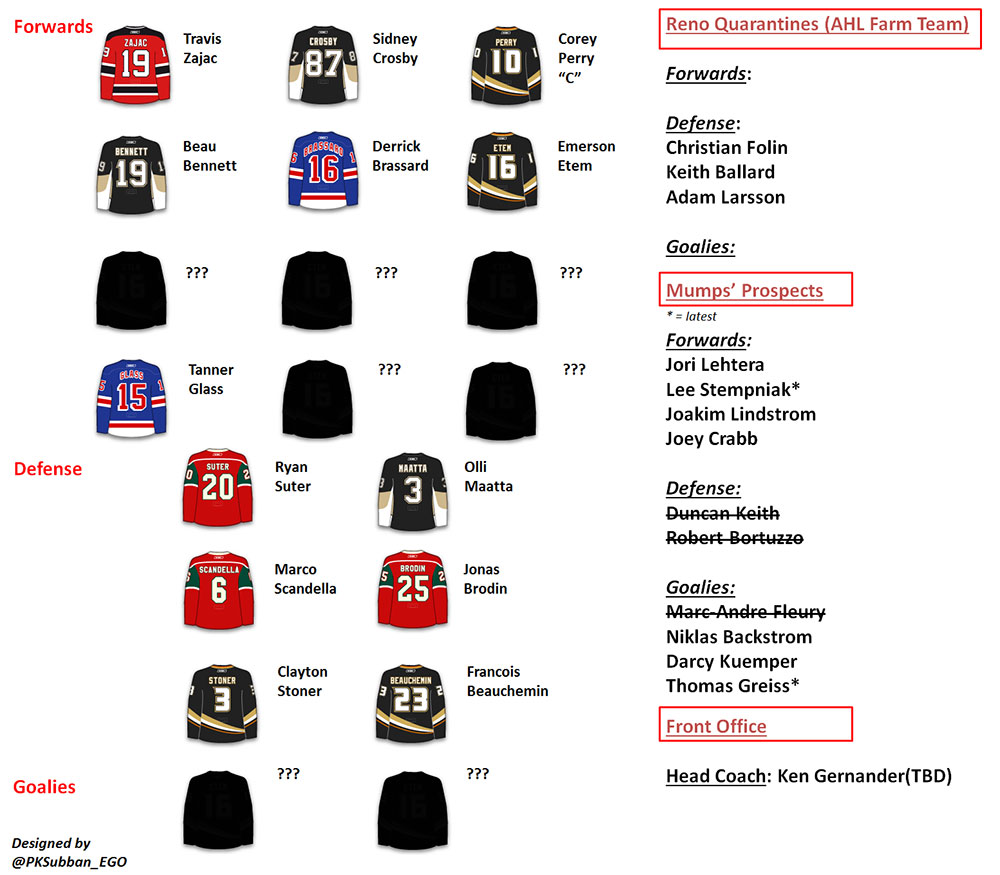 Also, if the NHL relocates a team or expands, the Las Vegas Mumps has a nice ring to it, no? Let me tell you this…fandom would be contagious! (Hooray for wordplay!)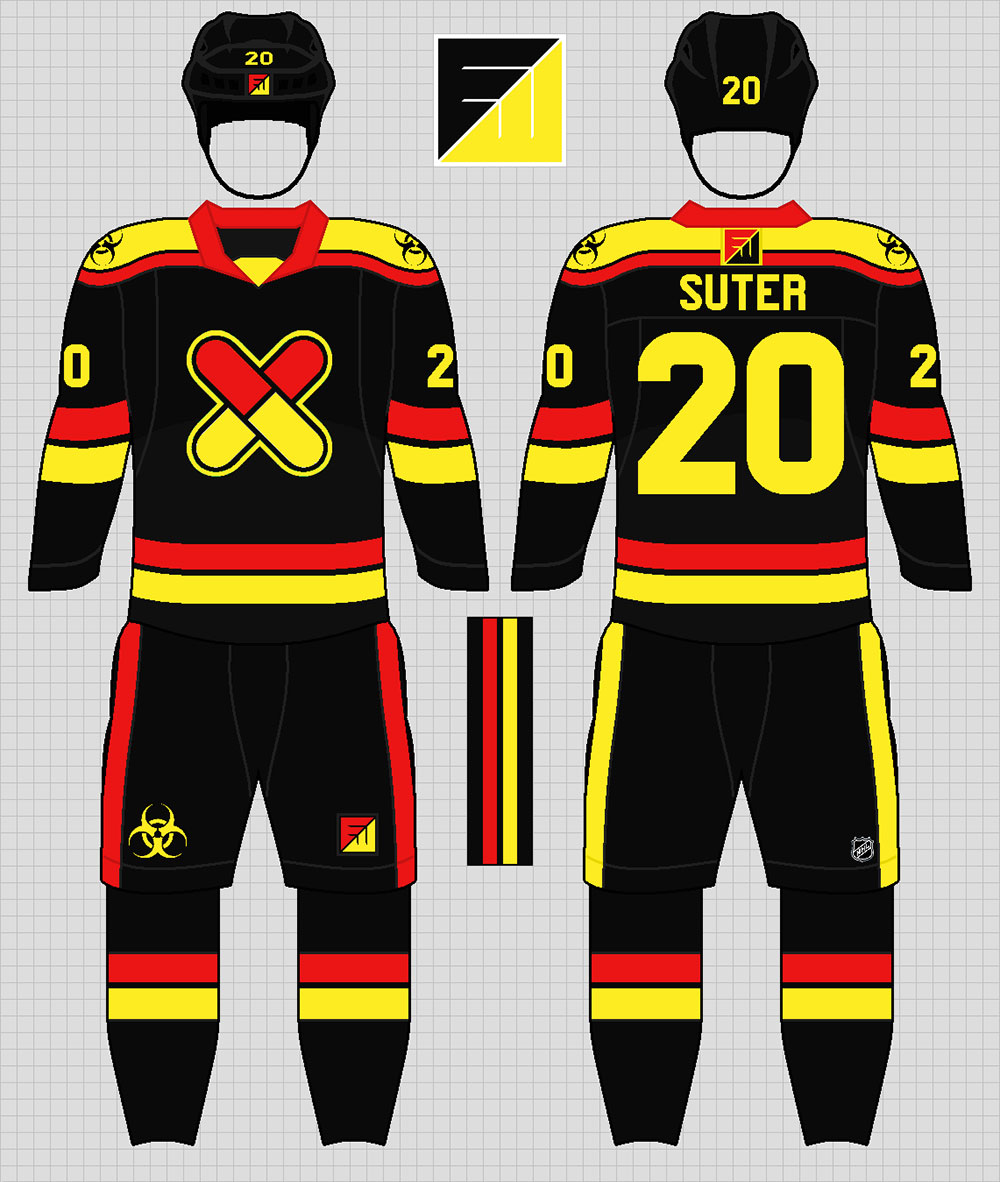 TRENDING UP: Unheralded goal scorers
While stars like Tyler Seguin, Rick Nash, Vladimir Tarasenko, Steven Stamkos and Phil Kessel are at the head of the pack in the Rocket Richard Trophy race, blue-collar wingers Nick Foligno and Matt Beleskey aren't far behind. Foligno has 16 goals in 30 games this season and five of them have come in the last four games. Foligno is one of the hottest players in the league right now and his team is following suit as they've been one of the best teams in recent weeks. Meanwhile, Beleskey already has a career high 15 goals and his depth scoring has been a major contributor to the success of the Ducks, who sit atop the NHL standings.
TRENDING UP: Kevin Shattenkirk
Speaking of unheralded players, Kevin Shattenkirk often gets overshadowed by the Blues top pair of Alex Pietrangelo and Jay Bouwmeester, but he has been one of the NHL's most productive defencemen since breaking into the league with the Avalanche in 2010. The 25-year-old is second only to Mark Giordano in terms of points by defencemen and has 10 points in his last seven games. He is someone opposing teams have to be wary of whenever he's on the ice because of his ability to produce offence from the back end.
TRENDING UP: Claude Giroux doing weird things to jerseys
Not only is he one of the most skilled forwards in the league, Claude Giroux is a character. And apparently he's a character with an oral fixation during games because this week he did a couple things you don't see many NHLers do.
On Tuesday against the Tampa Bay Lightning, as he was about to take a faceoff, Giroux used the linesman's sweater as a hanky. Call it nasty, or just plain resourceful, but it was odd.
Then, on Thursday, he decided to have a mid-game snack and chew on the jersey of Panthers' defenceman Erik Gudbranson. Whatever floats your boat, Claude. Just keep playing the way you're playing (35 points through 31 games) and all will be forgiven.
Trend to watch for: Islanders blue-line getting stronger
The Islanders have established themselves as a true Eastern Conference contender and they've done so while missing a couple key pieces on the blue-line. Johnny Boychuk and Travis Hamonic have been out nursing injuries, but they were both removed from the team's injured reserve Friday. Look for this to be a boost to an Islanders team that despite their solid record allows 2.87 goals per game, which ranks 24th in the league.
TRENDING DOWN: Olli Maatta's luck
This kid simply can't catch a break. Following off-season shoulder surgery, Maatta entered the 2014-15 campaign with high hopes looking to build off a strong rookie year. However, the 20-year-old has suffered multiple setbacks recently. In early November, he had a cancerous tumour removed from his thyroid gland. He returned to the lineup for 10 games before being placed on the injured reserve with a banged up shoulder that could reportedly require another surgery. Now, to add insult to injury, he has the mumps. Maatta showed tremendous composure and maturity when dealing with his cancer scare, so here's hoping he and his swollen face are able to bounce back from this latest crop of stumbling blocks.
TRENDING DOWN: Ben Bishop
The Lightning goalie started the season off like gangbusters, but he has struggled of late. After beginning the season with a 16-3-2 record, Bishop has gone winless in his last four appearances and is now dealing with a lower-body injury. Luckily for the Lightning, backups Evgeni Nabokov and Andrei Vasilevskiy have been more than adequate and the Lightning still find themselves at the top of the Atlantic Division.
Trend to watch for: Leafs could fall (more wordplay!)
The Maple Leafs have been outstanding in December, but they had a six-game winning streak snapped after a poor effort against the Hurricanes. The Leafs have been average on the road this season and they're about to embark on a seven-game road trip starting Sunday in Chicago. If the Leafs play like they did in Carolina, they'll be on the outside of the playoff picture looking in come the turn of the calendar.
Have a very Merry Christmas, everyone!