With the 2018 Stanley Cup Playoffs and NHL Draft in the books, the NHL's 31 general managers have turned their attention to building a winner in 2018-19. Step one comes on July 1 when the league's free-agency period officially gets underway. Sportsnet.ca has all you need to know on the top 10 UFAs at each position likely to be available.
Finally, we get to the goaltenders.
The makeup of the two teams who clawed their way to the Stanley Cup Final should be all that's required to illustrate the value of goaltending for clubs hoping to avoid the draft lottery. Having a reliable No. 1 is step one in building a champion — Washington outlasted the rest of the competition on the back of Braden Holtby's dominance, while Marc-Andre Fleury nearly took Vegas across the finish line. But having serviceable depth is just as crucial. Where would Vegas have finished had their roster of impressive depth netminders not been able to hold down the fort in Fleury's absence? How would Washington have fared if Philipp Grubauer didn't finish the regular season strong while Holtby found his game?
This year's UFA class offers little in terms of a potential No. 1 replacement, but it does present more than a few reliable backup options to help teams shore up their goaltending depth.
That said, let's see who could potentially hit the market this summer…
Top 10 UFAs by position: C | LW | RW | D | G
[relatedlinks]
2017-18 Team: St. Louis Blues
2017-18 Cap Hit: $1.125 million
Carter Hutton put together a fantastic 2017-18 backing up Jake Allen in St. Louis, posting a save percentage of .931 and earning three shutouts in 32 games for the Blues. He finished the year with the highest save percentage and lowest goals-against average of any NHL netminder who played at least 30 games and also put together a strong showing in a similar role last year (.913 save percentage and four shutouts in 30 games). Whether the 32-year-old is good enough to carry a team as a No. 1 is unclear — Hutton saw the fifth-fewest shots of any backup this year behind St. Louis' strong defence — but there's little question he's the top UFA option for teams looking for a reliable backup.
Potential Fits: Buffalo, Detroit, Carolina, NY Islanders, St. Louis, Colorado
2017-18 Team: Colorado Avalanche
2017-18 Cap Hit: $2.75 million
Hutton took the top spot this year, but Jonathan Bernier isn't far behind. In 2016-17, Bernier posted a .915 save percentage in 39 games with Anaheim, which landed him a one-year deal with Colorado in the summer. This season, he put up similar numbers with the Avalanche, sporting a .913 save percentage in 37 games. It might seem like Bernier's been around forever, but he's actually among the younger high-end UFA goaltenders in this year's class at 29 years old. With a couple solid seasons in the books — both of which saw him earn time in the post-season — and past experience as a starter, he still makes for a solid backup option.
Potential Fits: Buffalo, Detroit, Carolina, NY Islanders, St. Louis, Colorado
2017-18 Team: Buffalo Sabres
2017-18 Cap Hit: $4 million
The Buffalo Sabres elected not to bring Robin Lehner back as the club's starter in 2018-19, choosing not to qualify the restricted free agent by Monday's deadline. The 26-year-old is coming off a tough season in Buffalo, posting a .908 save percentage through 53 appearances. That said, he's only a year removed from a pair of far more impressive campaigns, having put up a .920 save percentage in 59 games in 2016-17, and a .924 through 21 games one year prior. He didn't have much help from the Sabres this time around, his club allowing the ninth-most shots in the league. Though a No. 1 role looks unlikely, the late-entry UFA becomes one of the top backup options on the market.
Potential Fits: Detroit, Carolina, NY Islanders, St. Louis, Colorado
2017-18 Team: Boston Bruins
2017-18 Cap Hit: $1.2 million
It's been a tumultuous few years for Anton Khudobin. First a rising star in Minnesota and Boston, then a solid backup for Carolina in 2013-14, the 32-year-old then spent most of the 2015-16 season with Anaheim's AHL team before returning to the Bruins' cage. He had a solid outing this season behind Tuukka Rask, putting up a .913 save percentage and briefly snagging starter duties early in the season when Rask struggled. He had flashes of impressive play throughout those early goings — including a stretch of nine straight starts without a regulation loss — which should convince teams that Khudobin remains a worthwhile backup option.
Potential Fits: Buffalo, Detroit, Carolina, NY Islanders, NY Rangers, St. Louis, Boston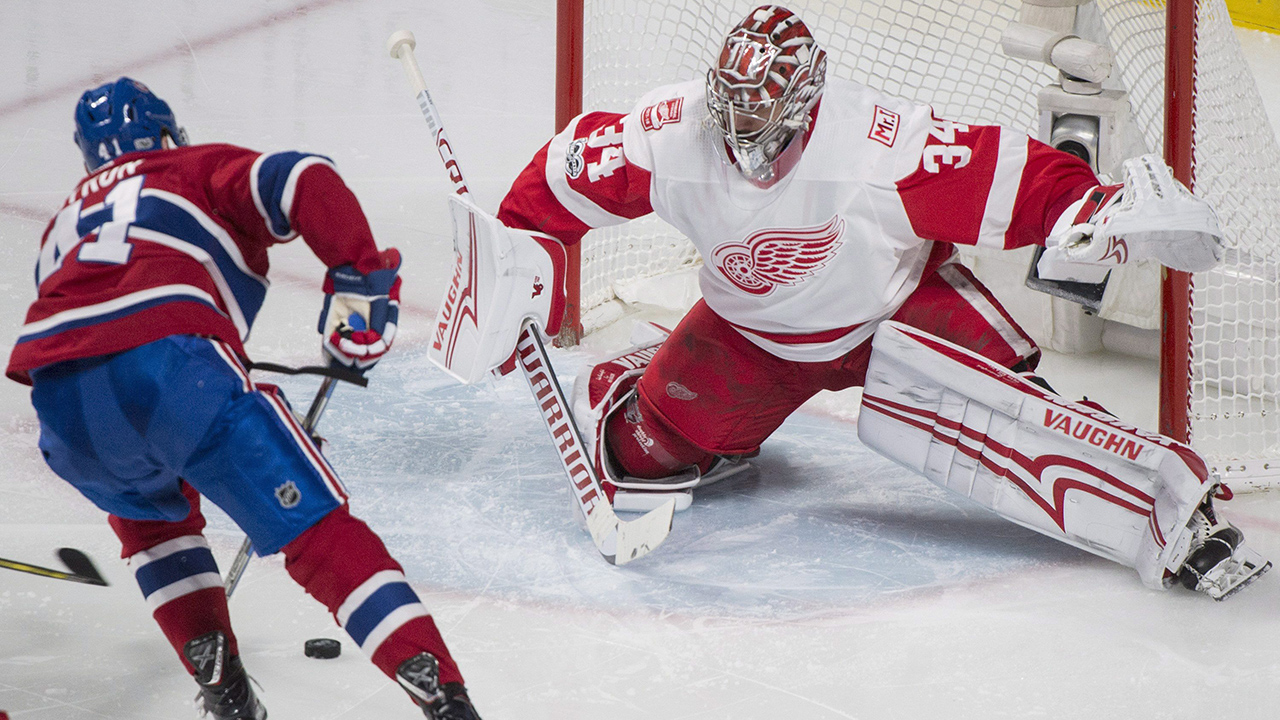 2017-18 Team: Detroit Red Wings/Philadelphia Flyers
2017-18 Cap Hit: $4 million
Petr Mrazek enters the UFA market in much the same situation as Lehner. The 2017-18 campaign wasn't kind to the 26-year-old — who put up a .902 save percentage while splitting the year between the Detroit Red Wings and Philadelphia Flyers, the latter not electing to qualify him before the RFA deadline. The season before was a forgetful one for him, too — a .901 through 50 games in Detroit. But if teams take a flyer on the young Czech, it'll be due to the promise he showed before this recent mediocre stretch. Mrazek looked prime to take his game to the next level in 2015-16, posting a .921 as Detroit's starter before the subsequent decline. It's clear a No. 1 role isn't a good fit at this point, but his age and potential to rekindle his past form makes Mrazek an intriguing backup option.
Potential Fits: Buffalo, Carolina, NY Islanders, NY Rangers, St. Louis, Boston
2017-18 Team: Dallas Stars
2017-18 Cap Hit: $5.9 million
He's due for a hefty pay cut following the conclusion of a five-year, $29.5-million deal that became a headache for the Stars, but the long-time starter can still be useful in a limited role. He posted a .912 save percentage in 2017-18 and suited up for 37 games. That's his lowest games-played total in five years, and his highest save percentage since 2013-14, so it's fair to assume a smaller role may help get the most out of the 34-year-old. He can't carry a team anymore, but with the fourth-best save percentage of this year's UFA goalies, just a hair behind Bernier and Khudobin, he's worth a shot in a backup role.
Potential Fits: Buffalo, Detroit, Carolina, NY Islanders, NY Rangers, St. Louis, Boston, Colorado
2017-18 Team: New York Islanders
2017-18 Cap Hit: $4.5 million
Going from the Islanders' starter in 2014-15 to a timeshare with Thomas Greiss the next season, then to Greiss' backup after that, and a 27-game stint in the AHL in 2016-17, Jaroslav Halak took over starting duties again this season for an Islanders team that had significant defensive struggles. He didn't look great, putting up a .908 save percentage in 54 games, though he didn't have much help in front of him. It's been a long time since those impressive campaigns in Montreal and St. Louis, and Halak's numbers dipped once again this season. That said, the 33-year-old is undoubtedly an NHL-level goaltender and has a lengthy history as a starter, so he still serves as a more stable backup option than a younger, more unproven netminder.
Potential Fits: Buffalo, Detroit, Carolina, NY Islanders, NY Rangers, St. Louis, Boston
2017-18 Team: Carolina Hurricanes
2017-18 Cap Hit: $3.3 million
The long-time Hurricanes No. 1 was supposed to move into a backup role when Carolina traded for, then signed, Scott Darling to a four-year, $16.6 million contract, but found himself splitting duties as Darling struggled. Ward wasn't anything special, finishing with a pedestrian .906 save percentage, and he hasn't reached .910 in four years. GM Don Waddell made it clear he wants changes in net this season and believes in Darling, meaning Ward may be on the cusp of leaving the only NHL franchise he's ever known. That almost certainly means taking a lesser role elsewhere, as his numbers suggest he's better suited as a backup at this point. With that in mind he's still worth a look, especially since he's capable of stepping up to take on more starts should injuries make it necessary.
Potential Fits: Buffalo, Detroit, Carolina, NY Islanders, NY Rangers, St. Louis, Boston, Edmonton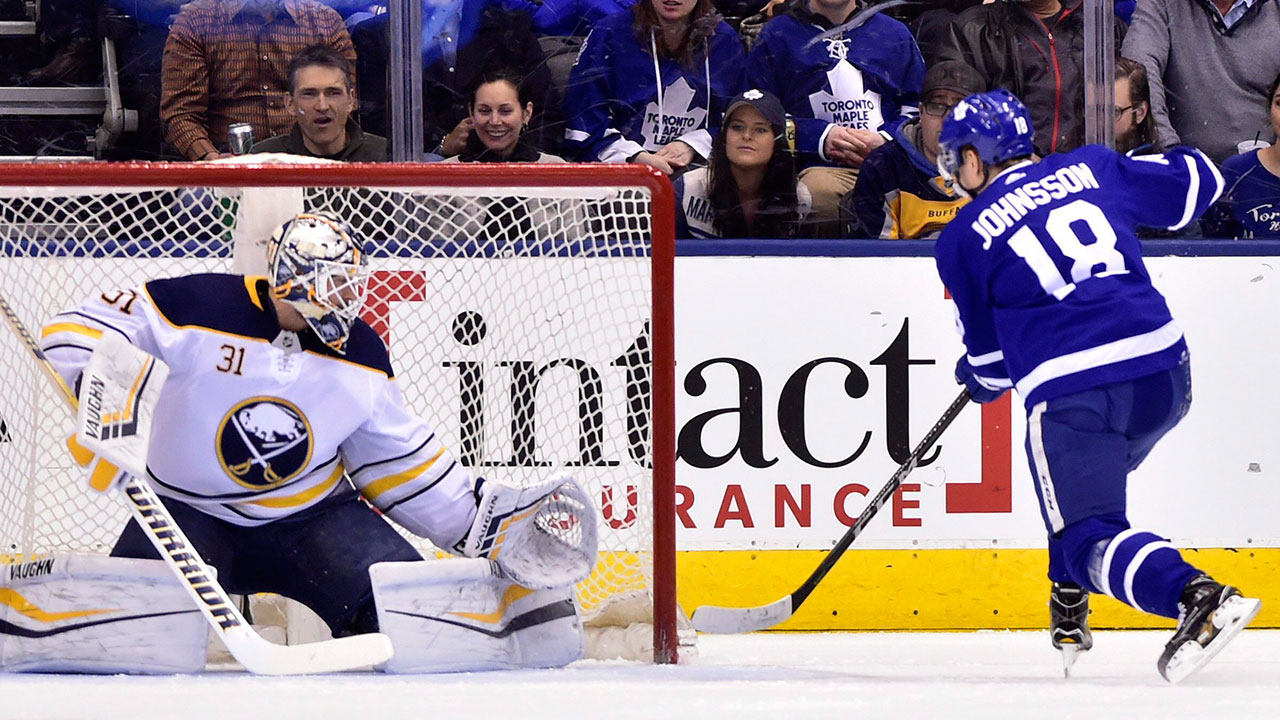 2017-18 Team: Buffalo Sabres
2017-18 Cap Hit: $2.5 million
The 2017-18 season didn't do Chad Johnson any favours. He had a tough year on a lacklustre Sabres team, coming up with an uninspired .891 save percentage in 36 games — the second-worst mark of all goalies who logged at least 20 games this season. That campaign might not be indicative of his potential, though. The 31-year-old looked decent last year with Calgary (.910 save percentage and three shutouts in 36 games) and excellent during his first go-round with Buffalo the year before, when he finished with a .920 mark in 45 appearances. He's a bit of a gamble after his 2017-18 performance, but still an affordable option with the potential of finding that not-so-distant 2015-16 form.
Potential Fits: Buffalo, Detroit, Carolina, NY Islanders, NY Rangers, St. Louis, Boston
2017-18 Team: Winnipeg Jets
2017-18 Cap Hit: $1.15 million
He's the youngest player on this list and an entirely different case as well. Once thought to be a part of the future in Winnipeg's net, Michael Hutchinson's fortunes changed when Connor Hellebuyck came into the picture. Hutchinson appeared in only three games at the NHL level this season, though he earned impressive wins over Tampa Bay and Dallas in his two starts. He dominated the AHL during his time in the minors, though, with a .935 save percentage that was just .001 below Garret Sparks for tops in the league. Hutchinson is certainly worth a look as a backup option, and also brings the intriguing prospect of potentially taking a step forward over the course of his next deal.
Potential Fits: Buffalo, Detroit, Carolina, NY Islanders, NY Rangers, St. Louis, Boston, Colorado, Edmonton