We're at about the quarter mark of the 2018-19 NHL season, and according to Corsica.Hockey's linemate tool, 44 different line combinations around the NHL have played 100 or more minutes together at 5-vs-5.
Like we did at this time last year; now is a good time to take a look across the league and see which are the top-performing lines. It would be easy enough to point out the top offensive lines — the Nathan Mackinnon, Mikko Rantanen, and Gabriel Landeskog line is No. 1 there with a bullet, and they've also played more minutes together than any other line at over 315 — but we have to consider the other side of the ice too.
As I've done before, I'll use the on-ice data from Corsica to pick out the top-five lines, then get into the details.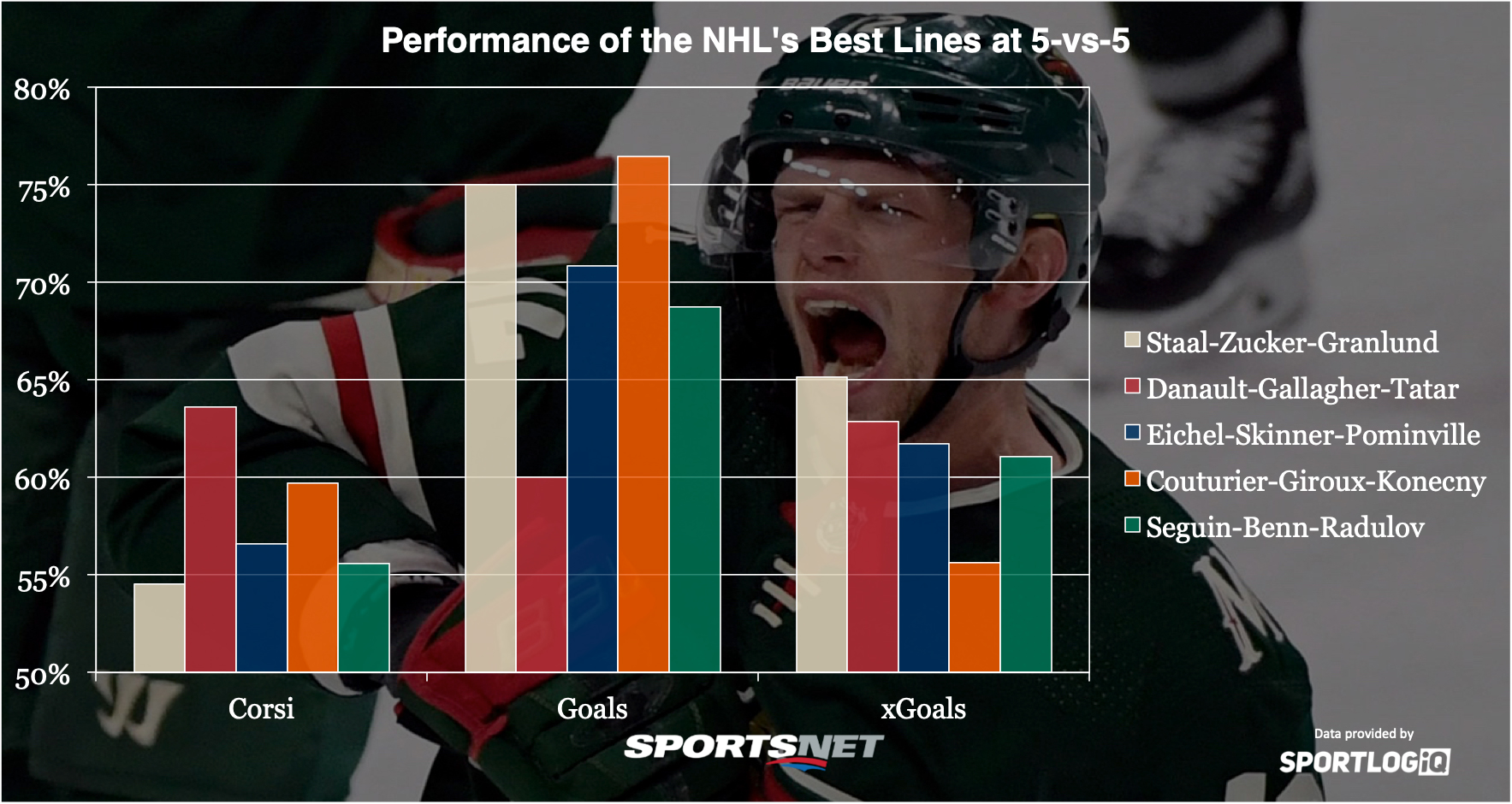 Surprisingly the MacKinnon line didn't make the cut here, but the biggest shock to me is the Boston Bruins' top line of Patrice Bergeron centering Brad Marchand and David Pastrnak not making it either. I think it's the first time in a couple of years of looking at the top lines around the NHL where they ranked outside the top-five, which is a big change, but they're just outside the top though.
You'd be forgiven for not noticing the Minnesota Wild being so good this season, they have been habitually in the middle of the league for the better part of… their entire franchise history? They've come out of the gate determined this year, and Eric Staal is proving his first two seasons in Minnesota weren't the last gasp of a player in decline; he's crushing it once again with Jason Zucker and Mikael Granlund.
The Dallas Stars' top line is playing exactly how you would expect them to with three-star quality players on it, and Claude Giroux continues his 5-vs-5 renaissance with Sean Couturier despite swapping out Jakub Voracek for Travis Konecny, which says a lot about how good Konecny is.
The other two lines that make the cut are powered by hot starts from two off-season acquisitions, with Brendan Gallagher and Phillip Danault meshing perfectly with Tomas Tatar, and Jack Eichel becoming the high-end playmaker and possession driver that Jeff Skinner has always needed.
Now the question is how differently do these lines get things done?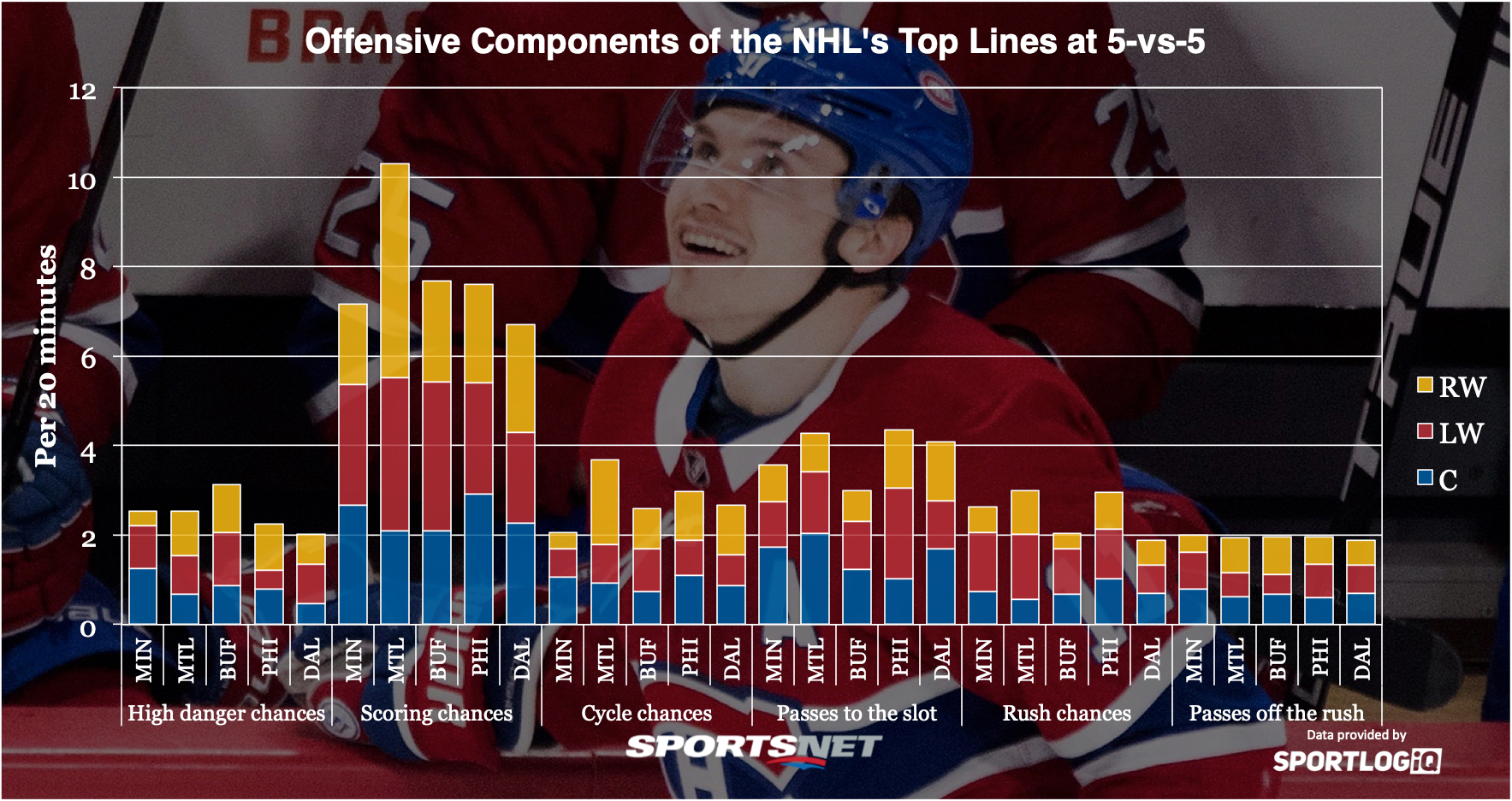 What catches your eye first is that Gallagher gets a lot of scoring chances, a crazy amount, actually. Among players with 200 or more minutes played this season, no one attempted more shots from the slot than Gallagher. As you might expect due to their extreme lead in overall scoring chances, they also lead all five of these lines in chances off the cycle; meaning scoring chances preceded by a cycle pass, and chances off the rush.
What's somewhat interesting is that despite Gallagher's reputation as a net front player, he's actually shot from further out last season and early this season, diversifying his shooting game. This has left the door open for the Sabres to ice the premier line for high danger chances, with Eichel setting up Skinner for over a chance per 20 minutes from the inner slot, and both players being within the top-45 in the NHL there.
There's almost no separation between these lines in passes off the rush, but you can see that the Stars' line attacks off the rush the least overall, preferring to cycle the puck and create chances off the forecheck, something that isn't on the graph but is an area that Radulov excels in. The Stars also shoot from the furthest out of these lines, which isn't that surprising when you have three high end shooters on a line, they prioritize space to shoot over shot location more often.
Then you have the Flyers, who are masters of the passing game, leading the pack in passes to the slot, while sitting second in both rush chances and cycle chances. The Flyers as a team have a lot to figure out, but this line is excellent.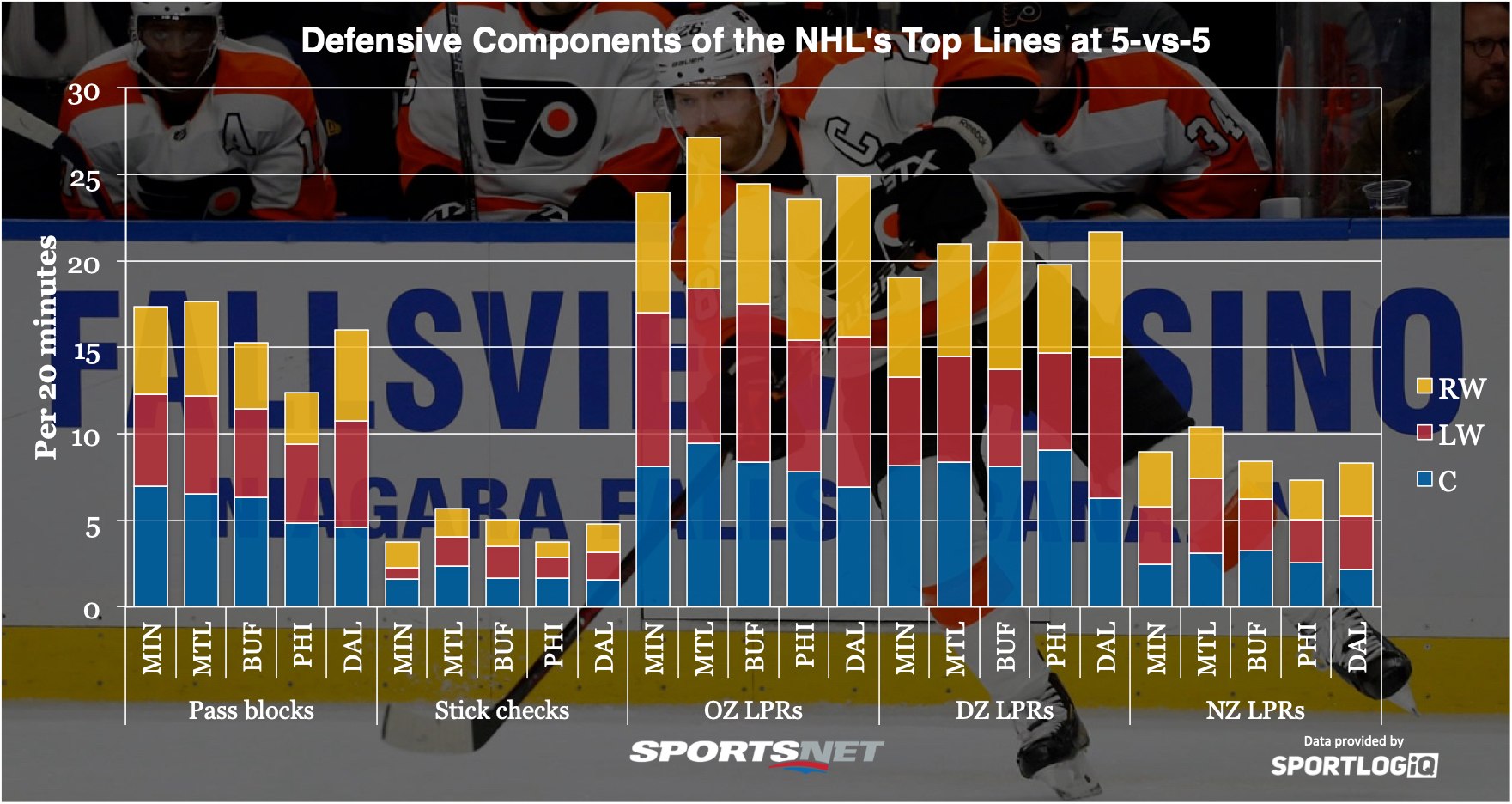 On the defensive side of the puck, Montreal's top line acquits themselves well once more, leading these lines in successful pass blocks, stick checks, offensive zone and neutral zone loose puck recoveries. Looking at how strong that line is, you have to wonder what they would look like if they were playing in front of a better group of defencemen, or if Carey Price can get back to form on a consistent basis.
Another thing that stands out to me after doing years of research on this data for the positional ranking project is that Skinner has become way more involved without the puck in Buffalo than he has ever been in his career. Typically, Skinner has been one of the most lackadaisical defensive players in the entire NHL, and all of a sudden he's blocking passes and recovering loose pucks at an above average rate. His increased effort level allows that line to carry Jason Pominville as essentially a net front guy, because he appears to mostly be a passenger at this point.
The Flyers line has trouble getting in lanes to block passes compared to this cohort, and they're also the least-disruptive line with stick checks, while having the toughest time getting the puck in the neutral zone. They make up for it with high pass efficiency, but they're definitely not the strongest defensive line.
Like in the offensive categories, the Wild line doesn't stand out in really any category, they're just good at pretty much everything but stick checks.
It's not surprising that the Stars' line is among the best at forechecking in the league, but it is a little surprising that they're amongst the most active loose puck recovery lines in their own defensive zone. Usually when you get a line of three offensive players together, there are some hiccups in the defensive zone when it comes to battles, but that crew is very strong.
It will be interesting to see which lines can sustain this level of play through the next quarter of the season.
[relatedlinks]