Standing in an increasingly abandoned corridor, the odd sweat bead still streaming, Nigel Dawes sounded like anything but a mercenary. Wearing the white, blue and gold colours of a country he was not born in, Dawes spoke with passion to a reporter from Kazakhstan about what needs to change in order to improve the national team's fortunes.
Even if Kazakhstan had won its game versus Denmark on Monday, it could not avoid relegation at the world hockey championship. Asked if it was hard to fire up the engine with nothing on the line—Kazakhstan wound up losing 4-1—Dawes was frank.
"You don't want to roll over and die," he said.
That statement offers a glimpse into the competitive spirit that's kept Dawes pushing long after he was forced to reconcile the window closing on a boyhood dream that almost came to fruition. The 31-year-old played his fifth consecutive season with Kazakhstan-based Astana Barys of the KHL this year, a long enough stretch that he was eligible to become a naturalized citizen and suit up for his first men's world championship. And while the tournament ended in disappointment for Dawes and his teammates, in many ways, the Winnipeg native has never enjoyed more personal or professional happiness.
That satisfaction was not something Dawes was certain would follow when he left North America after the 2010-11 campaign. But the fact he'd suited up for four teams that year—13 games with the Atlanta Thrashers and Montreal Canadiens in the NHL, 66 with the Chicago Wolves and Hamilton Bulldogs in the AHL—really drove home the message that something had to change.
A one-time Western Hockey League scoring star who twice represented Canada at the world junior championship, Dawes knew if he was going to make a new life in country almost entirely located in Asia, he had to commit. That meant, at 26, mentally closing the book on the NHL.
"I had made peace with it," he said. "I didn't know what was going to happen, but it definitely helped me not having one foot in, one foot out."
The lack of waffling has produced wonderful results. On the ice, Dawes is a go-to player as opposed to a guy just trying to carve out some space in the lineup.
"I get to play 20 minutes a night; first line; power play; everything I grew up with," he said.
Of course, that ice time has to be earned and Dawes has more than done his part. The left winger has been the KHL's second leading goal-scorer in each of the past two seasons, finishing with 31 goals in 55 games this year after notching 32 in 60 contest the previous season.
That kind of production would put a player born in any other country squarely in the conversation for his nation's world championship roster. But cracking Canada's lineup remains the toughest task in hockey. The opportunity to play in a tournament that means so much to Europeans was one Dawes didn't want to pass up, so he happily donned the Kazakhstan uniform. While the threads fit fine, you get the sense it was still tough for Dawes—who won world junior gold beside Sidney Crosby and Patrice Bergeron in 2005—to play on a squad that largely takes a happy-to-be-here approach.
"When you're from Canada and you're used to playing to win, it's a different experience and a different mentality," he said.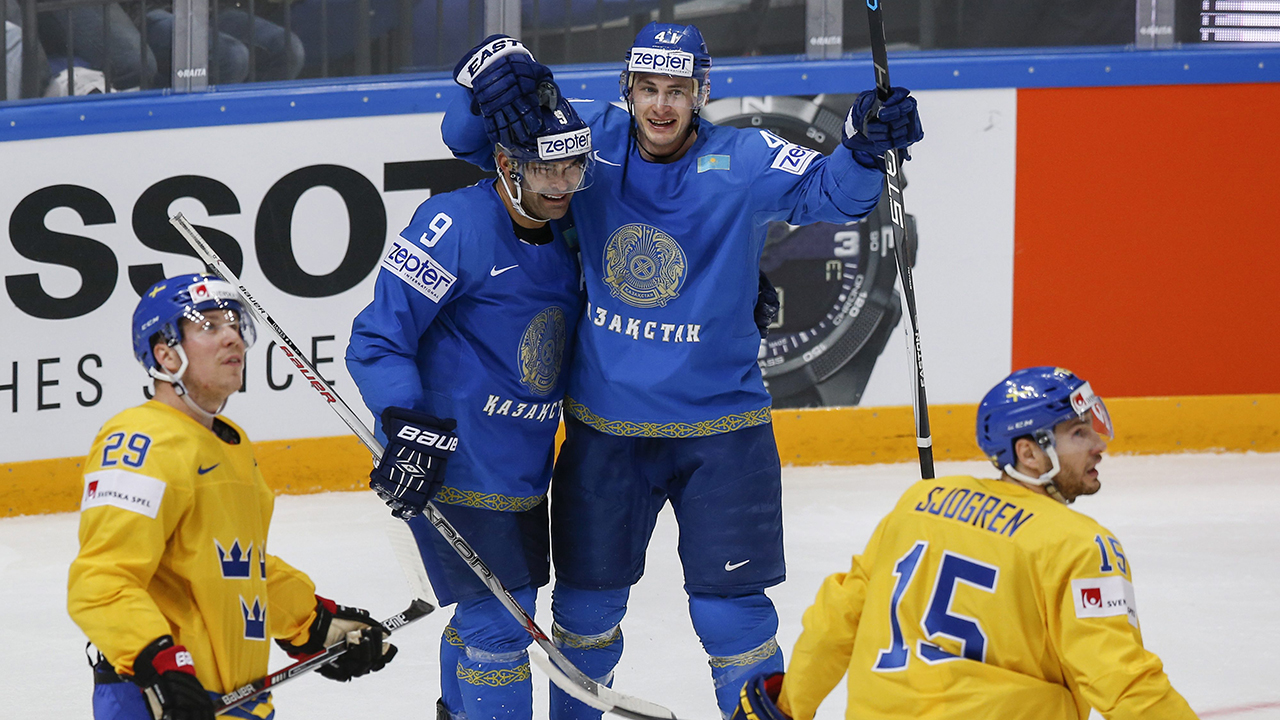 If Dawes is determined to change that outlook for Kazakhstan, it's because his adopted home has made a significant impression on him. He describes the fast-growing Astana—which became Kazakhstan's capital less than 20 years ago—as a cross between Dubai (architecturally) and Las Vegas (lots of lights). There's a large expatriate community thanks to the oil scene and the university lends a whiff of sophistication. Astana's worldwide profile will get a boost when it hosts Expo 2017.
"It feels like home," said Dawes, who spends nearly nine months a year there. "I never thought I would say that, but that's how it feels."
Domestic life has taken on a whole new dimension now that Dawes and his Winnipeg girl of a wife, Cassandra, welcomed baby boy Benson about two months ago. The stability offered in Astana goes a long way on that front, too.
"It's the longest I've ever played anywhere," he said. "I'm not getting called up [and] sent down. It's a lot easier on the family."
Another thing that's eased Dawes' adjustment is playing with fellow North Americans Dustin Boyd and Brandon Bochenski, both in Astana for the past handful of years and with Kazakhstan in Moscow for the worlds, where Dawes paced the club with four goals and eight points in seven outings. Though he's not yet sure if he'll wear the Kazakh colours again next year, there's no doubt where Dawes will be playing his club hockey in the foreseeable future. He's got two years left on his contract with Astana and the fact it's been a perfect—if unlikely—marriage means he could remain well beyond that.
"As long as they keep wanting me back, I'll be there."