The NHL is dark again Friday night as the league gears up to celebrate its all-star weekend, which this year takes place in Tampa Bay. The successful 3-on-3 style games on Sunday are back and the skills competition comes with some changes in format.
When games get going again next Tuesday, the next big benchmark on the NHL's schedule will be the Feb. 26 trade deadline, followed by a race to the playoffs, draft lottery and, eventually, crowning this year's champion. But while there are still some great stories to be written this season, there are a number of noteworthy ones that have unfolded in the first half.
Here are some of our favourites:
Senior Writer Ryan Dixon and NHL Editor Rory Boylen always give it 110%, but never rely on clichés when it comes to podcasting. Instead, they use a mix of facts, fun and a varied group of hockey voices to cover Canada's most beloved game.
The success of the Golden Knights, Avalanche and Devils
Nobody was expecting these teams to do anything but miss the playoffs and cross their fingers for luck at the draft lottery. The Avs were coming off the worst season of any team in the salary cap era, the Devils just picked first overall and were still viewed as a long-term work in progress, and the Golden Knights were of course going to follow a similar path to every expansion team before them.
But here we are at the all-star break and all three sit in a playoff spot.
Colorado's turnaround is due to having a much younger and quicker team than last season and an incredible Hart-worthy first half by Nathan MacKinnon. The Devils are a very fast team that doesn't play anything like the trap-style they're historically known for. The Golden Knights found value where other NHL teams didn't and are one of the best transition teams today.
On Sept. 19, 2017 New Jersey forward Brian Boyle announced he had been diagnosed with chronic myeloid leukemia, a type of bone marrow cancer. Though it could be treated with medication and Boyle was confident he would return to the NHL, it was a scary and sobering start to the season.
Boyle, who signed a two-year deal with New Jersey as a free agent in the summer, returned to game action with his new teammates and made his season debut on Nov. 1, logging 15:19 of ice time in a 2-0 win against Vancouver. He got his first assist in his fourth game, and scored two nights later.
"I've never cried after a goal before. It's a lot. It's everything," Boyle said in an emotional intermission interview after his first goal. "These guys, my wife, my kids, they've been through a lot, too. My parents, my siblings. It's a good feeling."
Taylor Hall was the lone Devil to earn an all-star nod, but after he suffered a hand injury and was forced to miss the weekend, the NHL named teammate Boyle as his replacement in Tampa Bay.
"I'm very, very honoured," Boyle told reporters. "It's difficult because Taylor's carried us a lot of the year. He's had a phenomenal season. He's a great teammate, a great player, a good person. You feel for him because he really should be representing us. But it's an honour."
The 6-foot-6 Boyle has 11 goals and 17 points in 38 games and has been an inspiration to many with how he's overcome adversity this season. When it comes time to hand out awards at the end of the year, Boyle looks like a lock for the Bill Masterton.
Goal scoring up
Unless you've been living under a rock for the past two decades, you're probably aware that one of the biggest talking points about the on-ice product in the NHL centres around how to bring goal scoring up. As the game has opened up and gotten much quicker since the NHL came back from the 2004-05 lockout, the league has attempted to tweak things such as the size of goalie equipment and the standard of obstruction penalty calls.
When 2017-18 opened, there was some hope another wave of stick infraction crackdowns would lead to more open ice, power plays and, as a result, goals. At this point in the season we see goal scoring is indeed up, but more time on the man advantage doesn't seem to be the main factor why.
According to hockey-reference.com, so far the NHL is enjoying its highest-scoring season since 2006-07. If you take out the first two seasons after the 2004-05 lockout, when the NHL made its first big clampdown on obstruction, this is the highest scoring campaign since 1995-96, just when the NHL was starting to move into the Dead Puck Era.
Power plays may be a minor factor, but nothing more. Teams are averaging 3.2 power-play opportunities per game this season, which is the highest since only 2013-14. Where you can really see a difference, though, is in how often teams are scoring with the man advantage. The league average power-play conversion rate is 19.57 per cent, which is the highest it's been since 1992-93.
In 2004-05, Glass was the starting goalie for Canada's best-ever WJC team, which was loaded with top-end players who would have been in the NHL had there not been a lockout. A third-round pick of Ottawa's the year before, Glass was sharp with a .922 save percentage and tournament-best 1.40 GAA in five wins en route to gold. And it wasn't just a case of an all-star roster carrying its goalie: Glass was named the WHL's top goaltender at the end of the season.
But until this season, he was one of only two players from that WJC team who hadn't played a game in the NHL. Glass started his pro career with one season in the ECHL followed by three mediocre ones in the AHL before he took off for the KHL, where he played from 2009 to 2016. He returned to the AHL last season in a backup role and made his NHL breakthrough last month with Chicago after regular starter Corey Crawford went down to injury.
Glass finally started his first game on Dec. 29 and earned a 4-3 OT win against Edmonton, in which he made 42 saves.
"It's taken a while, but not everybody's path is the same and I'm pretty proud of my path," Glass told Sportsnet's Gene Principe after the win. "It took me a while to get here, but I'm happy to be here now.
"There was a few bleak moments I'm sure where I didn't believe it could happen, but hard work and sticking to it, and I've got a great support group around me, my family, my friends, all the coaches that have helped me. It's unbelievable the help they've provided and the support they've provided and I kinda share this with all them right now."
At the moment, Glass has played nine games and has a 3-3-2 record with a .910 save percentage and 3.15 GAA.
Erik Karlsson plays an outdoor game for Senators fans
Ottawa hosted its first outdoor game on Dec. 16, and though for the most part it was a success and a celebration for the fans, there was a huge distraction a day before the game. Senators owner Eugene Melnyk met the media and put a damper on the weekend when he proclaimed that if the arena negotiations dragged on, attendance continued to struggle and the whole situation "becomes a disaster" he would consider moving the franchise from Ottawa.
At this point, Ottawa's season was already spiralling out of control with just two wins in 14 games and team captain Erik Karlsson scaring everyone in the city when he said he was "going to get what I'm worth" as an unrestricted free agent in 2019 (more on that later). But when the outdoor game arrived, the Senators played great against the rival Canadiens, and were led by their most prized player.
Karlsson played a ridiculous 32:55, more than half the game, and put up an assist with seven shots on goal and eight blocked shots. Maybe the best moment of the whole weekend came after the game when Karlsson was interviewed on the ice, over the loud speaker, by Sportsnet's Kyle Bukauskas and spoke directly to the diehards.
"We haven't performed the way we want this year," Karlsson said. "We love this city, we love all our fans and we want to come up and show up for them every chance we have.
"Thanks for coming out."
They say hate is being phased out of the NHL as enforcers become obsolete and fighting's place in the game evaporates. But who's to say you can't have good player-on-player rivalries without that stuff?
Case in point: The ongoing and still-developing hate affair between Drew Doughty and Matthew Tkachuk has become must-see TV whenever the Kings and Flames face off.
It all started last March when Tkachuk delivered a dirty elbow to Doughty's face that resulted in a two-game suspension. After that game, Doughty called the then-first-year player dirty: "To be a rookie and play like that is a little surprising," Doughty said.
Tkachuk stoked the fire 10 days later by saying he expected more from the respected veteran, and that he wouldn't go and whine to the media after a loss. The next time they met, Tkachuk took a healthy run at Doughty in the open ice, which the Kings defenceman was barely able to bail out on and avoid.
In the latest chapter, just earlier this week, Tkachuk was doing anything he could to get under Doughty's skin again and it appeared to work — until Doughty got the last laugh by assisting on the OT winner.
"I'm pretty sure he might be," Doughty said when asked by Eric Francis if Tkachuk was the league's most-hated player. "I have lots of friends on other teams and they don't love him either. But whatever, that's how he plays. All it does is fire guys up and guys take over games when that happens. Like tonight."
The Flames and Kings next see each other on March 26 when this storyline will be front and centre once again. This kind of consistent hate is a rarity these days, which is what makes it special. We're hoping the two teams manage to play in the playoffs, too, because the Tkachuk-Doughty rivalry is easily the best one going these days.
No coach firings yet
This season has been a strange one for coaches, and not in a bad way. Since so many of the bottom-feeders have coaches in their first or second seasons with the team, the answer so far hasn't been to fire any of them. And, of course, the good teams tend not to make that kind of change in-season.
This is the longest stretch of time into a season without a coach firing since 1966-67, when none were fired at all — but remember, there were only six teams in the league at that time.
Is there even anyone on the hot seat? You could argue more GMs are at risk than coaches.
Alex Ovechkin's quietly awesome Hart Trophy push
Who is at the top of your Hart Trophy ballot right now?
Nikita Kucherov? John Tavares? Nathan MacKinnon? Johnny Gaudreau? Steven Stamkos?
How about Alex Ovechkin?
The Capitals star is criminally flying under the radar despite once again having a huge season and bouncing back from a "down" 2016-17 in which he scored 33 goals. Through 49 games, Ovechkin has scored 30 times, which is a significant milestone because he's just the third player ever to score at least 30 goals in each of his first 13 NHL seasons — one of which came in a 48-game 2013 shortened by a lockout.
Ovechkin ranks 13th in the NHL scoring race with 53 points, but leads the league in goals. He's 12 goals away from reaching 600 on his career, a benchmark that seems to be a lock to hit this season. At 32 years old, Ovechkin is 306 goals away from Wayne Gretzky's all-time record, which still seems a long way off, but with a few more seasons like this, would seem more attainable. It's absurd to think there's even a remote chance he'd one day reach that record.
For now, Ovechkin is on pace for his eighth 50-goal season and is somehow not getting the attention that deserves. The Great 8 is scoring at a level not seen since the early 1990s — or even the 1980s — and he's doing it in an era where, comparatively, goal scoring is way down. His level of performance continues to be something special.
Ovechkin has been steady despite the fact Washington lost all kinds of depth off last year's roster. They were expected to take a step back, but hit the all-star break holding first place in the Metro Division.
Outspoken NHLers
One small step in expression, one giant leap in personality.
The NHL has always been short on media-friendly, in-your-face characters in its history, and though this season still can't hold a candle to the drama that regularly unfolds in the NBA, there have been a few positive developments this season.
The first was Doughty, who spoke about the potential of leaving the Kings when he became eligible for unrestricted free agency in 2019.
"I'd love to re-sign in L.A. But if our team isn't going in the right direction… I want to win Cups. I don't give a s— where I play. I just want to win Cups, and that's the bottom line," he told The Hockey News' Matt Larkin.
Then, in November, he told The Athletic's Craig Custance that he would talk to Karlsson, who is scheduled to become a UFA in the same off-season, about what kind of money each is getting before signing, and that they deserved more than P.K. Subban's $9 million. This, of course, dragged Karlsson into the fray and led to the Senators defenceman having to talk about his UFA plans.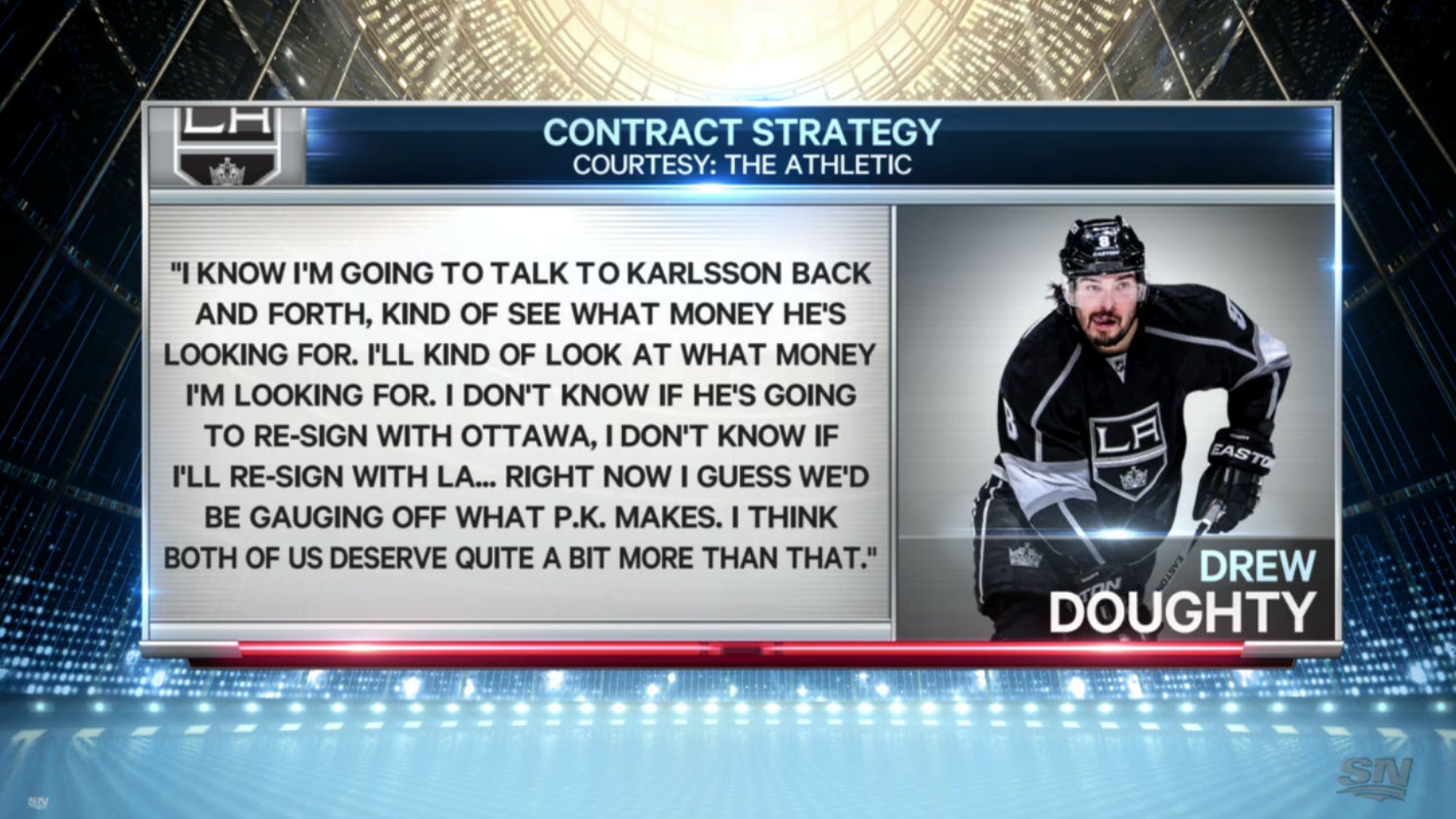 "When I go to market, I'm going to get what I'm worth, and it's going to be no less, no matter where I'm going," Karlsson told the Ottawa Sun.
And just this week, two of the NHL's brightest young stars let their frustration boil over to the point they seemed to be protesting, or even showing up, the referees. Auston Matthews and Connor McDavid had borderline goalie interference plays lead to their goals being called back after review, then showed emotion when they scored again later in the game.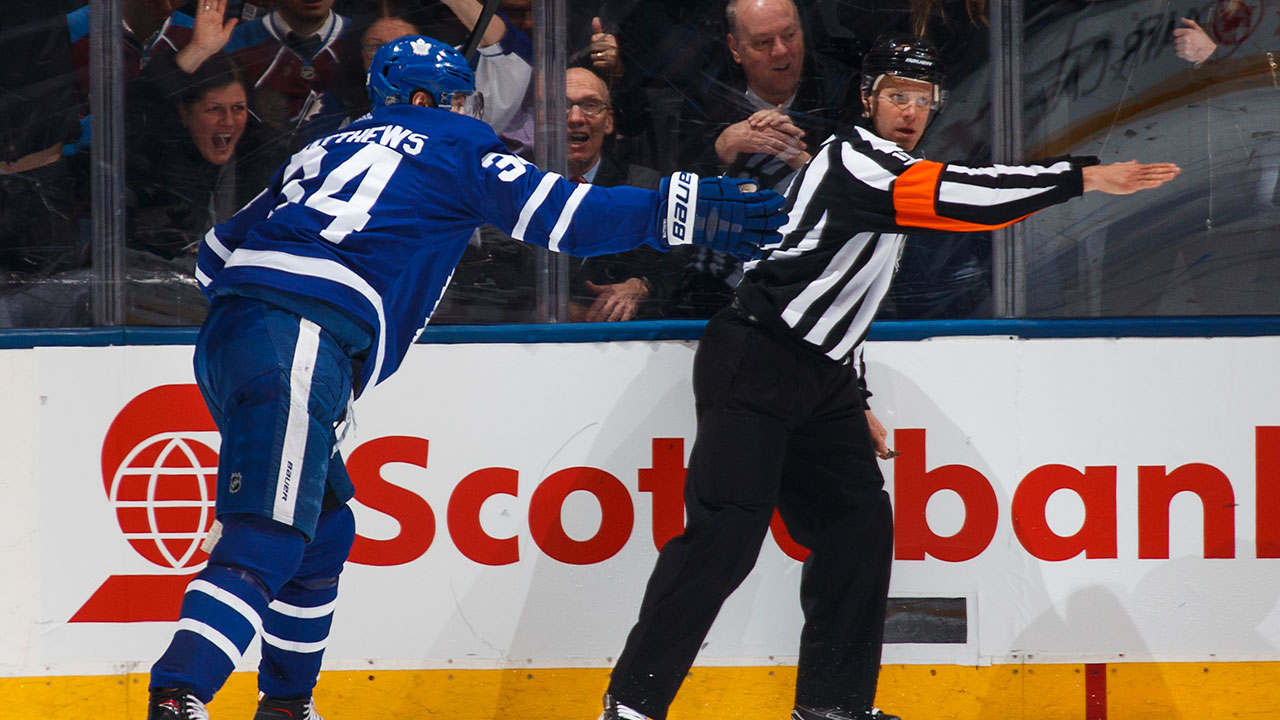 Matthews pointed to the net to signal a goal (resulting in the great photo above), while McDavid converted a shootout goal and said "check upstairs" to the referee as he skated by. The Oilers captain earned a 10-minute misconduct for that one.
"Probably shouldn't have done it obviously, but that's the way it goes. I was frustrated," McDavid explained. "I thought it wasn't the right call. They're just doing their job trying to do what's best for the game and you don't always have to agree with that.
"Obviously should not have done that but that's frustration."
This is the kind of unabashed emotion hockey needs more of both on and off the ice. And as the league becomes more and more geared towards a younger generation, we can hope this is the start of something new.
It's not a lot — but it's a welcome step in a fun direction.