ST. PAUL, Minn. — The Minnesota Wild were flailing three months ago, when a potential remedy for their problems was located in the desert.
Devan Dubnyk was so eager to help he took a cross-country red-eye flight to meet them.
The Wild gladly gave him the net that night on about 90 minutes of sleep, and their season-saving goaltender has been going strong ever since. They start the playoffs on Thursday at St. Louis.
STANLEY CUP PLAYOFFS: | Broadcast Schedule
Rogers GameCentre LIVE | Stanley Cup Playoffs Fantasy Hockey
New Sportsnet app: iTunes | Google Play
"One of my first conversations with him was, 'We don't need you to come in and be a hero,'" coach Mike Yeo said. "It probably appeared that way to him at that time."
The Wild fell to 18-19-5 after a humiliating 7-2 loss at Pittsburgh on Jan. 13, making them an easy pick for the NHL's biggest first-half flop.
Darcy Kuemper and Niklas Backstrom were struggling to keep the Wild competitive, so general manager Chuck Fletcher sent a third-round draft pick to Arizona for Dubnyk, a 28-year-old backup who still had potential but was expendable for the Coyotes behind the established Mike Smith.
Dubnyk boarded a plane in Phoenix the night of the Jan. 14 trade and met the Wild in Buffalo after a connection in New York, bleary-eyed but clear-minded.
"That was a weird day, that one," Dubnyk said after practice on Tuesday. "Right from the time I left, I just kind of tried to prepare and treat it as though I was going to be playing the game and not really think otherwise. You put yourself in between, and then you start guessing if you should or shouldn't. I just didn't give myself a choice. I just said, 'I'm going no matter what,' and prepared accordingly as best I could with an hour and a half of sleep."
The Wild won 7-0.
The appearance on Jan. 15 of the lowly Sabres on the schedule sure helped. So did Dubnyk's confidence. But the Wild were 2-8-4 in their previous 16 games, in dire need of a jolt. Just about anybody was welcome at that point.
"You wait and see how he's going to play, but you know what? I feel like any time you bring in a new player you have that initial inject of life in the room right away," star left wing Zach Parise said, reflecting later.
"And then on top of that for him to come in and get the shutout his first game and play really well for us in each game that he's played, it just makes the team feel better."
Dubnyk played in 39 of the 40 games that remained in the regular season, breaking just last week after the Wild clinched the wild-card spot.
They had the fourth-worst record in the Western Conference the day of the deal, and they climbed all the way to sixth to pose an unenviable opening opponent for the Central Division champion Blues.
"We've done a real good job of really being able to focus on a single game at a time and, regardless of winning or losing, just forgetting about it and shifting our focus to the next game," said Dubnyk, who had a 1.78 goals-against average with the Wild and ranked second overall in the NHL in that category behind Montreal Canadiens standout Carey Price.
"And we've had to do that for months now. So I think we've grown as a team to know how to do that well, and that should help us going forward here."
---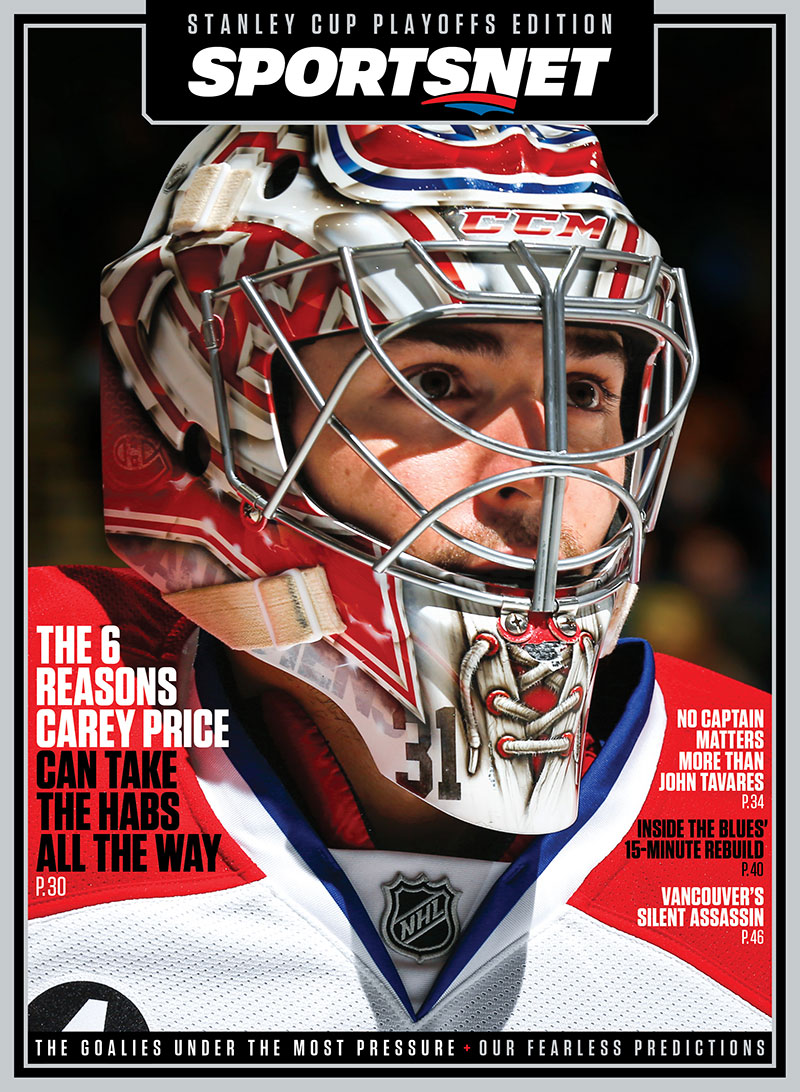 Sportsnet Magazine Stanley Cup Playoffs
Edition: The six reasons why Carey Price can take the Montreal Canadiens all the way. Download it right now on your iOS or Android device, free to Sportsnet ONE subscribers.
---
Dubnyk has never appeared in a playoff game, but he beat the Blues twice in March including a 41-save win at St. Louis. At 6-foot-6, he has a size advantage between the pipes.
He's nimble and aggressive enough to play the puck well out of the crease, too, one of many benefits the Wild skaters have cited since his arrival.
"It's not like we were waiting for it to end, but I don't think any of us were expecting him to continue the way that he did," Yeo said. "It's remarkable the season he's had and the level of play he's been at game after game after game. When you look at him, there's not a lot of reasons why he shouldn't continue to be capable of doing it."