The Calgary Flames were the first team to dip their toes into the trade market this season, attempting to shore up their defence for a playoff drive by acquiring Michael Stone from the Arizona Coyotes for a 2018 third round draft pick and a 2018 fifth round pick, conditional on Stone re-signing with the Flames.
Calgary is currently in the last wild card spot in the West, two points ahead of the Los Angeles Kings, though the Kings have a game in hand. Considering where they are, it makes sense for the Flames to bolster their ranks early and push to lock up a spot, and it's not like a third round pick is a big price for an NHL regular.
But what kind of player are they getting for that bargain basement price?
As usual, turnover rates are inverted so positive numbers are good and negative numbers are bad.
Based on the past two seasons, Stone is a bit of a turnover machine in the offensive and defensive zones, though he's been better in the defensive zone this year. In the neutral zone though, Stone has been legitimately solid in terms of execution, and overall his pass success rate is higher than average on the Coyotes' blue line.
Unfortunately though, he seems to be a below average possession driver, and while he has a positive goal differential relative to his teammates, that is driven by his team-high PDO and not any special impact on shot quality since Corsica.Hockey has him at a minus-4.71 per cent expected goals for percentage.
What about his individual plays on the ice? Third pairing defencemen are typically below average, so if there are specific skills the Flames are after that Stone possesses, the move might look decent.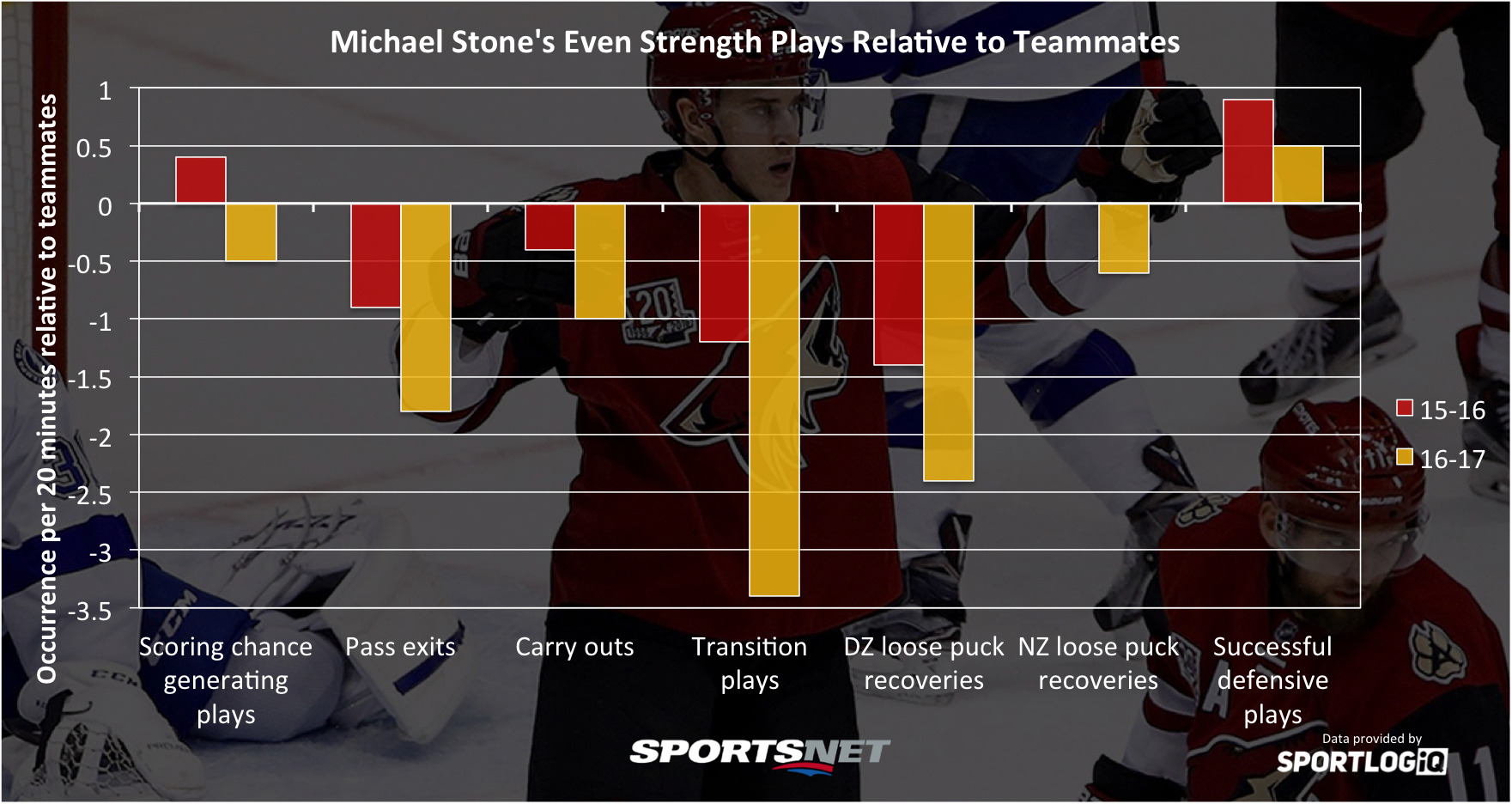 Once again, there's not much here that speaks positively for Stone, and he's actually worse — or at least less involved relative to his teammates — than last year across every category.
Stone isn't driving scoring chances or transitioning the puck with control, and he's struggling to win loose pucks. The only area that sticks out as a positive for him is defending without the puck, where he is able to successfully remove possession from opponents more often than his compatriots. However, I would assume that because he so rarely has the puck, that's more a function of how often he has to defend than defensive effectiveness.
All this said, it's possible Stone has just been having an off year, and that while he's below league average, he's better than he's shown so far. As a right shot defenceman, the player he's most likely to take out of the Flames' lineup is Deryk Engelland, who seems significantly worse than Stone, so you can also point out the Flames still upgraded with this move.
The price point is also a factor: a third round pick isn't nothing, but it's not a large cost for a guarantee of 20-plus games from an NHL regular. There may have been better options out there eventually, but for now very few teams are selling.
Making an addition earlier than the deadline might be what propels the Flames into a secure playoff spot.