The Montreal Canadiens have made a minor move in acquiring defenceman Nikita Nesterov from the Tampa Bay Lightning in exchange for American Hockey League enforcer Jonathan Racine and a sixth-round draft pick in 2017.
On the face of it, acquiring defensive depth without giving up much in assets looks like an automatic win for Marc Bergevin. But I think this trade may be even better than that for the Canadiens.
Nesterov was having trouble staying in the lineup in Tampa Bay, though it doesn't look to be through any fault of his own. The 23-year-old Russian has been improving his game over his three-year career, and looks to be a solid third-pairing option at this stage, with the potential for more growth.
Plus, with a plethora of Russian players on the Canadiens, it seems like a good place for Nesterov to get comfortable enough to maximize that potential.
[relatedlinks]
The greatest assests Nesterov has are with the puck, where he can carry it more successfully that most defencemen, ranking above league and team average in terms of controlled zone exits and zone entries. The Canadiens have been focusing strongly on improving their transition game in the last 20 games, and Nesterov could definitely help there.
In terms of offensive play, Nesterov is strong there, too. When you look at his production at even strength, Nesterov led all Lightning defensemen with 1.17 points per 60 minutes, and eight of his 10 even-strength points were either goals or primary assists.
However, all these details are less important than his growth as a player, so let's compare him to himself last season. As usual, turnover rates are inverted so that positive equals good and negative equals bad.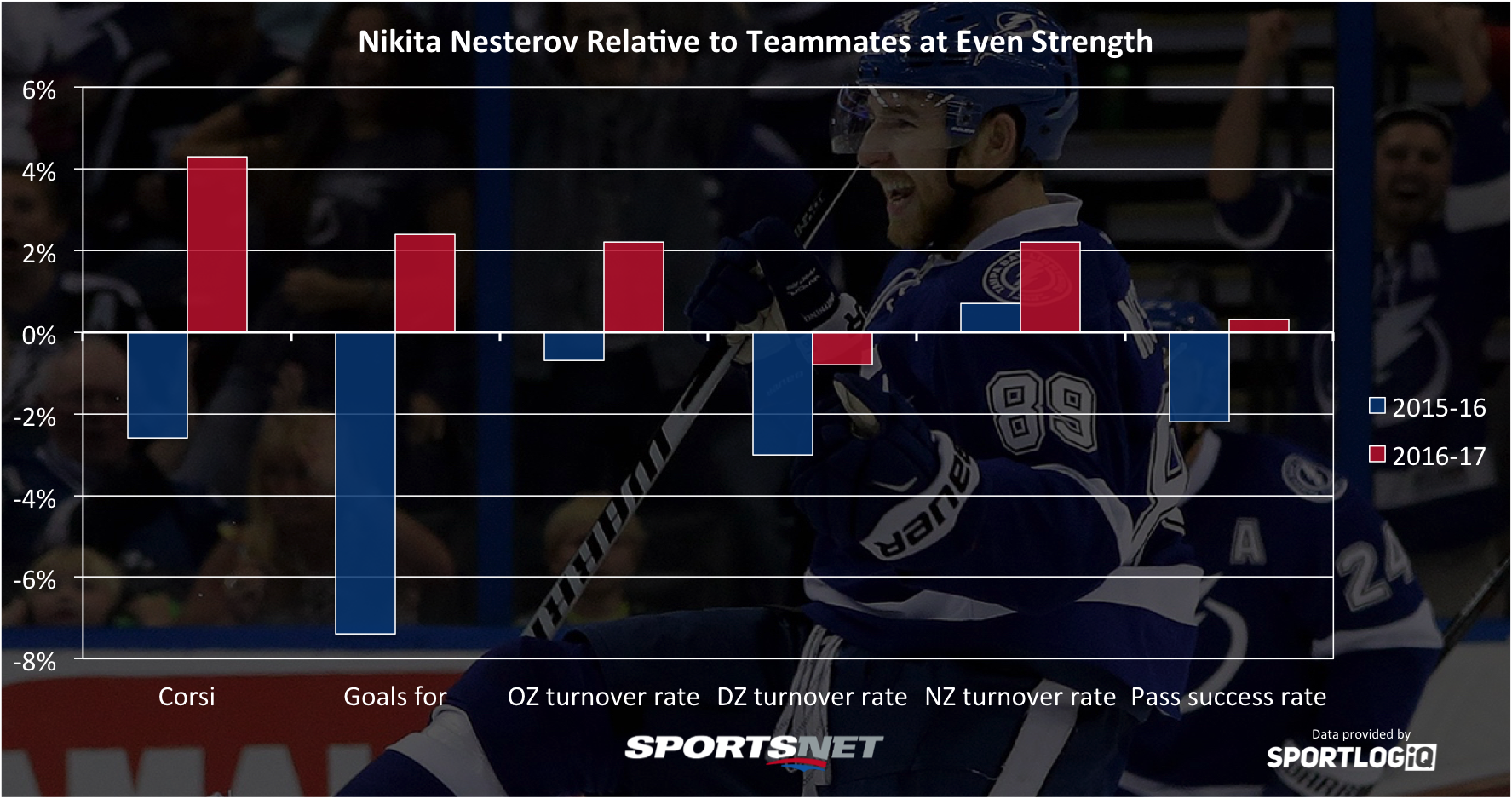 As you can see, the year-over-year improvement has been phenomenal. Nesterov has gone from a fairly risky player to much more poised, which has led to huge improvements in on-ice goal differential and shot differential relative to his teammates.
The defensive zone is easily Nesterov's biggest weakness, where he struggles to win turns the puck over a bit more than average and fails to win puck battles, but he has clearly improved in those regards over last season.
[snippet]
At 23 years old, it's possible that he has not developed fully as a player. And if that's the case, the Canadiens may have found a diamond in the rough.
But no matter how Nesterov's development curve bends, this was a great bet to make. Either they have solidified their defensive depth on the left side of the ice with a strong third-pairing defender, or they've found someone who can be even more.