After a season of so-called struggles for Max Pacioretty last year, where he scored 30 goals and 64 points in 82 games, the Montreal Canadiens' captain is already at 28 goals with 24 games left to play.
Obviously part of the increase in scoring for Pacioretty has been a full off-season to rehabilitate the knee injury that weakened his skating stride last year, but Pacioretty still rattled off 303 shots on goal last season, a career high, so it's not like he wasn't effective.
So what exactly has changed in his game since last season to explain a 30-goal pace turning into a 40-goal pace? And how will playing under a new coach affect him? Let's dig into his even-strength play.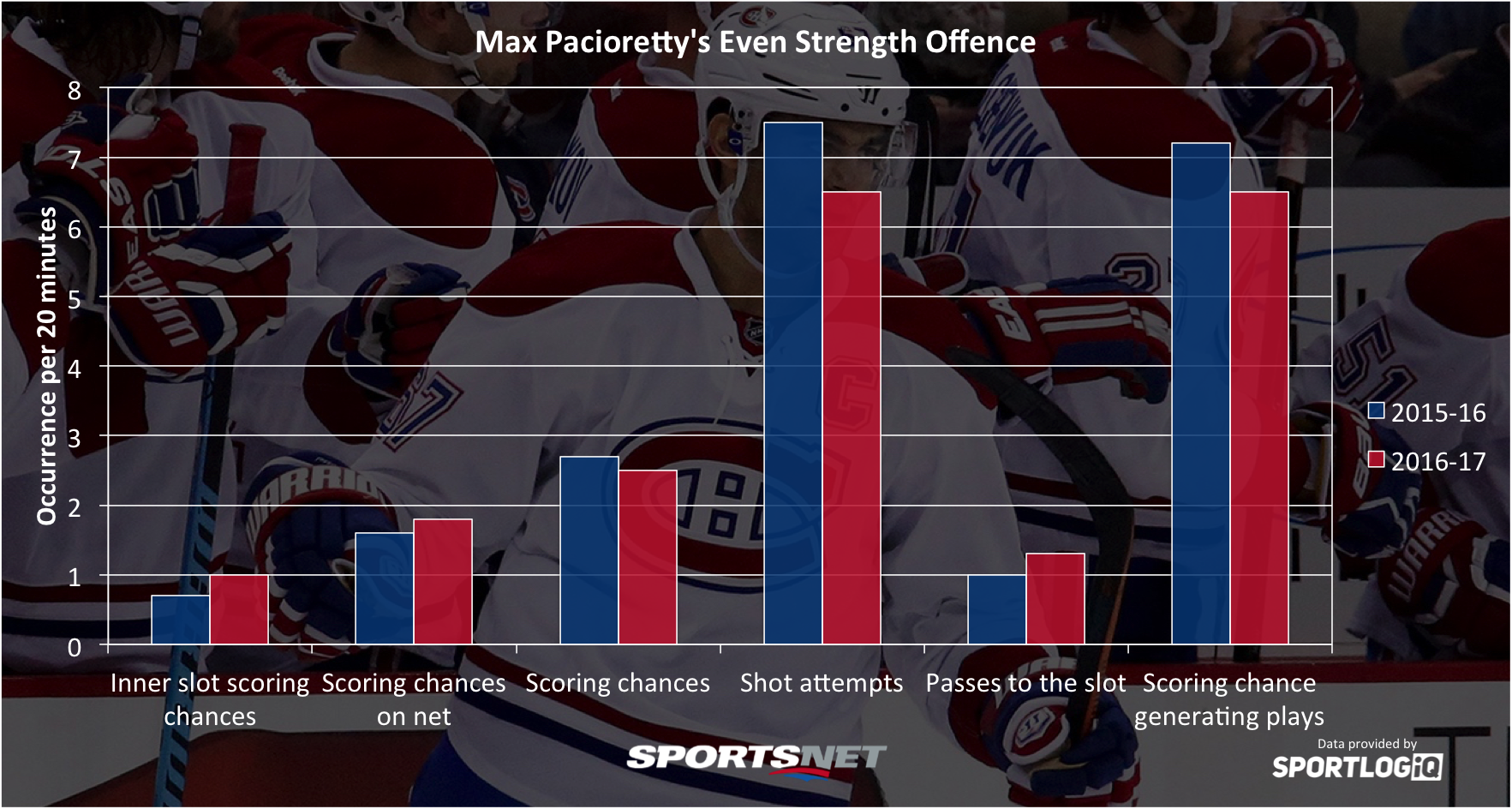 Compared to last season, Pacioretty is getting more of his shots from dangerous areas on net, though he is shooting slightly less often, and creating fewer scoring chances overall. This would imply that while there are slightly fewer scoring chances happening while Pacioretty's on the ice this season, the ones he is getting are of slightly higher quality.
Also interesting is that Pacioretty has improved his rate of completed passes to the slot from slightly above average to very strong, which means that opponents have to respect more than just his shot when he has the puck.
Adding that doubt to the mind of a checker can give Pacioretty better shooting lanes, but I think there's more to it than this — I think linemates have been a factor for him.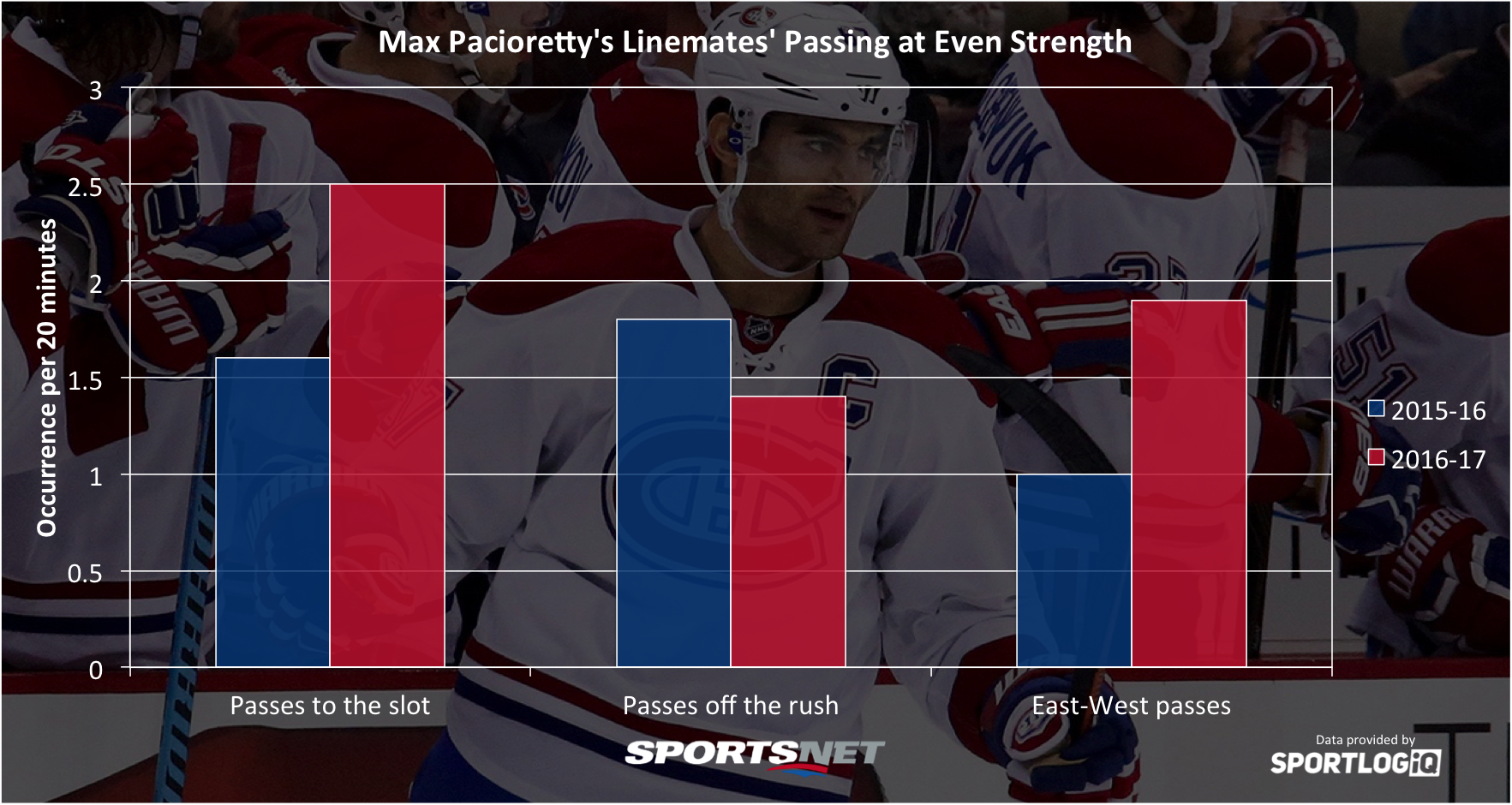 Last season, Pacioretty's line attacked more off the rush than they do this season, which may have been a mistake considering he was slowed a little by his knee not being 100 per cent. This year has been more about breaking teams down within the offensive zone.
Alexander Radulov is the big factor here because he loves moving the puck to the slot and across the ice below the tops of the circles. When Radulov is on the ice, defensive-zone coverage is constantly having to adjust for his East-West movement, and goaltenders are never able to get set. That shifty playmaking ability by Radulov creates more pre-shot movement for Pacioretty, allowing him more net to shoot at.
It should come as no surprise that 14 of Pacioretty's 18 even-strength goals this season have come with Radulov on the ice, even though they've played together for just under 50 per cent of Pacioretty's even-strength ice time.
Radulov's impact has continued for Pacioretty on the power play, where he has posted his highest five-vs-four goals-per-60-minutes numbers since his breakout year in 2010–11.
Sportsnet Today
Coaching change was going to happen regardless of Julien's availability
February 15 2017
The question now is what kind of impact will new coach Claude Julien have on Pacioretty? For all the criticism surrounding the reign of Michel Therrien, one thing he has to be given credit for is his work with Pacioretty. Pacioretty blossomed from a good scorer to a dominant all-around player under Therrien, thriving while taking on extra duties on the penalty kill.
That extra responsibility won't likely change under Julien, but what will change is shot volume. The Canadiens are a strong team in terms of even-strength offence — they create the fourth-most shot attempts per 60 minutes at 59.93 — but the Bruins under Julien rank first in the NHL at 63.05. It's not a huge gap, but that changes when you look at the power play.
The Canadiens' power play is currently 30th in terms of shot volume with 82.6 shot attempts per 60 minutes, while Boston's is fourth at 109.4, a change that could boost the Canadiens' scoring significantly over the long run.
[relatedlinks]
One tactical change Pacioretty may need to make in his game under Julien is to not fly the zone as often on breakouts. While Therrien was a big fan of the puck-pursuit style where you whip the puck out of the defensive zone and chase it down, either creating an odd-man rush, engaging in a one-on-one puck battle or — more often — losing possession, Julien likes to keep the puck on his players' sticks, having them move up the ice as a unit.
Pacioretty has benefited at times from being able to outskate opponents on those Hail Mary plays, but he will need to pick his spots under the new coach, who doesn't like as big of a gap between his defence and forwards.