For about a full year the Ottawa Senators defied all doubters and statistical measures, coming within one game of the Stanley Cup final despite many analysts (including myself) believing they weren't even a playoff team. Without Erik Karlsson to start this season, the Senators continued to grind out points in ugly games until he came back, and looked like they were going to defy the odds again.
After acquiring Matt Duchene as an upgrade on Kyle Turris, everything was looking up in Ottawa, but since then they've been brutalized by seven straight losses after taking two wins from the Avalanche in Sweden.
All teams go through rough stretches, but the most surprising thing for Ottawa has been Karlsson going pointless in seven games for the first time since he was a 19-year-old rookie in 2009-10. Karlsson remains on pace for 73 points this season despite missing the first five games of the season, so there isn't much to worry about with him, but his pointless streak is a signifier of all that's gone wrong at once for the Senators.
Not much exemplifies that better than the start Duchene has had in Ottawa, with just one point in nine games. But not everything is bad news for the Senators.
While they're still no great possession team, they aren't the league-worst team they were in October. Their 48.1% score-adjusted Corsi ranks 25th in the NHL, within spitting distance of the Washington Capitals, and isn't poor enough to exclude them from playoff contention. The main difference between the Senators this year and last year seems to be goaltending.
Last season Craig Anderson was the strongest goaltender in the NHL in the slot, posting excellent numbers through 40 starts, leading to a 25-11-4 record. This season he's not giving up weak goals, but his save percentage on scoring chances has dropped big time.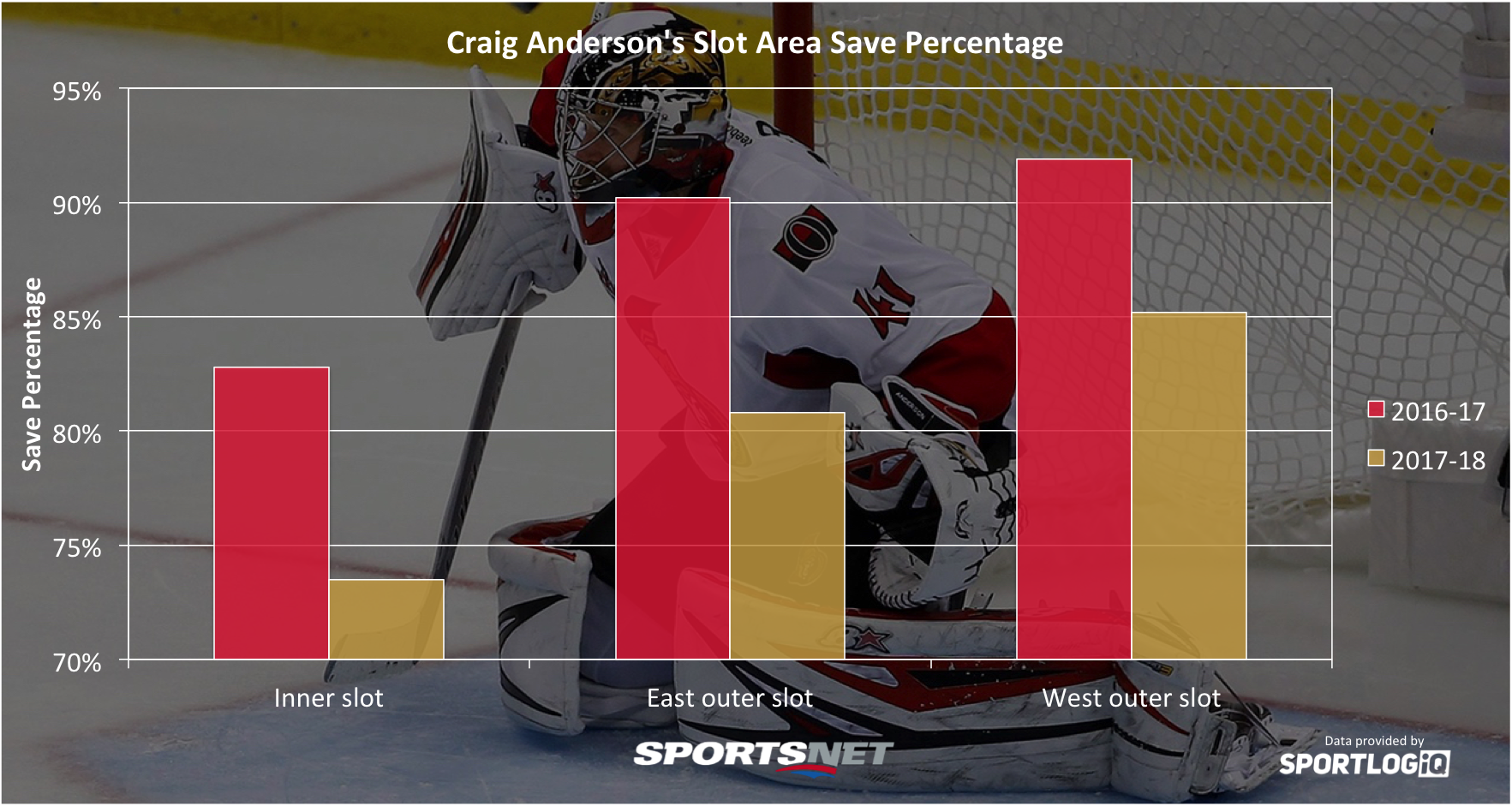 The weird thing about Anderson is that alternating strong seasons and average ones has been a pattern ever since he joined the Senators. In 2010-11 when Ottawa acquired him, he recorded a .939 save percentage. The following year he stopped far fewer shots at .914, then .941, then .911, then .923, then .916, then .926 last season, and so far this season he's at .895.
The strange thing with Anderson is that the years he excels most are also the years he struggles to stay in the lineup due to injury, or in the case of last season, personal obligations to his family in a trying time.
The good news for the Senators is that since Anderson began to start a reasonable number of games in the NHL in 2008-09, he's only finished the season below league average in save percentage once, in 2013-14 where he was just .003 below it. He's currently 16 points below the league average of .911, and while at age 36 there could be an unexpected drop off in his performance, I don't think he's bound to be this rough on scoring chances all season.
Another dose of good news for the Senators is that while Duchene hasn't produced yet, by the underlying numbers he appears to be a strong fit.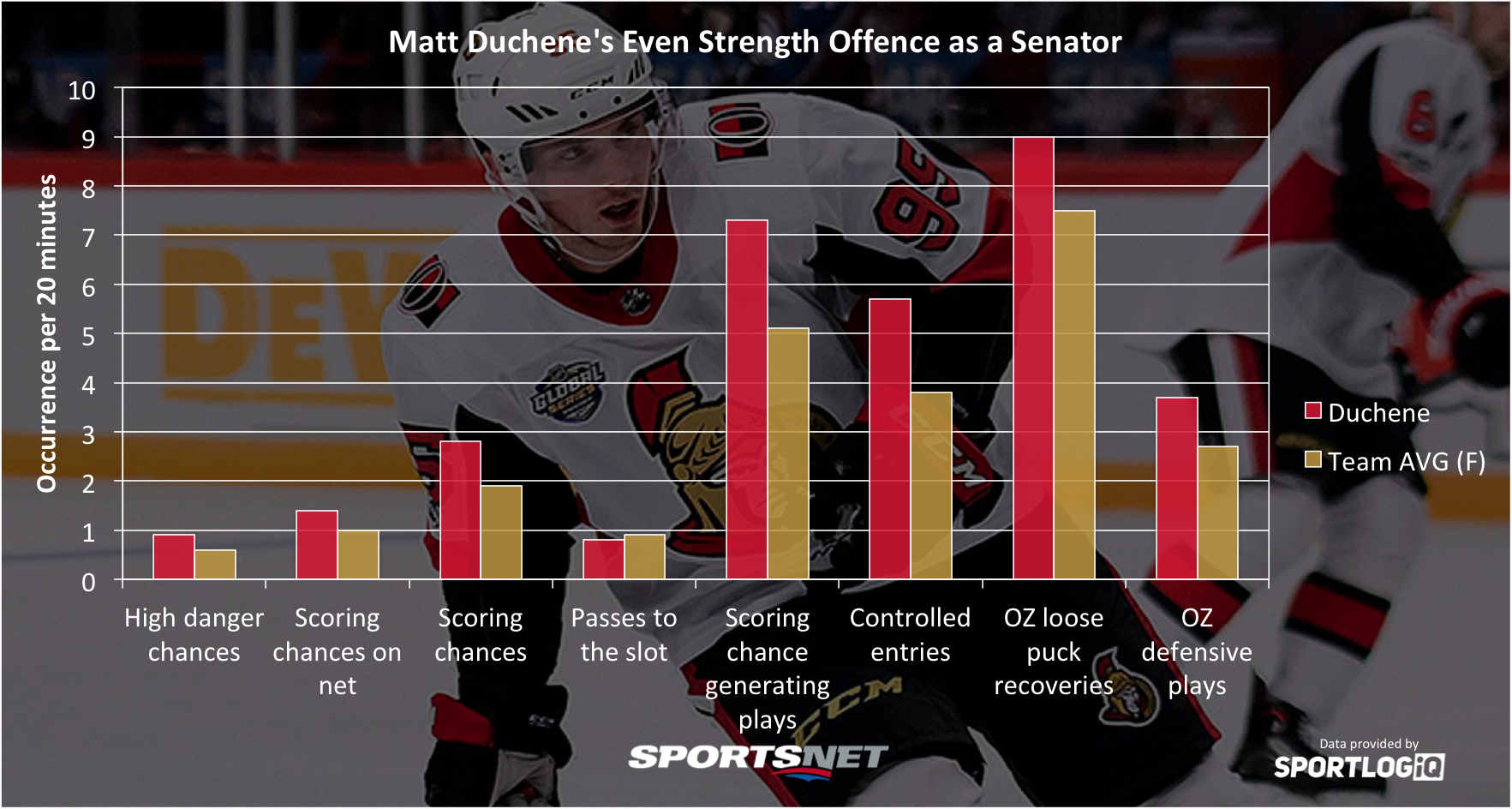 The Senators have been a pretty weak offensive team since the trade, but if we were to ignore how much Duchene blows away the team average when it comes to creating chances, the raw numbers he's putting up at even strength are strong for the first line on any team.
And it's not just that Duchene is shooting the lights out. He's using his speed to get in on the forecheck heavily, stripping the puck from opposing defenders with his stick and getting in passing lanes to prevent breakouts, then recovering those loose pucks he creates.
Duchene is also gaining the offensive zone with control more than any other Senator, and creating more scoring chances because of it.
It might be frustrating to watch nine games with only one point when the fanbase is sold on this being an upgrade, but it's only a matter of time until all this good work Duchene is putting in pays dividends. When it does, the Senators should be a much tougher team to beat.