Expectations are bound to be a challenge when William Nylander makes the transition to the NHL with the Toronto Maple Leafs.
Just how much of a challenge could depend largely on how the next couple weeks unfold at the World Junior Championship. When Nylander stepped onto Canadian soil with the rest of his Swedish teammates Tuesday, he found himself in possession of a unique opportunity.
---
More NHL on Sportsnet:
Subscribe: Rogers GameCentre Live
Rogers Hometown Hockey | Broadcast Schedule
Sportsnet Fantasy Hockey Pool
---
He is both the Leafs top prospect and Sweden's top centre for a high-profile tournament being played at Air Canada Centre.
That means the spotlight from two continents will be pointed in his direction.
It will be the first time most hockey fans in Toronto see him compete against kids his own age. Having the opportunity to compare him to his peers should underscore why the 18-year-old was selected with the eighth overall pick in June.
And while Nylander has already started to make a name for himself in the Swedish Hockey League this season, a great performances for the national team is what really gets you noticed in that country.
Big things are being forecasted for the dynamic forward, including from longtime Leafs captain Mats Sundin, who posed for a selfie with Nylander in Stockholm on Monday.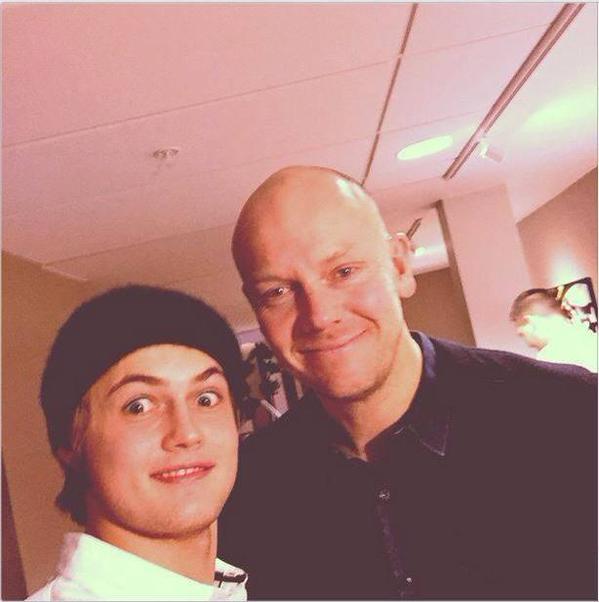 "He's a very talented young man," Sundin said recently. "Very young still at 18, but he's got all of the tools to become a great player in the National Hockey League."
An important item in Nylander's toolbox is an unshakeable belief in himself. It's the kind of confidence that Steve Staios, Toronto's manager of player development, believes can be found in every special hockey player.
The teenager didn't shrink during his first NHL training camp this fall, but it was immediately clear that he wasn't yet ready to play for the Leafs. He looked small compared to the competition and didn't make a huge impact.
In sending him back to Sweden, general manager Dave Nonis pointed to the World Junior tournament as something that should help his development.
The Swedes are one of the top contenders heading into the Dec. 26-Jan. 6 event. They will hold a training camp in Ottawa that includes an exhibition game against Team Canada on Sunday before playing all of their round-robin games in Toronto.
Once they get there, all eyes will be on Nylander.
"I think he'll relish the experience," said Staios. "I think he's ready for it. You just let him go — he's a young guy and he's going to play a big role for his country.
"He's one player that you don't have to tell him that this is a great opportunity and something that he should really enjoy. He'll know."
Nylander has already made some big strides forward this season.
Playing for Modo, a bottom-feeder in the SHL, he is being asked to carry a heavy load. Only four forwards in the league are averaging more than his 19:03 of ice time at the holiday break. He is also one of just two players currently sporting a point per game.
That production is particularly impressive when you consider the repeated attempts by opponents to intimidate him. Nylander has been targeted so much that the team recently took the unusual step of signing 42-year-old Donald Brashear to help police the game.
If nothing else, it is preview of what is to come in the NHL.
"I thought it was a really smart move to let him go back and play in the Swedish Hockey League this year," said Sundin. "He's not physically (ready to compete in the NHL) yet, but he's still playing against men at a high level and he's going to keep developing and he's going to grow a lot before next fall.
"I think he's going to be great."
There have certainly been flashes of greatness. In the last week alone, he sent a water bottle flying with a gorgeous overtime winner and scored a goal after skating the puck out of his own zone, beating a defender and sliding a shot past goaltender Mikael Tellqvist with one hand on his stick.
However, outside of those highlight-worthy moments, some in Swedish hockey circles still see a young player that needs time to grow into his game.
It's a view shared by Toronto's front office. Staios recently travelled to Sweden and spent four days with Nylander in Ornskoldsvik, putting in some on-ice work and watching him play a league game.
Because Modo is using him at centre and giving him so many minutes, there has been a lot of emphasis on his positioning and performance in his own zone.
"He has all of the elements of a great offensive player," said Staios. "Defensively, he's working at it. He's a real sponge."
The former NHLer is quick to note that there are going to be "ups and downs." Nylander won't turn 19 until May and development takes time.
Part of what makes the world junior tournament so unique is that it levels the playing field for hockey's top teenagers and puts them in a highly competitive environment. The event draws sellout crowds and huge television audiences because fans are anxious for a glimpse into the future.
This year when you see Sweden play Nylander should be in the centre of everything.
"Getting the puck to the middle of ice in the offensive zone is the idea and if you have it in his hands more times than not good things are going to happen with it," said Staios.
That's what Sweden is banking on in the weeks ahead. The Leafs will join them soon enough.