Perhaps it is a sign of our societal lack of patience. We need everything now, not later. Today. Not tomorrow.
That includes an absolute verdict on every young hockey player within a year or two of his draft day. We label them early. We ask of a 19-year-old high draft pick who hasn't cracked an NHL lineup, "What's taking him so long?"
Darnell Nurse turns 23 on Super Bowl Sunday. He's six-foot-four, 221 pounds, and skates the puck out of the zone with long, loping strides that simply eat up the ice. He shoots it pretty well, plays plenty physical, and has a mean streak you can ask Toronto defenceman Roman Polak about someday.
"I'm pretty sure everyone thought I was a third-pairing defenceman. A fringe guy," Nurse said. "As a player, I laughed at that and used it as fuel. Used it as fire."
When it came to Nurse, we heard it all: He wasn't going to have quick enough feet to defend well. He didn't see the ice or read the play. And when he did skate the puck into the offensive zone, it was like his brain shut off and he didn't know what to do from there.
In winning gold at the 2015 world junior hockey championship, he had become Team Canada's premier shutdown defenceman. Somehow we all forgot about that, and he had to prove it all over again once he made the jump to the NHL.
And so he has.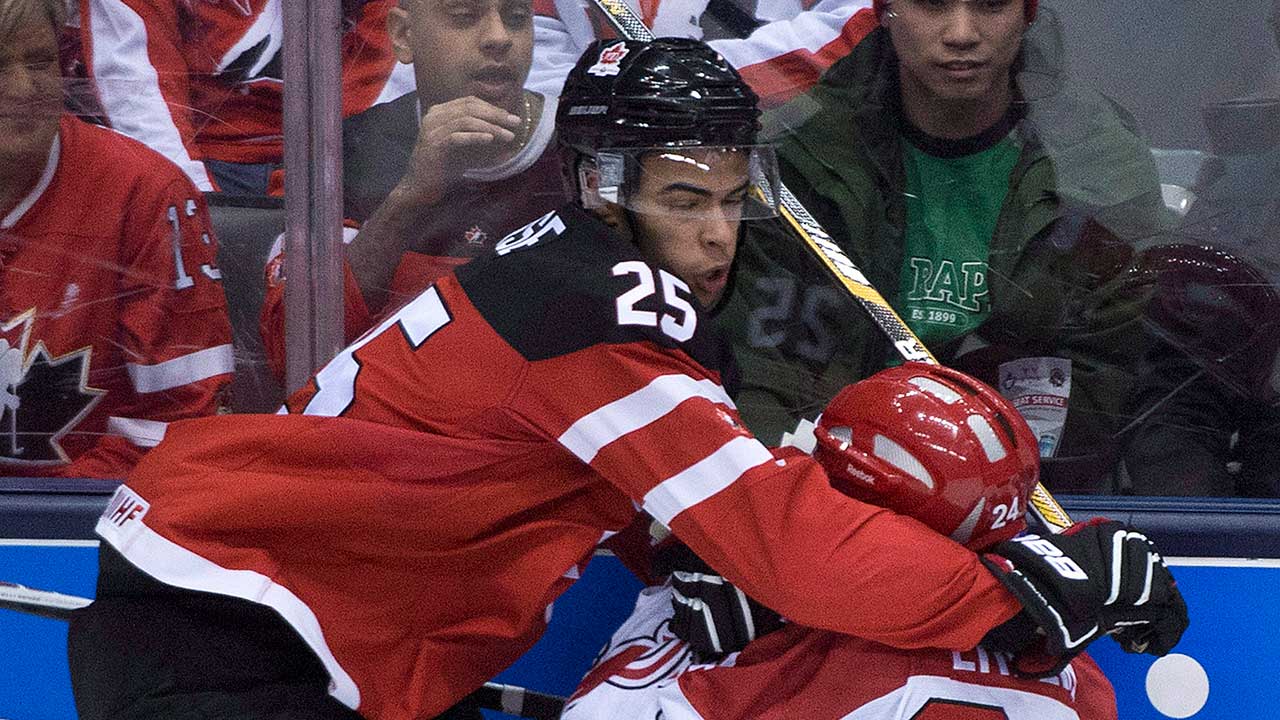 Last week, in a 4-3 shootout win over Calgary, this "third-pairing" player was on the ice for 23:57, including 2:43 on the power play and 3:16 while shorthanded. He is an Edmonton Oilers success story, in a season with very few of those.
"Everyone develops differently," Nurse said after a recent practice. "You want to get in the league and earn a job. You want to stay in the league … so your defensive game comes first and foremost if you want to play a bigger role and play against better players."
They say the game eventually slows down for a young player, and only then can they become the same player in the NHL that they were in junior, college or back home in Europe. Nurse, a pretty cerebral kid, looks at it from another angle.
"The game doesn't get slower, but you process things faster," he said. "You're seeing plays and just making them, as opposed to checking to make sure a lane is open. As you gain more experience, more confidence, the plays you see you just make."
He's only recently seen some power-play time, and his possession numbers, point totals and time on ice have risen steadily through three NHL seasons.
What kind of defenceman can Nurse become? In his wildest dreams?
"I don't have dreams," he points out. "I have goals."
Nice quote.
"I'm not going to tell everyone what I'm going to be. I'll keep that internal. I'm confident I can play in all situations. To what extent? I'm going to keep that to myself."
Want to livestream all 82 Oilers games this season? See how you can stream this + over 300 regular season NHL games with Sportsnet NOW.
Nobody notices an NHL assistant coach until the special teams unit he's "responsible for" falters. Then he becomes the most important man in the entire organization.
In Edmonton, that man is former NHL blueliner Jim Johnson, whose job description includes being in charge of the NHL's worst penalty kill. But what his job also includes is tutoring and mentoring young defencemen.
A fan base that couldn't be happier about where Nurse is heading also seems to circle the coaches office like vultures, with the team destined to miss the playoffs and both special teams in disarray. But the irony is, all of the Oilers coaches — plus the web of coaches in other cities that each has to lean on — has had a run at fixing this putrid penalty kill. It is Johnson, however, who has been by far the primary influence on Nurse's development.
"When you're dealing with an athlete with the pedigree he has, it's easy. You've just got to be patient," Johnson said. "Once he has success, the confidence grows. Once the confidence grows, which we've see this year, his game takes off."
"I'll always be grateful for the help he's given me," adds Nurse. "As a D group, we're fortunate to have him and his attention to detail."
A weekly deep dive into the biggest hockey news in the world with hosts Elliotte Friedman and Jeff Marek. New episodes every Thursday.
As an assistant in Tampa, Johnson met a lanky rookie named Victor Hedman. He went No. 2 overall in 2009, while Nurse went seventh in 2013.
"I thought, 'Big kid who can skate well. There are a lot of tools in his tool box,'" Johnson said. "Victor doesn't have the mean streak that Darnell has, but maybe a little more offensive ability at a young age. Similar frames, both skate well…
We asked Nurse how far his game could go. If what we see today is a 9-iron away from the finished product, or two drivers and a train ride?
"I'm just scratching the surface on what I can become," Nurse said. "But it's going to take a lot more work. A lot more attention to detail, a lot more long summers on the ice, a lot more staying out after practice.
"I feel like I have a lot more steps I can take."
We wouldn't doubt him. Anymore.