In 2015-16, a bad Edmonton Oilers team struggling through injuries tossed rookie defenceman Darnell Nurse into the deep end. Unsurprisingly, he sank. This season, a better version of the same team has had the luxury of bringing Nurse along more slowly and the 2013 seventh overall pick has responded as well as anybody could have hoped.
It's important to have the context of last season to understand why Nurse has succeeded in 2016-17.
Nurse made the jump to the majors after a six-game minor league apprenticeship, and immediately made the Oilers decision to promote him look wise.
He stood out visually while averaging 17 minutes per game at even strength alongside veteran Andrej Sekera. Perhaps more importantly, the pair were part of a successful five-man unit for Edmonton, one which held the opposition to a virtual draw territorially (a significant achievement on a team that would ultimately draft third overall).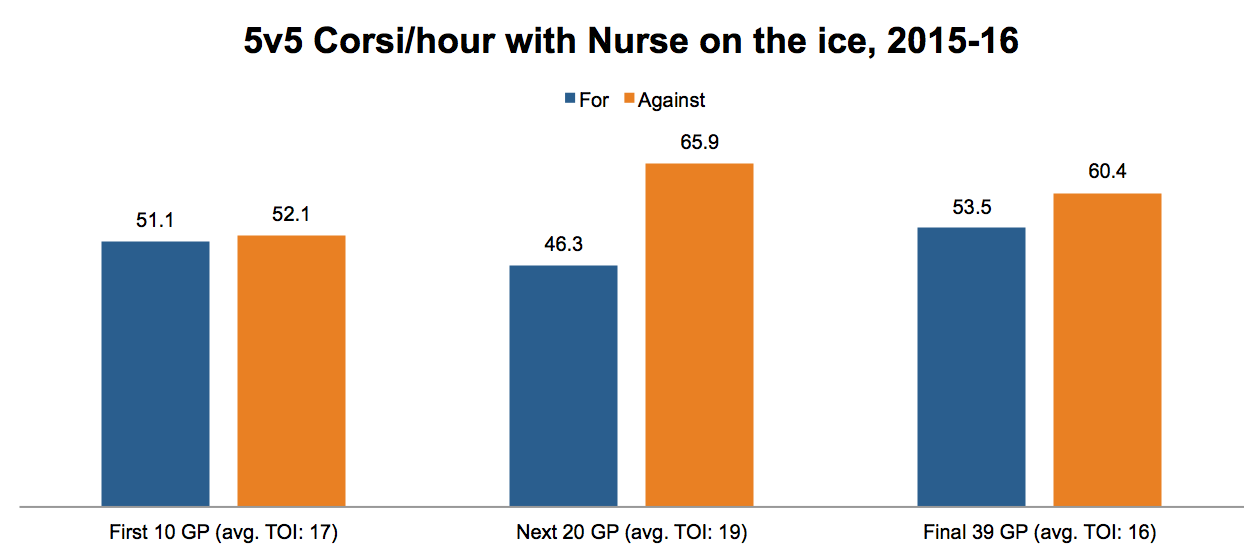 After 10 successful games, the Nurse/Sekera pairing got more minutes, tougher opponents and more shifts starting in the defensive end. The result was an utter disaster, with the opposition managing a whopping 20 shots at net more per hour than the Oilers with the duo on the ice. Initially, the goals held steady, but inevitably those pucks started to go in and just as inevitably Nurse's role was reduced.
He played out the year on the third pair, spending much of his time with Adams Pardy and Clendening (combined NHL games this year: six). The pairing wasn't especially effective, but the Oilers were playing out the string and Nurse's partners were nothing special, either.
---
Want to stream all 82 Oilers games this season? Sign up for Sportsnet NOW
---
If we imagine the on-ice shot differential as a financial deficit, two-thirds of Nurse's debt was run-up over a 20-game stretch where he was asked to log those heavy minutes against good players with a partner playing on his off-side. Outside of those 20 games, his rookie season was actually rather respectable.
Unfortunately, any assessment of the player made at that time couldn't simply cut out those 20 ugly games; they represented nearly one-third of Nurse's NHL career and injected some risk and uncertainty entering this season. That's why Nurse's strong start to the year has been so impressive.
There's an interesting dynamic at work in Edmonton this season, in which the Connor McDavid line dramatically outperforms the club's other three forward units. Because of that, it's worth breaking down how well defence pairings have worked with and without the superstar centre, and it's an analysis that gives us some insight into Nurse.
These are the four defence pairings that have played at least a half-hour at five-on-five both with and without McDavid on the ice:
With McDavid, three of Edmonton's four defence pairings have held a territorial advantage, attempting more shots than the opposition. Nurse's pairing has done well here, as that unit has played about an hour with McDavid and in that span the Oilers have tried 20 shots more than the opposition.
Without McDavid, just one Oilers pairing—the shutdown duo of Oscar Klefbom and Adam Larsson—has been on the ice for more shots for than against. Yet Nurse and Eric Gryba have been pretty close as a unit; in their two hours away from McDavid the shot attempts are 100 for Edmonton and 105 for Edmonton's opponents. That's basically dead even, which the Oilers would certainly take in those non-McDavid minutes.
(It's interesting to note how poor the Sekera/Kris Russell pairing looks here. The argument generally made to defend that unit is that it's so good defensively the opposition has to take low-quality shots. That's debatable. What's not debatable is the risk inherent in such a strategy. With Edmonton losing the territory/puck possession battles, any slip in defensive zone efficiency is going to lead to a run of goals against.)
For a young player, though, it isn't enough to be part of a pairing that wins the territorial contest. Inexperienced NHLers are famously prone to defensive breakdowns and when we look at the goal numbers we find that the Nurse/Gryba pairing has been on the ice for zero goals for and five goals against at five-on-five. Is this where Nurse's inexperience is costing him?
To some degree, yes, though that minus-5 exaggerates matters. It's pretty hard to blame either defenceman for Ryan O'Reilly scoring from the neutral zone, or for Derek Forbort putting a seeing-eye shot through six bodies from just barely inside the blue line. It's also hard to rest a breakaway launched by a teammate's miserable pass at Nurse's feet.
Where Nurse has found himself in trouble is in the same tougher matchups that bothered him a year ago, but this time the mistakes are ones of execution rather than process.
Defending one-on-one against Rick Nash is a good example. Nurse moved quickly and smartly to take Nash as he entered the Oilers' zone on the rush, but where a more experienced player might have been content to contain such a dangerous opponent Nurse aggressively attacked for the puck. In so doing, he opened up a passing lane to the slot which Nash was quick to exploit.
Protecting the puck from a forechecking Jamie Benn isn't an easy task for any NHLer. Nurse tried to quickly reverse the puck back to his defensive partner, but a split second after Benn had the lane firmly sealed. The result: A turnover and a quick goal against.
In both cases, Nurse made a tiny mistake in execution, and the quality of the opponent meant he paid for it.
From a development perspective, it's hard to be disappointed with that. Nurse has shown this year that he can be part of a pairing that drives play in the right direction, which is something poor NHLers never manage and something he struggled with as a rookie. The things that are getting him in trouble are small mistakes against great players, the kind of mistakes that, with time, should be ironed out.
Edmonton has every reason to be happy with his progress this season.