The Edmonton Oilers are held hostage by their past. And, by the voices of that past.
First, the five Stanley Cup dynasty set an unreachable bar for the next 15 years, not unlike what happened to the New York Islanders. Then, the litany of fired coaches in the early 2000s — the Oilers missed the playoffs for 10 straight years, unprecedented in NHL history — deems it a bad idea to keep firing people here in 2018.
This logic is sound. You can't solve every problem with a firing. If you do, you become the Cleveland Browns.
Yet, at the same time as team CEO Bob Nicholson was throwing his support behind beleaguered general manager Peter Chiarelli on Thursday, the accountants at Ernst and Young were tallying NHL Awards ballots that could well give Taylor Hall the Hart Trophy and Mathew Barzal the Calder — two players that Chiarelli, frankly, blew it on.
"I'm here today to tell you that the President and General Manager of the Edmonton Oilers, Peter Chiarelli, will be the (president and) general manager next year," began Nicholson. "I really believe in his plan. Over the last number of months, we've been meeting with a lot of our season ticket holders. There's anger and disappointment of where we ended up. We certainly understand where they are. We will have a plan coming out here in the near future of how we're going forward."
And this nugget, as well, from Nicholson: "A GM's job is to make the team strong longer term. A coach's job is to make it strong shorter term."
[relatedlinks]
But what happens when the GM ruptures the roster with bad moves and unused cap space? Or when players the GM signed have off or injured years?
Are the coaches on the hook for that, too?
What of head coach Todd McLellan and his staff, Nicholson was asked.
"It's all being evaluated at this time," he said. "Peter is here and leading that process."
In short: The GM is fine, and he'll get back to us on the coaches.
You wonder why, don't you?
Here is why:
Nicholson's hope is to establish some stability. He doesn't want to fire the GM, or the head coach. Some heads may have to roll, and that could affect one or more of McLellan's assistant coaches, which is fair. McLellan may have to decide to hire a couple of new assistants, or die on his sword of loyalty and leave with the fired assistants.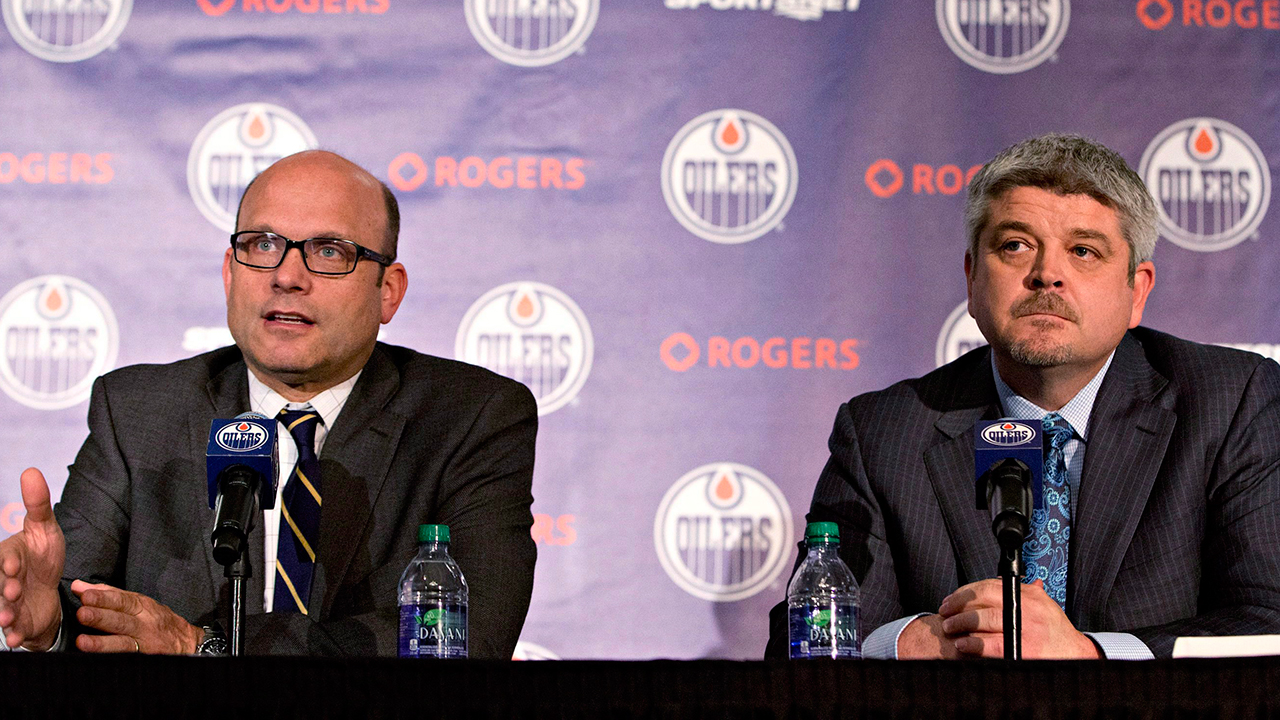 Here's the problem:
There are voices in Edmonton. Voices who bear Stanley Cup rings from the Oilers glory years, many of them don't believe McLellan should be the Oilers head coach. Others would have him remain as a coach, but want to install at least one of their own to help him out.
We get that. Show us an organization that loses as much as this one has, and we'll show you a team with a bunch of voices competing to be heard. Win, and it all goes away.
But, it's not going away in Edmonton, where the alumni's post-game strategizing has been dubbed "The Red Wine Summits." That much became obvious this season when somebody above Chiarelli decided that Paul Coffey should be hired.
Someone, almost certainly in conversation with owner Daryl Katz — always vulnerable to being persuaded that The Old Boys Club is the answer — made this failed Coffey experiment happen. And it became a laughing point around the NHL.
Yes, Chiarelli and McLellan spoke that day about their support for the Coffey hire. What were they supposed to say, given the team's record? But what was feared was that Coffey wouldn't put in the necessary time to succeed, and that is exactly what happened.
Coffey was a part-timer, which NHL players do not respect. At the few games he attended he preferred to sit with Wayne Gretzky in his private box, rather than with the other Oiler assistant coaches up top. He didn't come to work early in the morning with the rest of the coaching staff to prepare and pour over film, and Coffey spent more time with his son's team at home in Toronto than with a young Ethan Bear, or with the prospects in AHL Bakersfield.
So, fine. They tried something and it didn't work. No harm done.
But the Coffey hire is the canary in the coalmine in Edmonton.
[snippet id=3918715]
It's fair to say to McLellan, "Hire some new assistants. Change your plan." What doesn't work is if a bunch of old Oilers have convinced Katz that they should make that hire, and part-timers are given the jobs.
That would define dysfunction, and we are keenly watching for those signs in Edmonton.
"(Katz) is disappointed, angered, and wants us to get it right," Nicholson said. "He's looking to hear the recommendations. I'll make them after having discussions with Peter."
If Katz is listening to Chiarelli and Nicholson — like them or not — then he's listening to the right people.
If the hires are coming out of The Red Wine Summits, then Lord help the Oilers, because it won't end well.