EDMONTON — Justin Falk ended up face down the ice, literally left doing the Australian Crawl as Connor McDavid shimmied past. Falk looked like he'd been tossed through the swinging doors of a Western bar.
Falk's partner, 600-plus game defenceman Jack Johnson, thought he'd throw out a hip. He was, alas, too slow. McDavid rolled by him like fog.
Columbus forward Gregory Campbell was hanging around on the back check, part of a three-man McDavid checking scheme. But surely he wouldn't be needed, with two teammates right in posit…. "Wha…??"
The last line of defence was goalie Joonas Korpisalo. McDavid, at full speed, put a deke on him that probably won't make any Finnish stamps.
"I just tried to get inside position on the one D, then the other D came over… I'm lucky I didn't get killed actually, if he'd stepped up on me," McDavid said after the game, a 5-1 win in which he had three points. "Maybe a little bit of luck, a little of this and that. Felt pretty good."
No one takes on two defenders and beats them anymore. Not in today's game.
"I think it was maybe a bit of the perfect storm, yeah," he said, stubbornly refusing to re-paint the picture of a goal that hasn't been scored in this barn since the '80s.
McDavid, as you are no doubt aware, returned from his broken collarbone last night. But here's the context: A kid who turned 19 three weeks ago, playing his 14th National Hockey League game — after spending three full months on the shelf — was the best player on the ice by a goodly margin Tuesday.
Not "among" the best. The best. Period. End paragraph.
"The maturation process for him is pretty much nonexistent," veteran Oiler Matt Hendricks marvelled. "I look back at his first couple of games, and maybe he's a little shy. Now he's realized, this isn't much different for me (than juniors).
"There might be a few players who skate as fast as he does. But to have the hands to be able to do that, then the touch to finish? It's amazing."
McDavid had a goal, two assists, missed on a breakaway, and was thwarted by Korpisalo one-on-one at least three more times. He went 57 per cent in the faceoff circle, coming off a busted clavicle.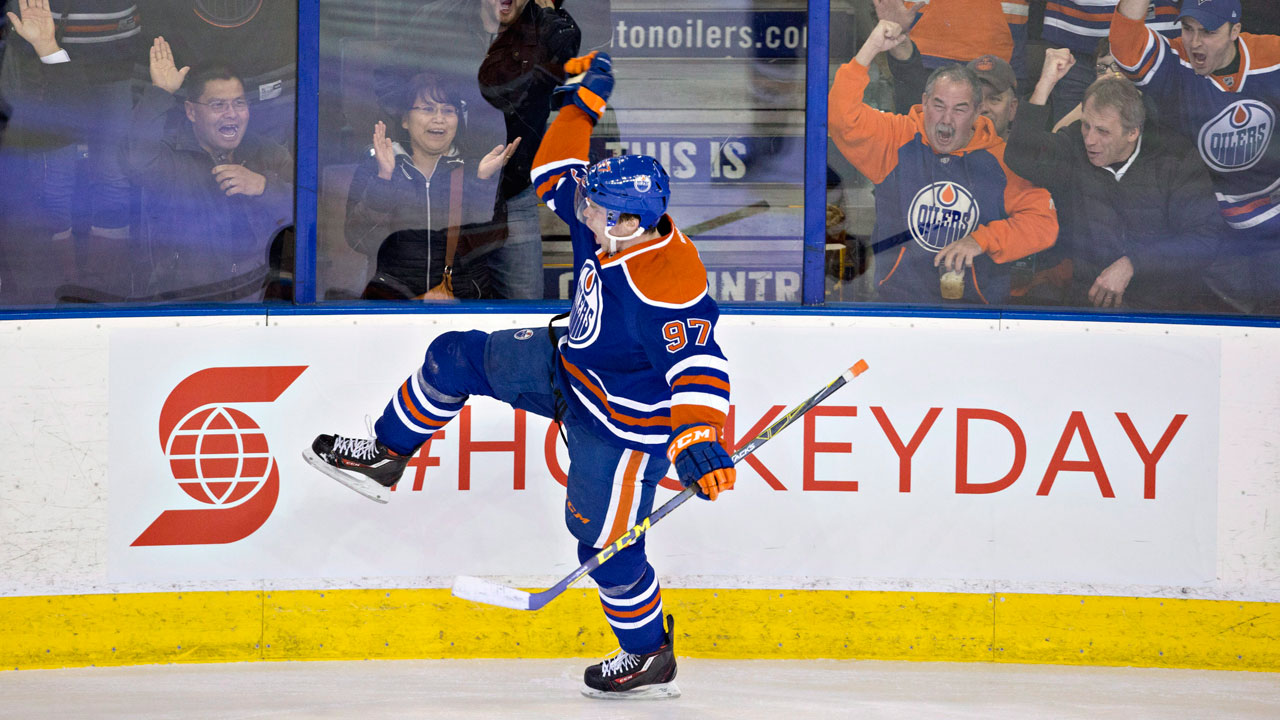 Personally, having covered hockey since the late 80s in Edmonton, I've had the pleasure of watching many great young players arrive in the NHL. Mike Modano, Teemu Selanne, Paul Kariya, the Sedins. More recently Logan Couture, Anze Kopitar, Johnny Gaudreau, Taylor Hall…
I can say that none have stood head and shoulders above their NHL peers this often, this early in their career. Eventually, yes. But not this fast. Not to these eyes.
McDavid is the fastest skater on the ice, with the best vision and best hands. That is the trifecta for hockey players, on top of qualities like puck pursuit, awareness of when to go from defence to offence, and the ability to flat out steal pucks from the opponent.
He is better than everyone else in those categories too. Already.
You can see it in the opponent. Like when Columbus defenceman Seth Jones, with the puck on his stick at the offensive blue-line, got happy feet as McDavid approached. The puck was stolen, and McDavid missed the net on a breakaway.
Players know what an oncoming checker is capable of, and they react differently to Brandon Prust than they do Pavel Datsyuk. You can see it: 14 games into his NHL career McDavid's speed and hands already strike fear into players who have played hundreds of games. They react differently.
"When he chips the puck by (a defenceman), you can tell their gap's not as good. They're a little bit worried. It's something that very few guys in the league have," said McDavid's right-winger Jordan Eberle. "(His goal) was just jaw-dropping. To be able to use his speed to get by, then use his strength to beat two guys. Then have the poise to deke out the goalie… It is impressive."
"It's new to me," said left-winger Benoit Pouliot. "He's 19 years old and he's a big name in the league already. He shows it when he steps on the ice. He's dangerous. Dangerous everywhere."
The Oilers would require an otherworldly run to get back into the playoff race. And, it should be said, Columbus is a mess.
But what we witnessed in Edmonton Tuesday night was, for the first time in perhaps a decade, tangible. Taylor Hall is a Team Canada level left-winger. Leon Draisaitl appears on his way to being a high-end second-line centre. Cam Talbot looks like he can play goal, and there are some other decent parts emerging here.
If GM Peter Chiarelli can find two defencemen while tinkering with this lineup, that might be enough.
Because the Edmonton Oilers had the best player on the ice for either team last night, and that's something they'll be able to say for many years to come in most of 82 games per season.
I can't believe I am ready to say that after 14 NHL games, but it is simply a fact. Connor McDavid is that good.
Even better than anyone in this town had dreamed.