Truth be told, it was never really all that close.
While other young phenoms blossom and superstar mainstays prove they have more to give, only one player in the game has cleaned up for two straight years to the tune of back-to-back Ted Lindsay Awards (league MVP as voted by the players) and scoring titles, with a 2017 Hart Trophy thrown in the mix, just for good measure.
The man that held the mantle of 'league's best' for the last decade recently confirmed what most have held to be true for a couple years now when he tabbed Connor McDavid as the best talent plying his trade in the big leagues at the moment.
But you can count the Edmonton Oilers captain among those not too concerned with who's most worthy of the crown.
"That's just noise," McDavid said Saturday, joining Scott Oake and Louie DeBrusk on Hockey Night in Canada's After Hours. "I mean, obviously you want to put your name in the hat and there's a lot of different guys that could be the best player in the world. It's all up for debate, depends what player you like. But in my opinion, it's still Crosby."
Though McDavid still opted to choose the elder generational talent as the world's best, the 21-year-old — while taking a trip down memory lane — said he appreciated getting that vote of respect from No. 87.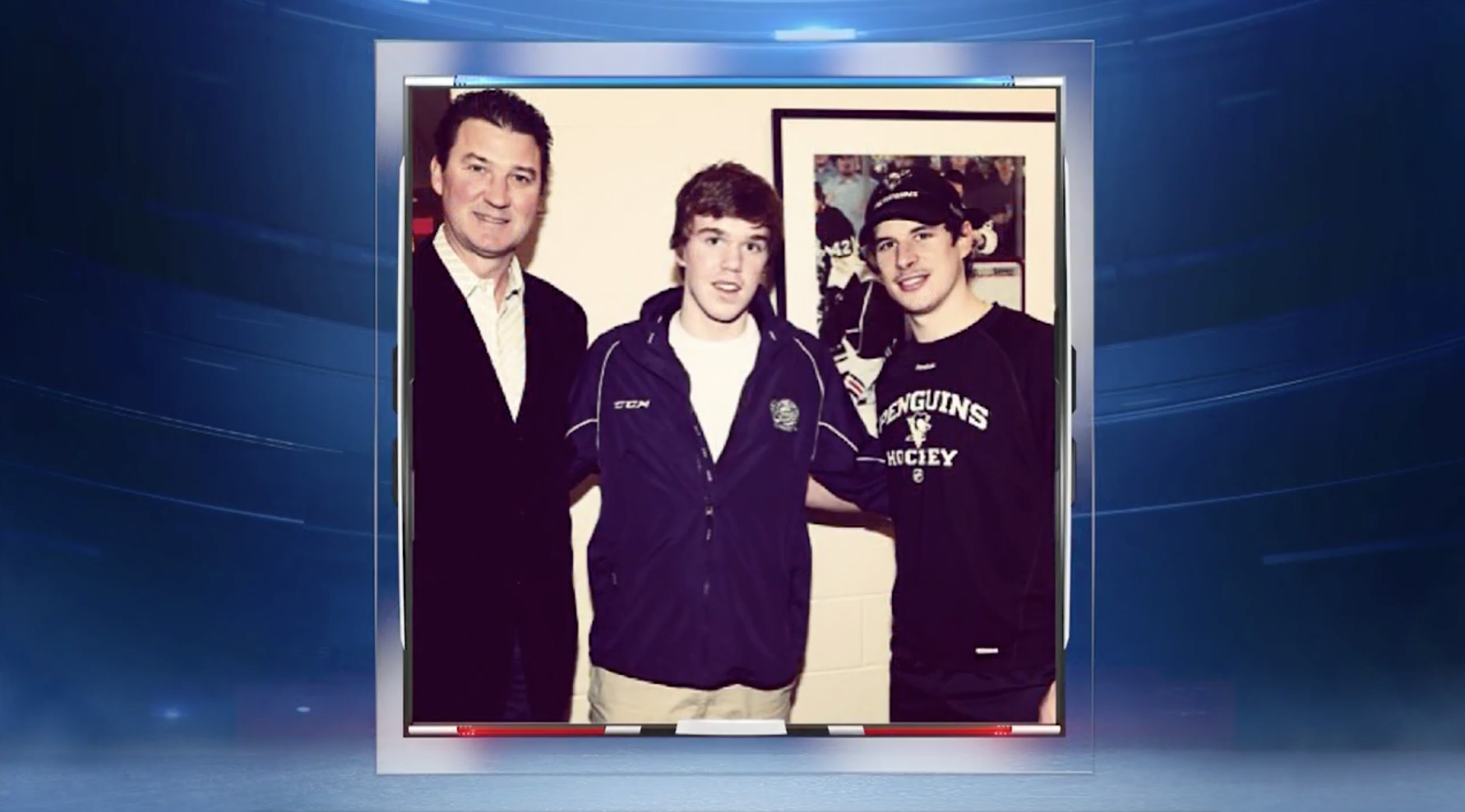 "Obviously, it means a lot — he's a guy I grew up watching," McDavid said. "I remember that pic, I think I was shaking in my shoes. I was so nervous just to meet both of them, and Sid obviously. It's pretty funny to look back on, but it means so much to hear it come from him."
That the 2005 No. 1 pick named his 2015 counterpart as the best in the game should surprise no one. Since recovering from an injury that cut short his rookie campaign, McDavid has rolled over the rest of the league, amassing back-to-back 100-point seasons while carving up opposing defences on the regular with his blurring foot-speed.
He's started 2018-19 with no less fire, putting up 11 points over his club's first six games and setting an NHL record by scoring or assisting on each of his club's first nine goals from the start of a season.
But those close to him aren't surprised by this early run of dominance. Really, this was just the plan all along.
"Connor was obviously very motivated when he was younger," Brian McDavid, the Oilers captain's father, told Oake and DeBrusk Saturday. "When he was about five or six, he would say to Kelly — and this was about the time Sidney Crosby had sort of broken into the league, [Crosby] had gone to Shattuck [St. Mary's]. I think Connor was five or six, and said he was going to go to Shattuck when he was 14, he was going to be drafted first overall in the OHL, and he was going to be first overall in the NHL.
"He basically had his whole career mapped out for him when he was five or six. So we had an idea pretty early that's what he wanted to do."
Watch the rest of McDavid's interview on After Hours via the video at the top of this post as the Oilers captain discusses the hardest NHL defenders to match up against, how things went down with his GQ shoot, and the importance of players supporting their communities.