Any Edmonton Oilers fans that hit the hay early Friday night feeling confident in the 3-0 lead their team had late in the third period of Game 5 against the Anaheim Ducks woke up to some befuddling news.
The Ducks completed an incredible comeback, scoring three goals in the final 3:16 of regulation to force overtime. For a second straight game they skated away with a 4-3 overtime victory, but just as we saw in Game 4 when Anaheim scored three controversial goals, the Oilers had much to complain about.
Rickard Rakell's tying goal with 15 seconds left on the clock is the play everyone is talking about. Rakell sneaked a backhand through a dense forest of sticks and skates past Cam Talbot as Ryan Kesler held onto Talbot's right pad in the crease.
The NHL's situation room reviewed the goal and released the following explanation as to why the call on the ice stood.
"After reviewing all available replays and consulting with NHL Hockey Operations staff, the Referee determined that the actions of Edmonton's Darnell Nurse caused Anaheim's Ryan Kesler to contact Talbot before the puck crossed the goal line. The decision was made in accordance with Note 2 of Rule 78.7 (ii) which states, in part, 'that the goal on the ice should have been allowed because (ii) the attacking Player was pushed, shoved or fouled by a defending Player causing the attacking Player to come into contact with the goalkeeper.'"
Corey Perry wound up scoring the game-winner in double overtime, beating Talbot with a move to the glove side after taking a beauty pass from Ryan Getzlaf.
A frustrated Milan Lucic took the officiating to task in a fiery post-game rant.
"It's unfortunate we gave up three six-on-five goals, but a guy falls on the goalie and wraps his hand around the goalie's pad? I don't even know what goalie interference is any more to be perfectly honest," the Oilers winger said. "It's an absolute joke that two especially good referees (Francois St. Laurent and Chris Rooney) can't make the right call at the right time, especially when the guy has two or three seconds to get up off the ice and he has his hand wrapped around the goalie's leg and the goalie can't get up to make a save.
"[In Game 4] it goes in blocker side and they bump his blocker. [In Game 5] they wrap his arm around his leg and it's still a goal. So I have no idea anymore what goaltender interference is…If someone knows please call me and tell me because it's a shame that we are where we are right now with a call like that."
Talbot spoke up after Game 4, saying, "I try to play with integrity and not flop and dive [but] maybe I have to start doing that to get the calls," yet 48 hours later he was suffering from a bad case of déjà vu.
"I tried to get up but I didn't really have my one leg under me," Talbot, who set a franchise record for saves in a playoff game with 60, explained following Game 5. "I couldn't really get it off the ice. I couldn't really bring it back underneath me. There's no way I could do that. I watched the replay and he has a chance to get up and it almost looks like he digs in over my pad and makes it look like he's just holding on."
Talbot's wife Kelly really wasn't happy about it either.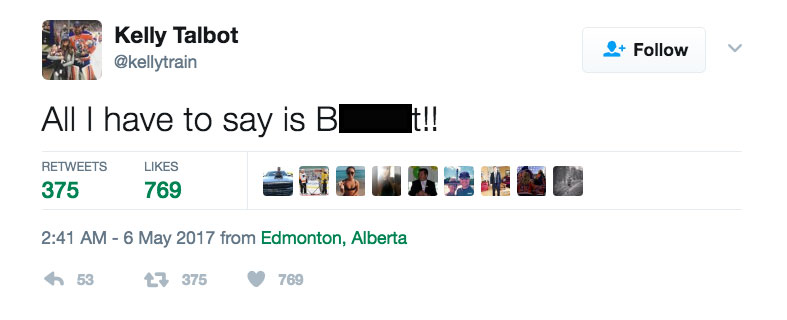 "Interference? You're asking the wrong guy. I don't know what interference is any more," Oilers head coach Todd McLellan added. "Obviously Kesler was pushed in, there's no doubt about that. But we have a strong belief that he had wrapped his arm around Talbot's leg. I don't know what interference is anymore so you'll have to ask someone else."
Now facing elimination, the Oilers must do all they can to hit the reset button, focus and not let the controversies of Game 4 and Game 5 impact their performance in Game 6 Sunday.
"There's not much that can really be said right now," Connor McDavid said. "It sucks, but we'll be back here Wednesday [for Game 7]."