While most of the focus in the Atlantic Division so far this season has been on the stellar start of the Montreal Canadiens – before they were blown out 10-0 anyway — the great start the Ottawa Senators have had has gone a little under the radar.
You can't help but be impressed with the Senators' 7-3-0 start, especially considering their unstable goaltending situation due to an injury to Andrew Hammond and Craig Anderson's heartbreaking situation with his wife Nicholle being diagnosed with cancer.
However, how much of that record is due to good play and have they improved over last season despite very few roster changes?
In order to figure that out, we can compare this season's performance statistics to last year's.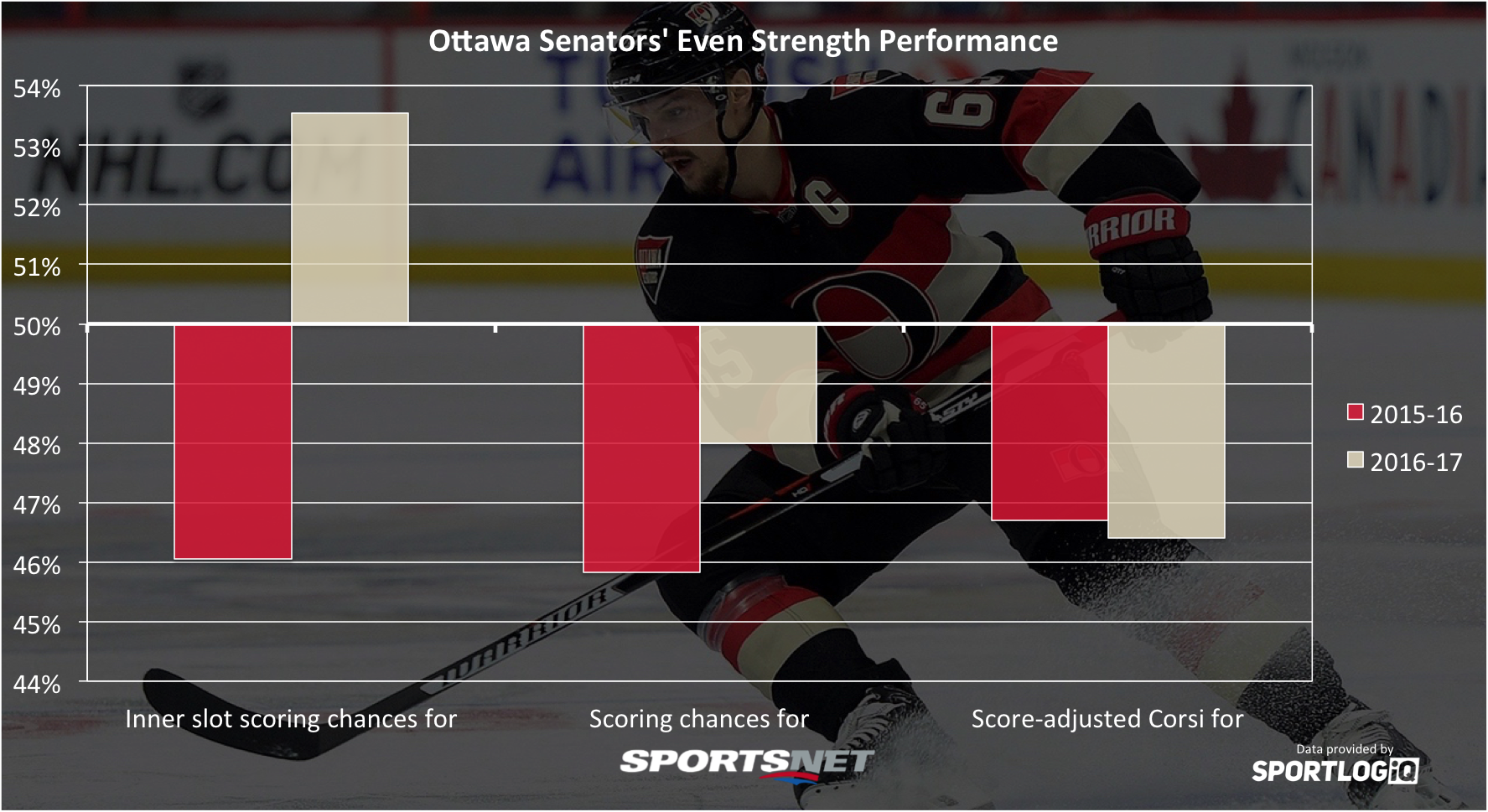 The Senators under new coach Guy Boucher have significantly improved their high danger or inner slot scoring chance differential compared to last season, and they've seen a mild improvement in terms of overall scoring chances as well, even though they're still below league average.
We can say that in terms of shot quality, the Senators are doing a good job so far, especially in comparison to last season. But those numbers with this small sample size are less predictive of future performance than score-adjusted Corsi, where they are essentially the same as last season — even slightly worse.
The question is, are the Senators improving their scoring chance quality and slowly spreading that improvement out towards their puck possession game? Or are they playing a style that is currently netting them scoring chances at a high rate, but that teams will adjust to it? What we know about these statistics tells us it's far more likely to be the latter, but let's look at a few more details to see if the Senators have improved over last year.
Disappointingly, it looks as though in terms of tactics and successful plays, there hasn't been an improvement for the Sens. It's way too early to say the coaching change was a failure, but it seems that so far Ottawa has struggled to implement Boucher's system. Across the board they've been failing to complete plays at a higher rate and are turning the puck over more.
There is a marginal improvement in the rate at which the Senators exit the defensive zone with control, but it's a very small uptick, and it's slightly outdone by the increase in failed dump out attempts, which leads to more turnovers in their own end.
The Senators are also dumping the puck in to the offensive zone at a higher rate, but are failing to get the puck in the zone on their attempts at a higher rate. These are bad signs, which suggest Ottawa's success so far isn't sustainable.
The Senators have been trigger happy on firing coaches for years now, so maybe it's time to make some roster improvements to better implement the new coaching staff's vision.