There is a tendency in the era of social media to overreact to big trades, pronouncing an instant winner and loser without all the details. Sometimes the "wait and see" approach is wiser and shows maturity.
This is not one of those times.
The Montreal Canadiens have made possibly the worst trade in the history of their franchise, for no reason at all. P.K. Subban is no longer a Canadien and will instead suit up for the Nashville Predators, with Shea Weber taking his place in Montreal. A one-for-one deal of two right-handed defencemen with enormous contracts, but only one of them is worth it.
Subban, 27, is four years younger than Weber, who turns 31 in August and is signed for six more seasons to Weber's 10. Even if the two were equivalent talents, taking the older defenceman who is signed longer is a bad deal, but unfortunately for the Canadiens, Weber has been in sharp decline for a number of years.
No player in the NHL made more plays with the puck per minute played than Subban, while Weber ranked a lowly 216th of 256 in terms of involvement in the play, and it gets worse when you compare the two directly.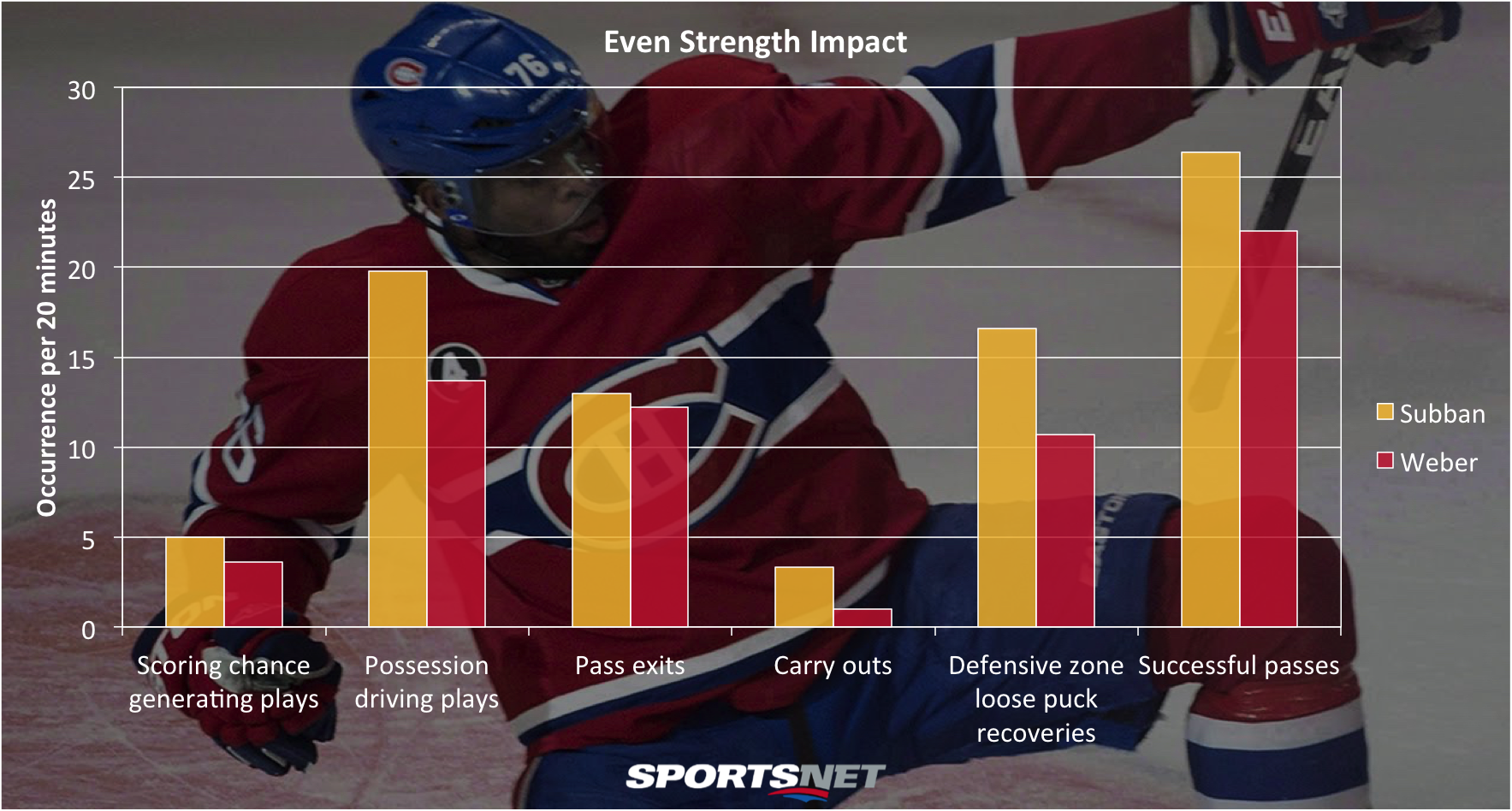 Not everything a player does is accounted for here, but this is a strong cross section of the responsibilities of an elite defenceman – and it's not close to compare the two. Only Erik Karlsson compares favourably to Subban's contribution in generating scoring chances, and Weber isn't even among the top 30.
Subban is an elite transition player who moves the puck up ice with control better than almost anyone in the NHL, and again, Weber is nothing special there, as he relied on Roman Josi.
Weber is close to Subban when it comes to passing the puck out of the defensive zone, but this past season was the worst of Subban's career in that regard, as Michel Therrien constantly harped on him to dump the puck out, which he did.
Carrying the puck out is the mark of an elite puck-moving defenceman, and Subban does that at more than three times the rate of Weber.
A similar story applies to loose puck recoveries, where Subban is the envy of the league for winning puck battles in the defensive zone and Weber ranks 202nd, between Braydon Coburn and Jack Johnson.
Even in something as simple as completed passes, Subban's numbers blow Weber's out of the water, and this is without even getting into each player's impact on shot attempt differentials, where Subban is perhaps the best possession defenceman in the NHL the past four years — easily in the top five — and Weber is a consistent negative, despite playing with Josi.
Now Weber will move from playing with Josi to the 38-year-old Andrei Markov who, while supremely talented, is certainly not fleet of foot. Neither of these two defenders move particularly well, making this look like a recipe for disaster.
This trade is so lopsided that it's hard to believe it happened at all. The Canadiens have saved all of $1.14 million in cap space, but committed to an older player for four extra years. They're on the hook for Weber's July 1 signing bonus of $8 million and will pay him a total of $54 million until he's 41 years old. Subban is owed just $58 million until age 33.
Subban established the biggest charitable donation in North American sports history to directly help sick children and their parents in Montreal. He won a Norris Trophy and was nominated for another. He signed his bridge contract despite having every reason not to. He was the Canadiens' best skater for the past five years straight. He was the their most valuable player last season while most others were faltering, he bought into poor coaching instruction despite the fact it hurt his game — and he still elevated. He was beloved by Elise Beliveau, and captured the heart of a city.
So what did he do wrong?