NASHVILLE — For Jaromir Jagr, Peter Laviolette put it perfectly.
The 2012 playoffs, Round 1, Game 1. Jagr and Coach Laviolette are with the Philadelphia Flyers, facing off against the Pittsburgh Penguins in arguably the nastiest postseason matchup of the decade.
After one period, the Flyers went down 3-0 to Sidney Crosby & Co.
Laviolette walked into the dressing room and delivered an intermission speech that is drilled into Jagr's head to this day.
"Guys, if I would bring the Cup right now in the dressing room, and somebody told you don't have to play any more games and you win it, would you take it?" Laviolette said. "I guarantee there's nobody who would say yes. Because it's not about the Cup."
---
Watch the skills competition | All-Star Weekend Hub | Broadcast Schedule
---
The Flyers stormed back to win that game 4-3 in overtime, the game-tying goal set up by Jagr, and would go on to seize the series.
It's not about the Cup.
Probably not the ideal slogan for the league, but Jagr says this four times as he explains to a knot of reporters at the All-Star Game why he keeps skating, at age 43.
"It's not about the Cup. I remember that line. It was perfect. I feel it," Jagr says. "It's about the whole year spending with the guys. It's about the games. You have to suffer everything to win it. It's not about the Cup. So if somebody come to me right now and bring the Cup, I'm not going to take it. You have to earn it."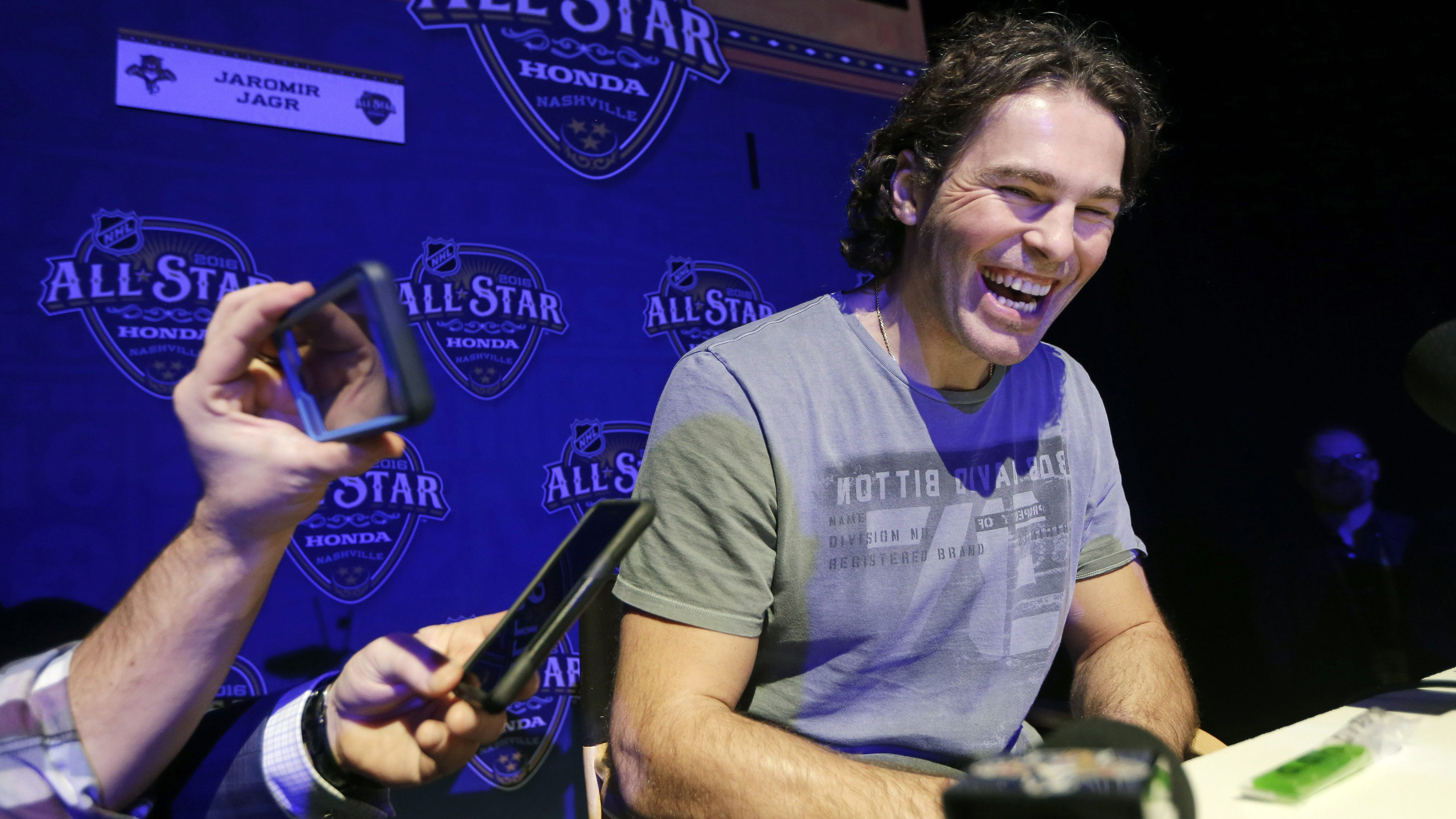 Jagr does not want to be here in Nashville, captaining the Atlantic Division, but he's not complaining. He'd rather use the break in the schedule to work out, strengthen his weary muscles for the Florida Panthers' playoff push.
"I have to be here, that's the thing," he says. "I was voted in. I don't want to be suspended. I don't want to miss any games."
Jagr doesn't feel or dress as old as he looks, all crow's feet and hard miles.
"It feels like I'm still wearing diapers when I'm next to him," says 36-year-old teammate Roberto Luongo. "He's quite something."
Indeed. Jagr points out that he's older than the combined age of his linemates, Aleksander Barkov and Jonathan Huberdeau. Aaron Ekblad, 19, notes that Jagr scored his 200th goal on the night he was born. Intrastate rival Steven Stamkos is thrilled to be on Team Jagr this weekend. John Scott can't wait to get his autograph.
Jagr is just the third-oldest NHL all-star in history, topped by Gordie Howe (51) and Doug Harvey (44).
A reporter asks Jagr, who should surpass Howe for third place on the all-time scoring list this season, about his favourite milestone, and the winger takes a moment to think.
"Just to play at my age, it's a big challenge every day," he says. "Just to play and somehow be helpful to the team—that's my record."
Jagr's wisdom can assist general managers, too. Looking at his Panthers—13 players age 25 or younger, five age 36 or older—he dishes the secret to building a division leader.
"When you're too old, you appreciate the game. You're happy, and you do everything just to survive the game. When you're too young, you're excited and you're very good, but you don't know how good you are. But when you're mid-age, I think you become more selfish and think about yourself. And we don't have those middle guys," says Jagr.
"Don't sign the middle guys!" He erupts with a warm, hearty laugh.
Jagr, who made his All-Star Game debut as a 19-year-old, the same age as Atlantic teammate Dylan Larkin, says this will be his final one.
And those thick, tired legs thank him.
"A full-ice 3-on-3 is no easy task, especially for a 43-year-old," Ekblad says.
"But he's no ordinary 43-year-old."