A lot of the stuff I end up writing about is based upon seeing something and going, "Hey, that seems weird." Then I do a little bit of research and it turns out that yes, it is weird.
Case in point: Patrick Marleau the clutch-scoring, game-winning marvel.
Recently, Marleau scored the 100th game-winning goal (GWG) of his career. If that seems like a high total to you, that's because it is. Marleau is just the eighth player in NHL history with 100 GWGs. It's an incredibly hard thing to do. Even Wayne Gretzky, who scored 894 NHL goals and owns nearly every record in the book, has 91 GWGs.
As I looked at the list of the NHL's all-time GWG leaders, I noticed something: Marleau has the fewest total goals among them. Marleau's 100th GWG came on the 513th goal of his NHL career. The next closest player to Marleau in terms of career goals including 100 game-winners or more is Jarome Iginla at 625. Everyone else on that prestigious, eight-man list has well over 600 goals or more, except for Marleau.
To put it another way, 19.49 per cent of Marleau's goals have been game-winners. That's almost one out of every five goals! If you think GWGs are clutch, or the mark of a player who rises to the occasion, then Patrick Marleau is an all-timer. Don't believe me? Here's how Marleau stacks up against the Top 20 GWG scorers in NHL history.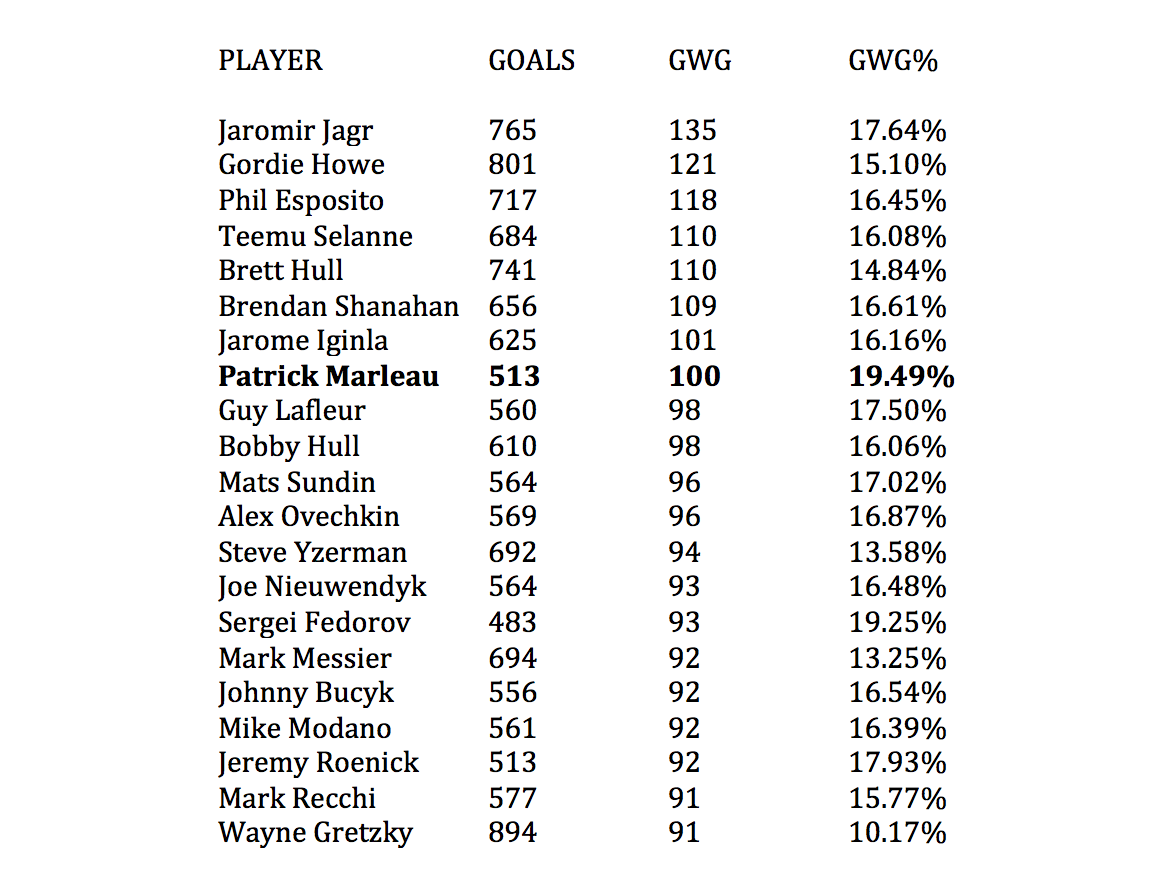 First of all, Jagr has 135 game-winners?!? Holy cow!
Second, out of the Top 20, Marleau owns the highest rate of game-winning goals. Only two players out of the Top 20 can say that 18 per cent of their goals or more are game winners, and they are Sergei Fedorov and Patrick Marleau.
Now, we can get into a whole debate about "clutch" scoring and what that actually means. On one hand, you might say that GWGs don't mean anything. You can score a game-winner in the first period or on an empty-netter. It doesn't necessarily mean you're "clutch" or anything.
On the other hand, you might say that game-winning goals have to say something about how clutch you are. It's reasonable to assume most GWGs come in the third period, or at very least the second half of the game. Every overtime goal is a game-winning goal. If one out of every five goals you score is a game winner, which is the case for Patrick Marleau, surely you could argue that you're a big-game player.
"Yeah, well Marleau disappears in the playoffs."
But does he?
Marleau has 68 career playoff goals and 16 of them are game-winners, meaning 23.52 per cent of Marleau's playoff goals have won the game for his team. That's even higher than his regular season total, which is already legendarily high! That's nuts!
There are some other players who deserve props in this category. Patrick Elias scored 80 game-winners among his 408 career goals, which is a 19.6 per cent clip, just edging out Marleau. Game-winners accounted for over 18 per cent of Steve Thomas and Vincent Damphousse's career goals totals. In terms of active players, Jeff Carter has 73 game-winners among his 339 career goals, which is an incredible 21.53 per cent rate. Daniel Sedin has scored 82 game-winners among his 372 goals, which is a 22.04 per cent clip. Wowzers.
Whatever you think being "clutch" is, you have to admit that scoring goals in the NHL is hard. And as the famous line goes, "You play to win the game!"
Marleau is good at both of those things. Anybody who says anything otherwise is just a hater.