There's no question this year's Edmonton Oilers are the best we've seen in some time. While that's not exactly a high bar to clear, they're currently sitting third in the Pacific Division just a hair behind a vulnerable Anaheim Ducks team and looking poised to make the playoffs for the first time since the 2005-06 season.
The mere fact the Oilers are once again competitive on a nightly basis is a win, considering the lows the franchise has experienced in the recent past.
What's fascinating about the marked improvement they've made as a unit, though, is just how little of it can be directly traced back to the splashy off-season moves they made in the summer.
Let's play a fun little guessing game as a revealing exercise (all numbers at 5-on-5):
Player A: 6-foot-3, 228 lbs. LW, 596 minutes played, five goals, six assists, 53.23 Shots For%, 50.48 On-ice Scoring Chances For%, 48.21 On-ice Actual Goals For%, 50.17 On-ice Expected Goals For%
Player B: 6-foot-3, 229 lbs. LW, 555 minutes played, 15 goals, four assists, 57.43 Shots For%, 55.94 On-ice Scoring Chances For %, 65.62 On-ice Actual Goals For%, 55.88 On-ice Expected Goals For%
Player A is Milan Lucic, who Edmonton invested $42 million in over seven years via free agency. In Edmonton's eyes, the allure of filling Taylor Hall's spot on the left wing alongside Connor McDavid with a big, physical power forward was enough to justify the exorbitant financial risk they were taking on by handing out that kind of contract.
The irony of that particular line of thinking is they had a strikingly similar option in Player B already, who was making a fraction against the cap of what they wound up paying Lucic. That would be Patrick Maroon, who the Oilers were sneakily able to steal from the Anaheim Ducks under the guise of the frenzied trade deadline last February.
The best part of it all from Edmonton's perspective is that a divisional rival is eating a chunk of salary for a very productive player: the Ducks will pay one-quarter of the $2 million Maroon is owed this year and next .
Despite the fact Maroon and McDavid had a perfectly productive run together towards the end of last season, it's not surprising the Oilers opted to start the year with Lucic in that spot instead. After all, they were incentivized to try and make it work to validate their expensive off-season decision.
The early returns on that partnership haven't been encouraging. It's alarming to see just how unproductive Lucic has been on the top line, considering McDavid is rapidly becoming hockey's equivalent of the rising tide that lifts all boats. Compare that to Maroon, who has certainly cashed in whenever he's been given the chance:
| COMBINATION | TIME ON ICE | SHOTS FOR % | GOALS FOR % | INDIVIDUAL GOALS | INDIVIDUAL ASSISTS |
| --- | --- | --- | --- | --- | --- |
| LUCIC WITH MCDAVID | 409.46 | 54.20 | 64.30 | 4 | 5 |
| LUCIC WITHOUT MCDAVID | 195.47 | 51.50 | 23.50 | 1 | 1 |
| --- | --- | --- | --- | --- | --- |
| MAROON WITH MCDAVID | 193.09 | 60.00 | 70.00 | 8 | 3 |
| MAROON WITHOUT MCDAVID | 369.20 | 54.10 | 60.00 | 7 | 1 |
Lucic having just two points in nearly 200 minutes without McDavid is awfully troublesome. Jordan Eberle, Leon Draisaitl, and Ryan Nugent-Hopkins sure aren't McDavid, but it's not as though they're chopped liver either.
Maroon, meanwhile, has had five of his eight goals with McDavid come over the past week, as the top line of him, McDavid and Draisaitl light the world on fire. This torrid stretch has not only catapulted Maroon to the top of his team's leaderboard for five-on-five scoring, but actually has him in some pretty elite company league-wide for the season:
| PLAYER | 5-ON-5 GOALS | 5-ON-5 GOALS/HOUR |
| --- | --- | --- |
| AUSTON MATTHEWS | 17 | 1.88 |
| MICHAEL GRABNER | 16 | 2.10 |
| SIDNEY CROSBY | 16 | 2.06 |
| PATRICK MAROON | 15 | 1.62 |
| DAVID PASTRNAK | 13 | 1.53 |
| RICKARD RAKELL | 12 | 1.65 |
| JAMES VAN RIEMSDYK | 12 | 1.48 |
| BRANDON SAAD | 12 | 1.37 |
| ANDERS LEE | 11 | 1.43 |
| CHRIS KREIDER | 11 | 1.35 |
| JEFF CARTER | 11 | 1.31 |
| ALEX OVECHKIN | 11 | 1.26 |
| MAX PACIORETTY | 11 | 1.21 |
| PATRIK LAINE | 11 | 1.12 |
Maroon's inclusion on this list might seem like it's a bit out of left field, but it makes more sense when you consider the context of how he's done it. Like most anyone who racks up a ton of goals over a short period of time, he's been on the fortunate end of some bounces.
Just north of 15 per cent of his unblocked shot attempts have been converted into goals, a rate which only Paul Byron, Michael Grabner, Sidney Crosby and Artem Anisimov have bettered amongst players with 300-plus five-on-five minutes this season. Sharp spikes like that will do wonders for a player's production, and shouldn't be relied upon.
While all of that is true, if Maroon keeps consistently setting up shop from prime scoring regions right in front of the net like he has thus far, good things should continue to happen for him.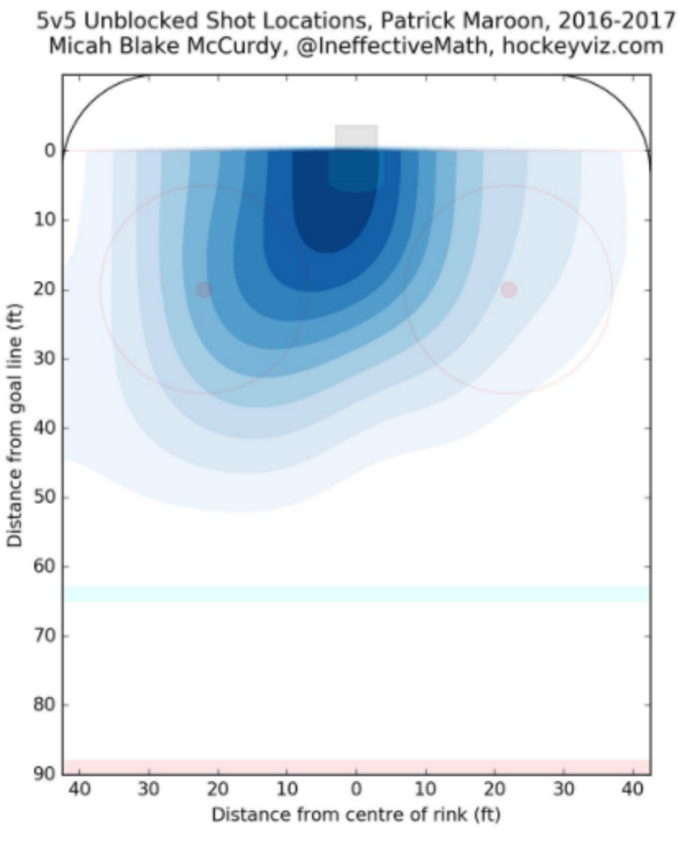 One of the most beautiful things about hockey is the interplay between different individual skill sets and player types, and how they can mesh together to create something special. In this particular case, Maroon has expertly fed off McDavid's greatness by knowing his role in the equation and sticking to it.
What sets a generational talent like McDavid apart from his peers is the gravitational pull he has on the opposition whenever he's out on the ice. When he gets his feet moving in the open ice with the puck on his stick, everyone finds themselves being dragged towards him — either physically in an attempt to help a teammate corral him, or with their eyes because they're human and can't look away.
The result is it creates plenty of room for his teammates to benefit from the attention he draws. All they need to do is fill the open space and wait for him to get them the puck. It seems simple enough, but Maroon has made a living this season by doing just that.
I'm generally not one to put a lot of stock into "best shape of his career" stories that circulate around training camp because there's typically a lot of noise, but very little signal involved. But in this case I think it's worth noting Maroon looks quicker and more agile than he has in the past after reportedly making off-season adjustments to his regimen. His ability to keep up with McDavid is something that has certainly given him a leg up on Lucic, who still needs to prove he's capable of doing the same after a rather sluggish start.
The Oilers now find themselves in a rather interesting position. As productive and successful as Maroon has been next to McDavid this season, you'd have to figure they'd still ideally like to see Lucic step into that role.
Even though Maroon has surely made it difficult to dislodge him from that spot, based on how well he's performed, there are roughly 42 million reasons why Lucic will inevitably get another crack.
McDavid is undeniably one of those rare players who's capable of making everyone around him better. You just fill in the space around him. That's the easy part.
With that being the case, it's fair to wonder why Edmonton went ahead and paid a premium for a winger like Lucic when they had a perfectly adequate one already sitting there already.