Patrik Laine has consistently been ripping goals all season long and he currently leads all rookies in points with 60, while he's tied for the lead in goals with Auston Matthews at 33, but has played seven fewer games.
And yet, despite those gaudy numbers, Laine has his share of doubters, and for good reason. His 18.3 shooting percentage is more than double the league average for forwards, which isn't necessarily proof of unsustainability, but when combined with his shot locations, it looks hard to believe.
Throughout the NHL, nearly 50 per cent of all goals are scored from the inner slot area, essentially between the hash marks in the middle of the slot. Players score on 22.7 per cent of shots on goal from that area, so it's the most reliable way to influence shooting percentage.
Laine meanwhile, rarely ever shoots from there — only seven per cent of his shot attempts come from that area of the ice, less than half the league average, and only six of his 33 goals have occurred there.
When you look at where Laine is shooting from, in order to sustain that level of success long term he wouldn't just need to be the best shooter in modern NHL history, which could be the case, but he'd have to be better than Steven Stamkos by about 50 per cent.
It's certainly possible Laine is that kind of game-changing talent, but for most people who look at the game analytically, it's fairly difficult to believe a jump that significant could occur in today's game.
However, Jets analysts, fans, and media have mentioned that a lot of Laine's perimeter play happened at the beginning of the season, and that he's improved a lot in the second half. I don't find that hard to believe — since he's so young that kind of progression would be natural. But let's look into it and see how much his game has changed. To be clear, we'll split Laine's season at the New Year.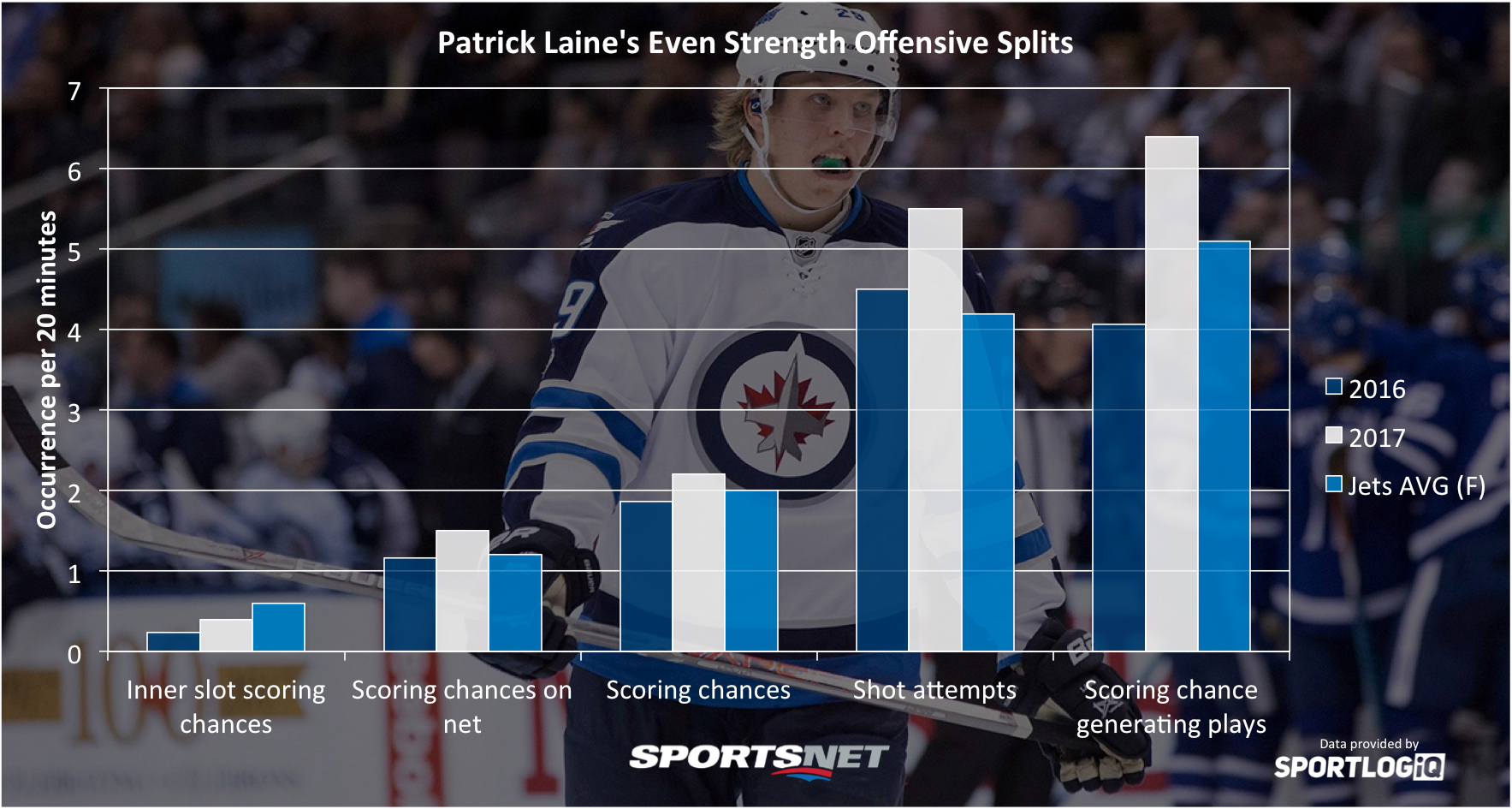 Laine hasn't got up to league or team average in shots from the inner slot area yet, but that may never happen because of the kind of shooter he is. I've written before that the prototypical snipers in the NHL usually shoot from middle distance, or the high slot, to get a bit more room for their release. That's exactly how Laine has been playing in the second half.
In 2016, 22.2 per cent of Laine's goals were scored from the perimeter, whereas in 2017 that's down to just 7.1 per cent, with nearly 80 per cent of his goals coming from the high slot.
What's most encouraging for Laine, though, is he's been improving his shot quality and quantity across the board, while creating more scoring chances for his teammates as well. He's gone from well below team average in terms of offensive contribution to well above, on a team with a collection of very high quality forwards, which makes it togher for an individual to stand out.
The question now with Laine is whether his improvement during the season is enough, combined with his elite level production, to win over some staunch Matthews voters.
This is a tough question, because in terms of two-way performance and sustainability, Matthews has been more consistent while playing a tougher role, with vastly inferior linemates. I have no hesitation in saying Matthews will be the better player of the two in the long run, even though Laine is awesome.
However, when the season ends and award voting begins, I don't think sustainability matters much. What each player will do next year doesn't come into question when you're evaluating the current season – all that matters is what has already occurred.
With not much time left in the regular season, Laine has produced more than Matthews in less time, has seen his shot attempt differential hover around even since a disastrous start of around 20 games, and has a plus-eight per cent goals for percentage relative to his teammates, compared to Matthews' plus-4.8 per cent.
Yes, Laine has a high PDO, and when predicting next year's performance that is a major factor. But when this season is over, high PDO or not, there's not denying what he's accomplished.
Unless Matthews tears up the league the last couple weeks of the season, don't be surprised to see the young Jet from Finland walk away with the Calder Trophy.