Fourteen games in, and the second coming of Teemu Selanne is keeping pace with the Norse god of snipe.
Patrik Laine did the remarkable, again, Tuesday night, pulling off a second hat trick before his National Hockey League career turned one month old.
"I'm proud of myself, and I'm proud of our team," Laine told reporters after Winnipeg's 8-2 thrashing of the Dallas Stars. "It was unbelievable to score three goals again."
No doubt. But just how unbelievable is the rookie's prolific start? How does the 18-year-old's achievement stack up against the greatest NHL teens?
Laine's three-game goal streak has pushed his total to 11, making him the early front-runner for the Maurice Richard Trophy, to say nothing of the Calder.
The NHL record for most goals by a rookie is 76, by the Jets' Selanne in 1992-93, an era when offence flourished. Selanne was also the last rookie to lead the entire league in goals.
Like Laine, Selanne had 11 goals at the 14-game mark. He also had more points (20 to Laine's 15) and one less hat trick. (Alexei Yashin also had 11 goals in his first 14 career NHL games, back in 1993-94.)
The Finnish Flash, who has been keeping close watch on his junior countryman, tweeted his approval after Laine's theatrics Tuesday.
"No words needed… fantastic," Selanne wrote, stamping his support with a white-and-blue flag.
No other player in Jets/Thrashers history has scored two hat tricks in his rookie season, and Laine became the first to score two hatties prior to his 19th birthday since Trevor Linden did so in November 1988. Toronto's Jack Hamilton (1943-44) and Winnipeg's Dale Hawerchuk (1981-82) also accomplished the feat.
The last player to notch two hat tricks in his rookie campaign was the Coyotes' Peter Mueller in 2007-08, and the last teenager to lead the NHL in goals (using age at end of season) was Columbus's Rick Nash in 2003-04, with 41.
Laine became just the fourth player in the NHL's modern era (since 1943-44) to post multiple hat tricks within his first 14 career games, joining Bernie Federko (1976-77), Bernie Nichols (1981-82) and Bob Gaudreau (1992-93).
What the second-overall pick is doing before drinking age is historic, and it's captured the imagination of hockey fans.
"You can feel it in the crowd," said Mark Scheifele, Laine's centreman and new NHL points leader. "When he gets the puck from anywhere, you can feel it, the anticipation of the shot. Everybody on our bench has that same feeling."
Dig deeper and two things stick out about Laine's production. First, the volume of shots he's generating as an 18-year-old (3.14 per game) is the most by anyone not named Sidney Crosby since 1990:
Second, Laine's shot percentage (25 per cent) is off the charts. No one in the league who has fired at least 25 shots comes near that conversion rate, and this kid has maintained that success rate through 44 shots.
Incredible! Unsustainable! And a heckuva lot of fun to watch.
Here's how Laine's wicked start compares to those of some other flashy active superstars: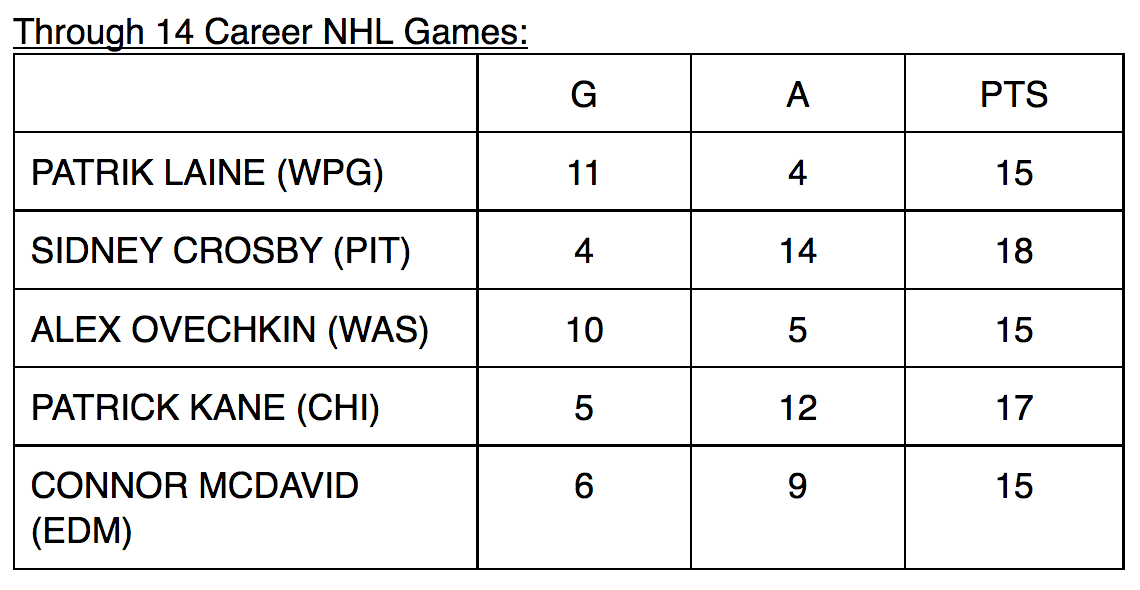 Five of Laine's goals have come on the power play, when he can take time to set up that deadly quick-release right shot, but Jets coach Paul Maurice does not see the rookie as a one-dimensional weapon.
"Going over the right side has helped him. He may at some point come back to the left, but the reads are a little easier for him now," Maurice told reporters Tuesday.
"Each game he's gotten better and better, and now you see him finishing his checks, too. What you saw in his first few games is that he doesn't want to make any mistakes, he doesn't want to get caught, he doesn't want to be a reason for an odd-man rush.
"He's just learning the game now."
Scary.