BUFFALO – Patrik Laine doesn't even wait to hear the end of the question. It begins: 'If you were an NHL GM and you had to draft…'
"Me," Laine says. "Me."
He pretty well guessed where that one was going.
The 18-year-old Finn is sitting in the stands at the Buffalo Sabres practice facility, here for the NHL Combine along with 113 other top prospects. Of all these players, it's American Auston Matthews and Laine, who—as you've no doubt heard by now—are considered the No. 1 and 2 picks in the NHL Draft later this month.
---
More on the 2016 NHL Combine here:
---
The order of 1-2 varies, depending who you ask. And if you ask Laine, the answer is clear.
First, the blonde-haired winger hears out the rest of the question: 'As a GM, who would you rank first, second and third overall in the draft, in order?'
"Me," he says, again. "Matthews and [Jesse] Puljujarvi."
As a GM, Laine says, "I would trade to get Puljujarvi to my team." The more Finns the better.
Laine, of course, isn't an NHL GM. Far from it. He's the star winger who has had such an extraordinary season—he won MVP at the World Championship and put up the most points by any draft-eligible player there, ever—that he's made Matthews, once considered a shoo-in to go No. 1 overall, less of a certainty.
Some scouts say the only reason Matthews should go ahead of Laine on June 24 is because the American is a centreman, and Laine plays wing.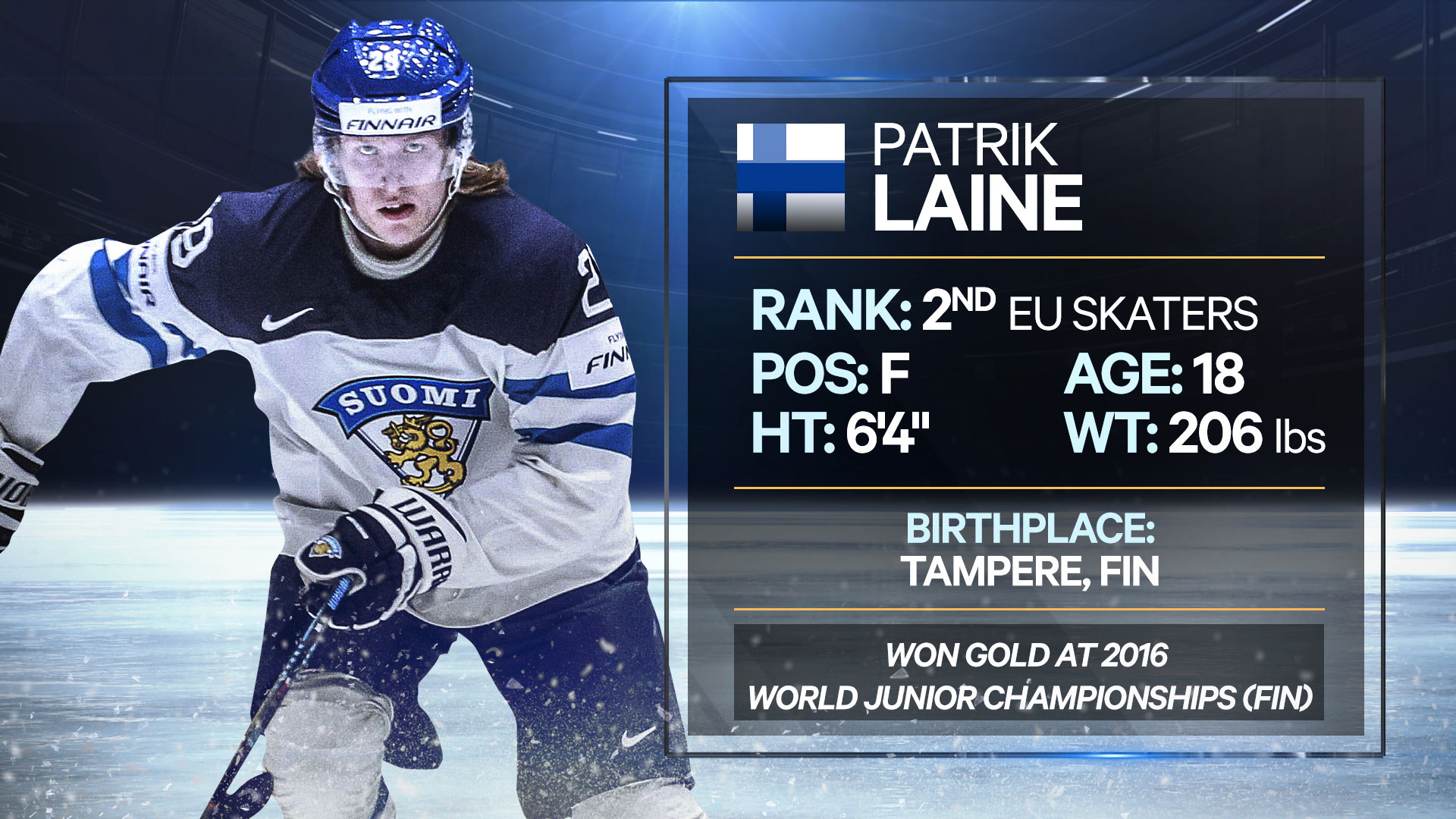 Laine is six-foot-four—"almost six-five," he says—and owner of a blistering shot. He's confident in his abilities, sure, but he didn't expect this past season to go as well as it did. He was recently named to the Finnish World Cup team, and won the Jari Kurri Trophy as playoff MVP after his championship season in the Finnish Elite League with Tappera Tampere.
It was during the end of his season with Tampere that Laine says he felt his game had reached another level.
"I was playing well and getting points and goals, and of course those pro leagues playoffs that I got the MVP award and we won the championships," he says. "I think then I realized I've been playing pretty well."
Yeah, 10 goals and 15 points in 18 playoff games in a pro league full of grown men when you just turned 18 in April is a pretty good indicator that you're decent on the ice.
That might be why here, at the NHL Combine, where Laine and the rest of the top prospects are working out and sweating and maybe even vomiting in front of NHL brass, he promises he's not the least bit nervous.
Sitting here in his navy slacks and dress shoes and blue button-up shirt, Laine—who recently chopped off his long blonde locks—doesn't look like he's sweating any of the physical testing apparatus in front of him, like the bikes and various cardio stations he'll go through in the near future.
The only thing that made him cringe was his 8 a.m. start time for the VO2 Max Test on Friday. He was in a group that included both Matthews (his No. 2 overall pick) and Puljujarvi (his No. 3), though his fellow Finn had surgery on his left knee in May, and he isn't participating in any physical testing.
Laine is funny. Ask him if he ever thought about switching from the wing to centre and he says, "No, I'd have to defend more if I'm centre."
He waits a second, then adds: "That's a joke."
He says in his interviews with various NHL teams, he'll bust out his humour, but it depends on the team: "If they're staring at me all the time, I won't even try to be funny."
And this is his plan for playing regularly against his childhood idol, Alex Ovechkin: "I'll hit him."
Laine says he isn't nervous about Draft Day, either. He's spent this day cycling through interviews with various media outlets, and spent much of his time talking about Toronto (the Maple Leafs have the first overall pick) and Winnipeg (the Jets pick second).
"I'm pretty confident with myself," he says. "I've done my work on the ice as best as I can. Now the team has to make the choice and I can't really do anything about that any more."
But if he could do something about the draft—if Laine were a GM with that No. 1 pick—we all know how it would go.
*Read more about Laine—on why he likes swimming in cold water, his hair care regimen, and how he got that blistering shot—in the next issue of Sportsnet Magazine.*