EA Sports NHL 17 is all about personality and creativity.
Small wonder why Vladimir Tarasenko is the latest cover athlete for EA's annual hockey video game franchise.
The St. Louis Blues superstar was revealed as the winner of the cover vote contest last week at the NHL Awards, and given the winger's penchant for eye-popping, highlight-reel goals and primal celebrations after just undressing entire teams, fans did good in unknowingly pairing NHL 17 with the perfect star to match the game.
Getting a chance to go hands-on with an early build in addition to getting a chance to speak with NHL 17 lead producer Sean Ramjagsingh a week before the awards during the Electronic Entertainment Expo (E3) in Los Angeles, here's a rundown on the new features coming and why exactly Tarasenko's play style fits this year's game so well.
CUSTOMIZATION
A lot of focus appears to be on making every person's experience who picks up a copy of NHL 17 unique in his/her own way with a variety of customization and personalization options spread out across the game's various modes.
Franchise Mode
The best example of this is in the NHL 17's Franchise Mode. Replacing the Be A GM mode from pervious iterations, this new one will play exactly the same as before, with one key difference, the element of owners.
Not only will you as the GM be responsible for making trades, signing players and staying competitive while navigating the murky waters of the salary cap, you'll also be responsible for trying to turn a profit for your owner.
Gamers will be able to accomplish this by properly budgeting out player and hockey personnel salaries, setting a marketing budget, running promotions such as bobblehead nights, upgrading their facilities' amenities, and even setting the prices of tickets, parking and concessions – such as hot dogs.
Going deeper into the personalization of the way players want to run their own hockey team is the fact you can also attempt to relocate your team where you'll run into a whole slew of challenges there including first negotiating with the city you want to go to over who will pay for the arena in the first place.
At the moment it's not entirely certain what options there will be for relocation but Halifax, Hamilton, Hartford and Seattle are known destinations. Las Vegas was also an option being shown as part of the E3 build but with the recent expansion announcement it's not known if the NHL 17 team will remove that and replace it with another city.
EA Sports Hockey League
The Franchise Mode is pretty wild stuff, but an even deeper level of customization can be found within the popular EA Sports Hockey League (EASHL).
This mode is best known for its ability to gather a group of six buddies playing online at home and bring them together in a squad going up against another team of six also completely human controlled. EASHL has provided some level of customization in the past, but nothing like what's coming in NHL 17.
In the upcoming title you'll be able to choose a logo and pimp it out to your heart's content with any colour scheme you deem fit. The same goes with your team's uniforms, and even the rink you play in. Looking specifically at the arena customization, you'll be able to choose the colours of your seats, stairs, walls and hand railings, and you'll be able to choose your goal song and what your goal horn is.
Additionally, when it comes to your custom EASHL player, the team's added a whole slew of new goal celebrations to have fun with, including a Jose Bautista-esque bat flip of your stick – cool stuff.
In other words, you'll be able to truly make your custom EASHL hockey player and team all yours.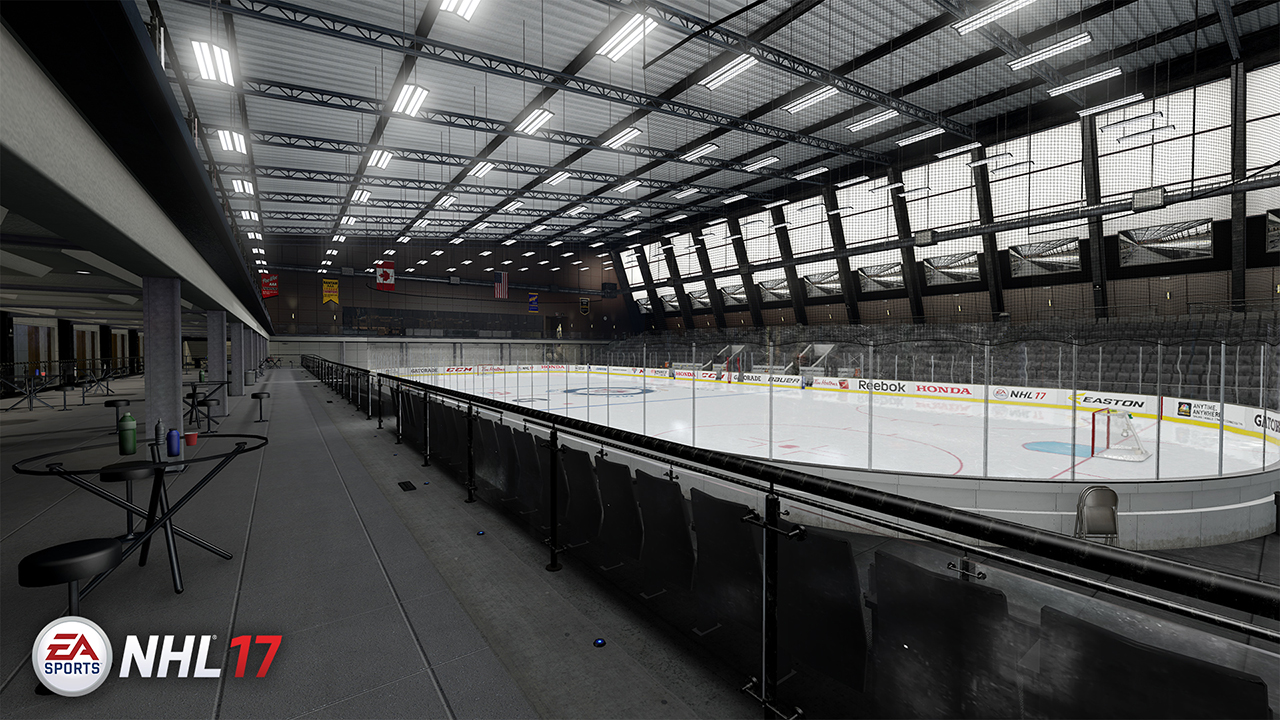 (EA Sports)
Be A Pro
The Be A Pro mode is by its very nature all about personalization and customization and NHL 17 will be adding to this by really playing up milestone moments such as your player's first game, his first goal, his first fight, etc.
This will be accomplished by adding more cinematic elements to the game such as highlighting the classic rookie hazing tradition of letting the rook onto the ice first by himself and letting him take a lap alone. This is something that's always picked up on by the television broadcast, and will now be apart of your custom player's story as well.
GAMEPLAY
The off-ice stuff in NHL 17 looks appealing, but ultimately what matters most is how the game plays on the ice. Spread out across the many ways you can play the game, Ramjagsingh and his team have made a number of tweaks that look to help the game play better and allow gamers to add their own personal touch to the experience.
New and Improved Gameplay Elements
First off, there are two major changes on the ice: Net battles and more realistic goalie play.
NHL 16 introduced a more refined way for forwards to get to the in front of the net for tip-ins, screens and such, but there wasn't much you could do as a defender. NHL 17 looks to correct that by introducing all new animations and moves defenders can do when trying to shut down a guy trying to cause havoc in front his goalie such as stick lifts and little shoves.
Goalies are experiencing an even bigger change as they now better reflect the fact that some NHL netminders are a lot bigger than other and as such the sprawling, acrobatic saves aren't necessary unless they're caught out of position. Instead, you'll see more positional saves and animations that involve raising the shoulder to cover off the small gaps of the net.
Both gameplay improvements appear to be clear signs that NHL 17 is trying to more realistically capture the personality and brand of hockey that's played today.

(EA Sports)
Hockey Ultimate Team
The EA Sports NHL franchise's most popular mode, Hockey Ultimate Team (HUT) comes with two major changes to its addictive formula.
Gone is the "chemistry system" in 17's HUT and in its place is the "synergy system." The way this new mechanic works is each player has a designated synergy trait such as "dangle." If you get four players with that same trait then all of those players will receive a ratings boost. There are also team-specific traits such as "toughness," and if you have seven players on your team with that "toughness" trait the entire team will receive a boost to that specific rating.
This makes for interesting team construction as it could make players focus more on finding interesting synergies within their teams, even from CHL players, instead of just trying to get the highest-rated players on their HUT.
The other big change is NHL 17 will make managing all the excess stuff you end up collecting easier by filling it into dynamic sets that you could end up trading out for more valuable items.
Visual On-Ice Training
Of course, you won't be getting very far with your HUT if you don't know how to play very well and NHL 17 will be looking to improve the skill level of players of all ages thanks to improved on-ice training.
This feature was introduced in 16 but it didn't do much in the way of feedback and teaching. NHL 17 hopes to correct that by offering in-game situations that will earn players more experience points should they execute properly. For example, if the game is tied with five minutes left to play, you may be asked to score in that situation for a bonus reward.

(EA Sports)
World Cup of Hockey
New to NHL 17 will be a full World Cup of Hockey mode. All the players will be represented, including those who aren't NHL players, along with the authentic uniforms.
There is one hiccup, however. Auston Matthews was named to Team North America's preliminary roster before the draft. He's since been drafted, first overall by the Toronto Maple Leafs, and standard procedure is NHL rookies can't get into the game until they play their first NHL game. The World Cup takes place before the start of the NHL season, so the NHL 17 development team is in a bit of a bind, but according to Ramjagsingh, "if [Matthews is] on the World Cup team, that's a discussion we'll have, so that might be the opportunity to get him in."
Draft Champions
Another new mode is "Draft Champions," something that was first introduced in Madden 16 and FIFA 16.
At its very heart, this is essentially a fantasy draft where the game will give you a series of options and you select whichever one you think is best for your team.
The way NHL 17 is doing it is it auto-fills about half your team to start with players rated in the low 70s to mid 70s and then you do the draft, choosing between 10-12 rounds. Taking note of the initial collection of players you were given is key in this mode because it forces you figure out what direction you want to go in the draft.
ESPORTS
One final point worth noting is eSports and where NHL 17 could potentially fit in with it.
During its big E3 press conference, EA announced built-in eSports functionality being added to Madden 17 and FIFA 17, where players will be able to jump into either of those games and create and join tournaments on the fly with inevitable support from EA Sports stepping in and offering prizes in their own officially sanctioned tournaments.
There was no such announcement for NHL 17 and when asked about it Ramjagsingh said there wasn't anything to announce as of yet, but it's something they're looking into.
It's odd that the NHL franchise won't be getting the push into eSports the way Madden and FIFA are as, out of all of EA Sports' titles, NHL is best equipped to do it because of the nature of the six-on-six, 12-player controlled action that's been happening with EASHL for years now.

(EA Sports)
Ramjagsingh also thinks his game is a natural fit, particularly with the way the biggest eSports games are played.
"I personally feel that we have a unique opportunity with EA Sports Hockey League, specifically," the NHL 17 producer said. "When you watch non sports eSports you see teams up there working together and our EA Sports Hockey League has that team play element of it.
"The fact that every player up there, including the goalie, is player controlled you start to imagine where we can go with that and there's an opportunity there."
As Ramjahsingh alluded to, the most popular eSports games, such as League of Legends and Counter-Strike: Global Offensive, are team-based competitions just like EASHL play. Competitive Madden and FIFA are one-on-one competitions and while NHL could certainly be the same the fact that a full team mode is already in place should make it the more compelling game from a competitive standpoint.
It should really only be a matter of time until EA Sports decides to announce NHL as its next big eSports endeavour.
—
NHL 17 comes out on September 13 on Playstation 4 and Xbox ONE.
Eager fans can sign up for a public beta in order to play three modes on hand of the game and get a taste of what it's all about right now. The beta will go live starting July 28.