Phil Kessel has a heavy burden in Pittsburgh this season. The high-priced winger—one of the top goal scorers in the NHL over the course of his career—is expected to produce big numbers alongside Sidney Crosby and Evgeni Malkin. He's supposed to be the sniper Penguins fans have been clamouring for; the super-skilled skater most observers believe Crosby has lacked in recent seasons.
Malkin, at least, had James Neal to play with for a few years, but Patric Hornqvist and Chris Kunitz aren't what people think of when they say "elite scoring winger." But while Kessel is an offensive upgrade over both, the reality is that it's far from a slam dunk that he'll suddenly become Jari Kurri playing alongside Crosby.
Last season, when Neal was dealt to Nashville in exchange for Hornqvist, Jonathan Willis wrote an insightful piece that discussed how Crosby and Malkin elevate the production of skaters who play on their wings. We learned that wingers have seen anywhere from a 25- to 36-percent increase in their scoring rate at 5v5 when playing longterm minutes with Malkin or Crosby. What was left out of that discussion was a look at how the two actually affect that so significantly.
First off, the most impressive thing is that they are excellent possession players. If we examine the performance of the six most common wingers to play with Malkin and Crosby in recent years we see how large an impact the two superstars make on their teammates' on-ice shot-attempt differential.
The second factor is shot-attempt percentage. If we assume Kessel sees a comparable boost in his possession stats, he should see his team's share of shot attempts rise substantially from the 46.4 percent it has been in recent years with the Maple Leafs. Even if poor defensive habits picked up in Toronto follow him to Pittsburgh, it would be surprising for him to not approach a far more respectable 50.9 percent.
Another result of Crosby and Malkin maintaining a higher percentage of shot attempts is that they play a lower-event game than Toronto typically has. Most of Pittsburgh's top wingers see around 115 total shot attempts per hour of 5v5 play, while Kessel has seen a league-high average of 126 over the past few years.
Based upon Kessel's proportion of personal shot attempts with the Leafs at 5v5 in recent years (31.18 percent), we can estimate that he will generate somewhere between 17 and 18.5 shot attempts per hour with Crosby or Malkin. What is surprising is that this isn't a massive uptick for Kessel, who averaged 17.83 shot attempts per hour in Toronto.
The expectation that Kessel's shot quality will rise with elite playmakers also isn't necessarily true. When looking more closely at the five skaters from the earlier list to play significant minutes away from Pittsburgh since 2009, we actually find that the proportion of their 5v5 shot attempts taken from scoring-chance areas wasn't any different.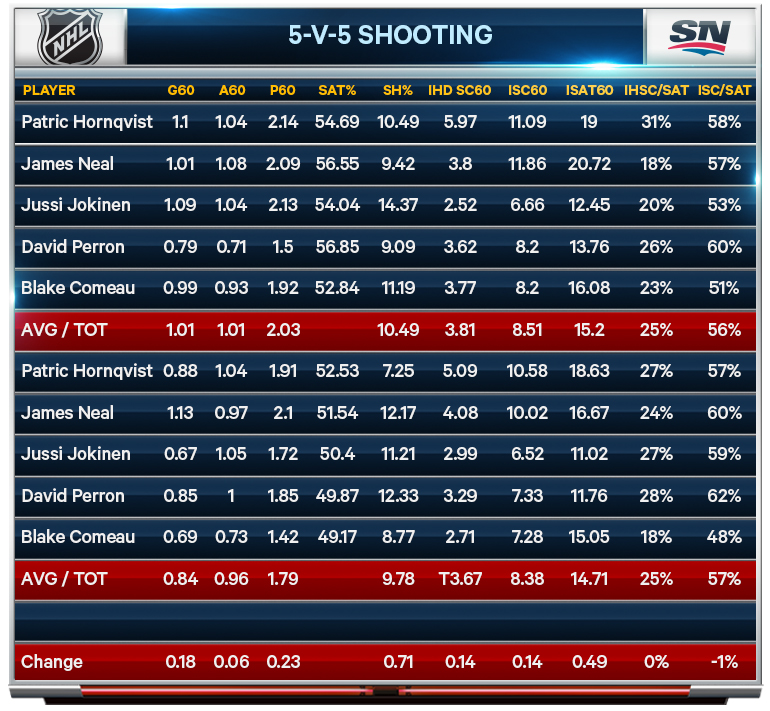 What does appear plausible—as shown by the increased shooting percentages—is that the shot attempts Crosby and Malkin generate are of a higher quality. Perhaps this is due to more pre-shot motion and cross-ice passing through the "Royal Road" popularized by former NHL goaltender and current MSG analyst Steve Valiquette.
The increased rate of generating scoring-chance attempts shows up most clearly in the on-ice shot generation of Crosby and Malkin, visualized using war-on-ice.com's Hextally plots. Red hexagons indicate an above-average rate of shot attempts from that location in comparison to the rest of the NHL. Darker red means further above average. Crosby and Malkin are on the ice for significantly more dangerous shot attempts than the average NHL skater (as one would expect).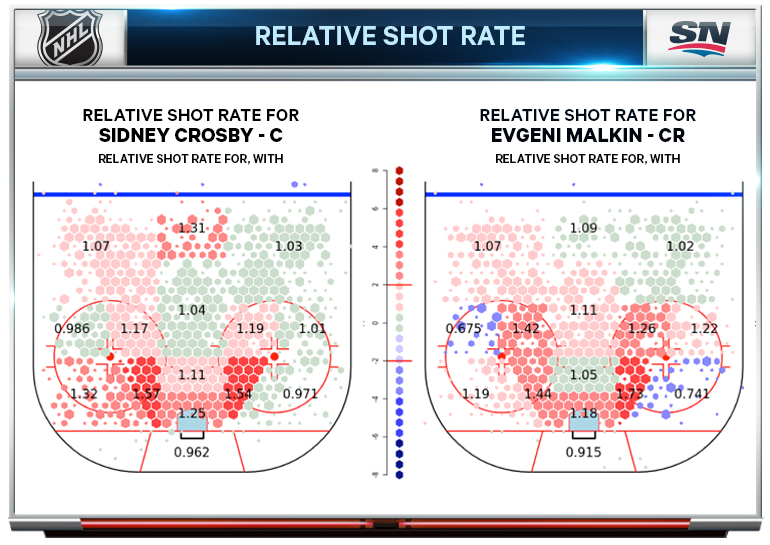 Whatever the reasoning, we can assume Kessel's personal share of shots and the proportion that are scoring chances will remain fairly stable, but his shooting percentage may increase slightly due to improved offensive possession. Assuming good health for all Kessel, Crosby and Malkin, the slight improvement in shooting percentage coupled with the likely increase in scoring-chance opportunities means we can project Kessel's production at 20 to 23 even-strength goals. That would represent a significant rebound from the 14 he scored last season and a return to the form that saw him post 20-plus in 2008-09, '09-10, '11-12 and '13-14.
Kessel's scoring should also benefit from copious time on one of the top power plays in the NHL. Pittsburgh ranks second in the NHL in power-play scoring-chance generation over the past three seasons at 58.5 per hour, trailing only San Jose at 58.9. Toronto's ranks well behind in 12th at 49.9.
Crosby, Malkin, Hornqvist and Kris Letang all have on-ice scoring-chance generation rates above 60 per hour with the man advantage, while Kessel has comparably floundered at around 54 with the Leafs. The increased opportunity to generate power-play points should serve Kessel well, but if he has any hopes of finally cracking the 40-goal plateau he'll need to significantly outstrip his career high of 12 power-play markers scored in 2010-11.
Kessel will have the luxury of skating with superior linemates in Pittsburgh, but he isn't likely to get more ice time than he saw in Toronto, and he isn't necessarily going to turn into a 15-percent shooter because he's firing home passes off the sticks of Crosby and Malkin. In the end, it makes sense to assume that whatever improvements in production rate Kessel sees will be slightly offset by the fact that he isn't likely to regularly see 20-plus minutes of ice with the Penguins.
He will remain a very productive offensive skater—and could hit point-per-game levels again—but, like most other players in the NHL, he'll still find it a challenge to top 40 goals, even playing with the best 1-2 punch down the middle in hockey.