Since Phil Kessel was traded to the Pittsburgh Penguins, he's quietly continued to be an offensive powerhouse, now freed from having to face the best lines opponents have to offer with Sidney Crosby and Evgeni Malkin often both on different lines aside from the power play.
This year, however, Kessel has led the Penguins in scoring pretty much all season long. Crosby is starting to catch up, but Kessel's 35 points in 30 games is an impressive mark.
Kessel's torrid scoring pace seems pretty far ahead of his production over the last couple seasons, and usually when I'm breaking down what a player is doing on the ice I look to even-strength play. But Kessel's even-strength point production hasn't really changed. In 2015-16 he put up 42 points over 81 games, last year he put up 40, and this year he's on pace to put up 46.
What has changed fairly drastically is his power-play production, which has gone from 17 points in 2015-16, to 30 points last season, to on pace for 49 points this year. Right away that means we're dealing with smaller sample sizes and less reliable data, but just for interest's sake, let's see if Kessel's power-play tendencies have changed at all to cause this sudden outburst of production.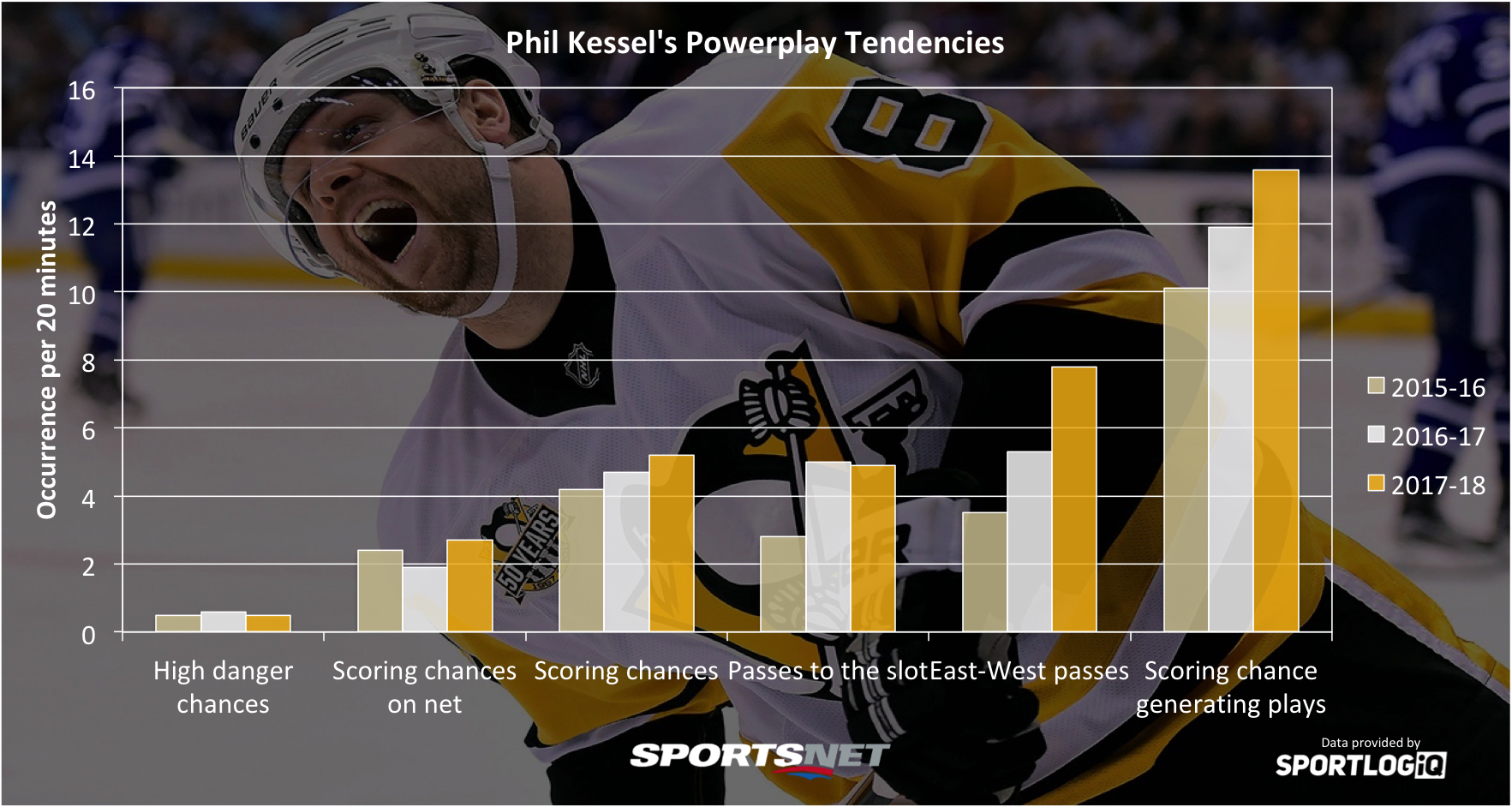 In some ways Kessel's play hasn't changed too much. He doesn't get very close to the net for his shots on the power play, which makes sense since he's a middle-distance shooter and not a net-front guy. He's producing more scoring chances than either of the last two seasons, and more of his scoring chances are getting on net than before.
The biggest change for Kessel has been his playmaking. Two years ago he struggled to get passes to and through the slot, and saw big improvements in both areas last season, leading to his power-play production nearly doubling.
This season his slot passes haven't really changed, but his east-west passes through the slot have skyrocketed even further. They're his most common offensive zone play on the power play, and that's a tough pass to make.
His higher-event play with shooting and passing has helped him create more scoring chances for his teammates, leading to more goals for and more points.
[snippet id=3638287]
The question though is how sustainable is this level of production? Can Kessel actually push 50 power-play points? There are more power plays this season than there have been for the last six seasons, but we're also talking about just over 125 minutes of ice time so far.
Can Kessel actually put up 50 power-play points? It's only happened nine times since 2005-06 when the NHL introduced their crackdown on obstruction. Of those nine seasons with 50 power-play points, seven of them were in 2005-06 and the other two were in 2006-07.
The most power-play points a single player has put up in the last five full seasons was 44, by Nicklas Backstrom in 2013-14, and no one else has even hit 40.
Naturally that would make the safe bet that Kessel's production should slow down, though even if it does, No. 81's play is extremely impressive. Even if it's not something he can sustain, it's still incredible.
[relatedlinks]