TORONTO – "Yeah, Pierre! Got a contract!"
It's a sunny spring Friday in the city.
A long weekend beckons most, but the Toronto Marlies are about to put in cold work — back-to-back Eastern Conference final games versus the visiting Lehigh Valley Phantoms — and a smiling AHL rookie with an entry-level contract only four years in the making splays a long leg in the centre of a team circle at Ricoh Coliseum, leading post-practice stretch to the soundtrack of congratulatory stick-taps.
Left wing Pierre Engvall, one fourth of the first Toronto Maple Leafs prospect package signed in the Kyle Dubas era, signifies yet another gem unearthed from the organization's recent deep dive into Sweden's potential pool.
But unlike Swedish defenceman Jesper Lindgren, Swedish forward Par Lindholm and Russian defenceman Igor Ozhiganov — all of whom inked entry-level deals Thursday — Leafs fans can hop a streetcar to watch Engvall in action now.
[relatedlinks]
Much like countryman Andreas Johnsson in 2013, Engvall was drafted as a seventh-round flyer back in 2014 (188th overall) and was left to develop his skills back home on the big ice. (Prior to this spring, he'd appeared in just one game for the Marlies.)
This past fall, entering his fourth season as an unsigned prospect, Engvall's uncertain future with the organization lingered in the back of his mind. The 21-year-old made the leap to Sweden's top pro league with HV71, but a fractured clavicle in October — thanks to an illegal check by Mora's Michael Haga — required surgery and darkened the cloud of doubt on his Leafs fate.
Engvall's 20 points in the 31 SHL games he salvaged were enough, however, to earn him a PTO with the Marlies in late March. He crossed the Atlantic clinging to one last gasp to his stick.
"I didn't expect too much. I knew I had to work for the contract. I knew if I did my best, I would get it," says Engvall, grinning throughout his first meeting with the Toronto media as a paid member of the Maple Leafs.
"That's what I've been trying to work towards for the last four years. I'm really happy. I got a good start when I came here, I got to play with good players, and it worked out for me."
All Engvall has done since his arrival is put up eight points in the Marlies' final nine regular-season contests and seven in their first nine playoff games, good for third in club scoring and making Dubas's decision easy.
When point-man Timothy Liljegren (yep, Swedish) quarterbacks the power play, he says his first option is Johnsson. Engvall has become No. 2 with a bullet.
"He's kind of a horse," captain Ben Smith marvels. "He's a big body, and he wants the puck—that's the main thing. It's his attitude and his excitement for the game, and he just works his butt off. That's all you can ask for in a player.
"He's been a huge addition for us at this time of year. With the way he plays with the puck and without it, he's definitely learning quickly on the go."
The first time Engvall's dad took him skating in the town of Ljungby, he was six and didn't care for it much. "I tried it just a couple months later, then I loved it," he says. Every day, Engvall's dad would take him to the rink, and now he lists his stride as his best attribute.
"I have some skills with the stick, too. I can shoot the puck," Engvall says. "I see myself as a two-way player. I'm a big man, so I have to get better at covering the puck. It's small ice, so you have to be better at that here. Be stronger on the puck and play a little bit more tough."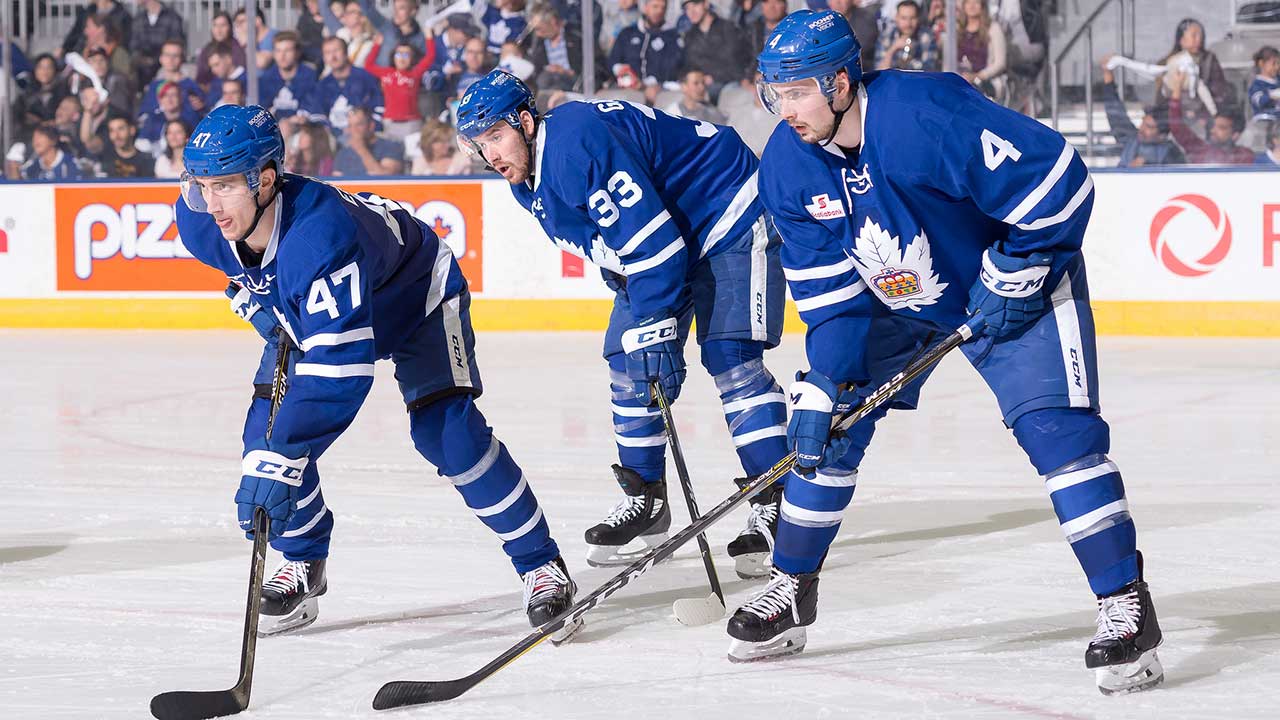 Rookie Pierre Engvall, left) has quickly fit in with his Toronto Marlies teammates, including linemate Frederik Gauthier, centre, and defenceman Justin Holl, right. (Christian Bonin/Toronto Marlies)
Engvall was raised on NHL highlight packs, first admiring nifty Marian Gaborik. Evgeni Malkin is his new favourite.
Defenceman Justin Holl notes that Engvall is "great at picking pucks off the wall and attacking the middle."
Structurally, the leap from the larger European surface has posed a challenge. Turnovers are costlier in North America. Wingers need to make snap decisions, and coaches stress the safety of chipping over the freedom of puck possession.
"It's a pretty big difference. You can really feel the ice is small. The people come fast at you," Engvall says. "For me, it's getting better and better. You have to make decisions fast on the ice. Everybody's close to you, so you have less room."
Coach Sheldon Keefe says it's all fine and well that Engvall is an imposing 6-foot-4 and 200 pounds with soft hands, but it's the kid's willingness to be coached that left a positive first impression. Engvall dove into film sessions and drills, then rapidly converted the staff's suggestions into in-game results.
"That really allowed him to use his body to be a lot better in tight spaces, and he's just picking things up here every single day," Keefe explains.
"He's been a real nice surprise, a real nice addition for us, and a great prospect to have in the fold here."
Five on five, Engvall fills a clear role alongside AHL vets Frederik Gauthier (6-foot-5) and Colin Greening (6-foot-2) as the Marlies' 643-pound shutdown unit, an accidental trio Keefe says he threw together at a time his roster was juggling injuries.
"We had no idea what to expect when [Engvall] got here," Keefe says. "That line just sort of fit. The fact they're three big people is a plus. Makes them more miserable to play against."
[snippet id=3816507]
On and off the ice, Engvall's Leafs assimilation has been relatively smooth. With Liljegren, Johnsson, Calle Rosen, Andreas Borgman and Carl Grundstrom in the room, a cadre of Swedes are helping break the language barrier.
"That's nice to see the guys who really come here to work get rewarded," Holl says. "He's definitely added an offensive spark to our team."
So, Pierre, with a couple of left wingers — James van Riemsdyk, Leo Komarov — likely opening up spots on the big club, how long until you become a full-fledged Maple Leaf?
"I don't know yet," Engvall says.
Another smile.
"I'm just going to try to do my best here with the Marlies. Do my best, get ready for summer, then do my best."
It's got him this far.