While the current score of the series would present the illusion that the Stanley Cup Final has been evenly matched, peeling back a superficial layer and looking at how things have unfolded at even strength paints a contradictory picture.
The ice has been tilted in favour of the Predators for nearly the entirety of the first four games – at five-on-five they've been responsible for 55.7 per cent of the attempts, 56.8 per cent of the shots on goal, and 56.5 per cent of the scoring chances.
Assuming Pekka Rinne's improved play in Games 3 and 4 really is an indication that his disastrous implosion to start the series is in the rearview mirror, history suggests that the Predators should like their chances should they continue to control the run of play to this degree.
Stanley Cup Playoffs on Sportsnet NOW
Ready for playoff hockey? Stream every single game of the 2017 Stanley Cup Playoffs with Sportsnet NOW.
Of the major storylines highlighted as worth keeping an eye out for in the prelude to the series, one of the more compelling ones from an Xs and Os perspective was the battle for neutral zone supremacy set to be conducted between the patchwork Penguins defence group and the tenacious Predators forecheck.
With each passing game, the importance of that particular head-to-head matchup has become more and more apparent, as Pittsburgh's inability to get out of its own way and in turn its own zone has oscillated between amusing and downright cringeworthy depending on your personal threshold for slapstick comedy.
Suffice it to say that's been a dramatic 180 from the team we saw last year, which used its distinctive ability to play fast and make things of consequence happen as soon as it got on the puck to run opponents off of the ice en route to winning the Stanley Cup. Here's an excerpt of what I wrote about the fits they were giving other teams at the time:
"The Penguins are an interesting case study here. When their defencemen do attempt to make a breakout, they've developed quite the affinity for the "alley-oop" play where the puck is lobbed high in the air towards an open sheet of ice for the forward to go and retrieve it.
While I'm generally not a huge fan of the play, Pittsburgh's personnel and the tempo they execute the play with gives them a chance to convert a higher percentage of those plays than your average team. There's very little hesitation with their decision-making and their north-south movement, which makes it next to impossible for the opposition to set up its defensive shell. The Penguins have proven to be an entirely different animal, and no one has been able to find an answer for neutralizing them."
They've predictably proven to be a much more manageable problem to solve without the aforementioned Kris Letang in the lineup, struggling mightily to string together enough passes to successfully transition from one zone to the next. The resulting zone exit numbers spanning this year's post-season run aren't pretty – nary a Penguins defenceman has moved the puck across the blue line while maintaining possession on at least half of his respective tries, with most falling well short:
| Player | Games Played | Exit Attempts | Exit % | Possession % | Fail % |
| --- | --- | --- | --- | --- | --- |
| Justin Schultz | 19 | 110 | 89.1 | 48.2 | 10.9 |
| Trevor Daley | 19 | 100 | 90.0 | 44.0 | 10.0 |
| Chad Ruhwedel | 6 | 44 | 88.6 | 40.9 | 11.4 |
| Brian Dumoulin | 23 | 179 | 83.2 | 36.8 | 16.8 |
| Ian Cole | 23 | 150 | 82.7 | 35.3 | 17.3 |
| Olli Maatta | 23 | 188 | 82.5 | 31.4 | 17.5 |
| Ron Hainsey | 23 | 161 | 85.1 | 29.8 | 14.9 |
(All of the data was tracked by yours truly. You can read up on it more here if you feel so inclined. As a quick explainer: an exit with possession is one where the defenceman either carries the puck out of their own zone successfully or completes a pass to a teammate, whereas a failed exit is one that results in the puck staying in the defensive zone, either due to a turnover or an icing call.)
The effects of their No. 1 defenceman's absence can't be overstated here. Beyond just the obvious loss of everything he directly contributes himself, there's also a cascading effect that plucking him from the lineup has on everyone else in the pecking order as well.
I'd posit that it's almost certainly not a coincidence that his regular defence partner Brian Dumoulin's play has dropped off in the process. With opposing forecheckers not having to account for Letang's unique speed and skill, the margin for error has shrunk dramatically now that he has less time and space to operate with.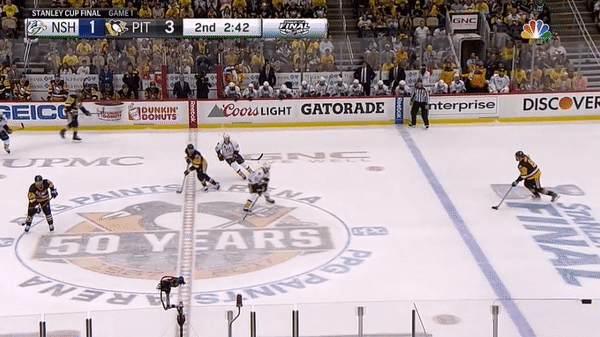 Unfortunately, the bigger overarching issue is that he's hardly been the only one in the ground having a rough go of it this post-season.
Olli Maatta was once considered a blue-chip prospect, but presumably because of the unfortunate string of injuries and health concerns that have plagued him he hasn't developed nearly the way he was expected to. Whether he's had the puck on his stick or just too busy been chasing it, he's managed to continue being a total adventure in his own zone every step of the way: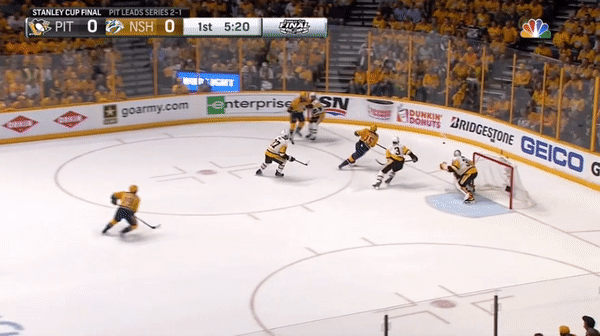 Dumoulin's new partner, Ron Hainsey, is a fine enough depth defenceman when used in moderation and on specific occasions. But out of necessity he's being asked to do too much at this stage of his career, and he's wilted under those demands. He's emblematic of the dire situation the Penguins find themselves in on the blue line, where everyone is suddenly being relied upon to step up and shoulder a workload that they're ill-equipped to succeed under.
No one has struggled more than he has to break out with possession of the puck, with those attempts all too frequently being grenades off his stick that either:
• immediately result in a turnover: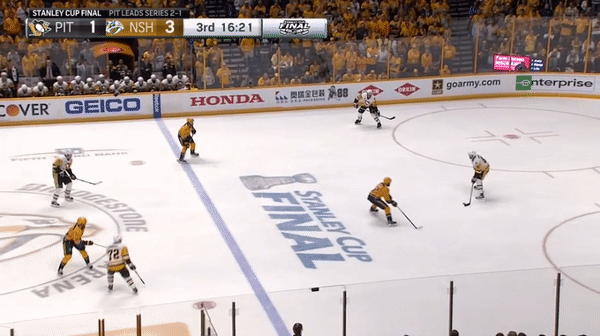 • act as aimless clears without any particular target in mind. Those attempts technically leave the defensive zone and get out of harm's way, but also inevitably wind up coming right back, presenting a new set of challenges to deal with for the same defenders who are now tired and scrambling: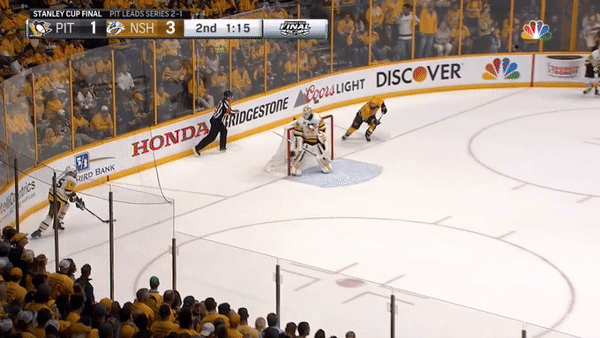 The overall inability to successfully switch gears from defence to offence on a consistent basis is hardly a new thing for this unit. It's something that's been building for a while now, but because they've been able to bridge the gap and get by in other ways it ultimately hasn't mattered.
Until they ran into this specific Predators squad that's perfectly constructed to feast on those errant breakout attempts with an escalating frequency. Whereas Ottawa's vaunted 1-3-1 did an admirable job of slowing the Penguins down through the neutral zone and forcing possession changes, Nashville's aggressive pressure has taken it a step further by directly converting into dangerous scoring chances and goals.
Which is why it'll be fascinating to see what adjustments Mike Sullivan and his coaching staff make to try to reverse course and tend to these issues in advance of Game 5. I'd suggest Mark Streit as an in-house option that could provide a different puck-moving dynamic if given the chance, but there's presumably a reason he's been sitting up in the press box eating popcorn for the majority of this post-season even as this current group has stumbled all over itself.
One other wrinkle worth exploring might be the idea of throwing their floundering defencemen a life raft in the form of having their forwards make a concerted effort to sag back deeper in the zone and help facilitate the breakout themselves: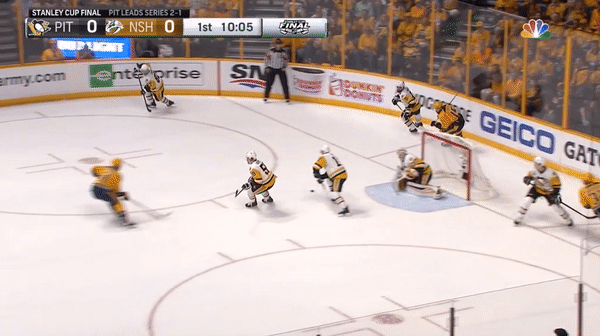 While it looks pretty when it works, it's not without its flaws as a breakout scheme either. It's a lot to ask of your forwards physically, and it also run the risk of devolving into one attempted herculean solo effort after another which becomes easier to hone in on and defend.
Though to be fair if anyone is able to pull it off anyway it's Sidney Crosby and Evgeni Malkin. And at the very least you're putting the puck and your fate as a team in your best players' hands and living with the result, whatever that may be.
Whichever route the Penguins do decide to go, it's rather clear that status quo is no longer a tenable option. It's imperative that they find a way to throw a wrench into Nashville's punishing forecheck and even out an ice surface that's tilted in the one direction as currently constructed, or risk seeing it be their eventual undoing.
They've got the weapons up front, now it's just a matter of whether they'll be able to load them up with the ammunition necessary to allow them to be used the way they were intended to be.