The Ottawa Senators, Pittsburgh Penguins, and Vegas Golden Knights completed a trade on Friday that is extremely complex and doesn't really make any sense at all, unless you're Pittsburgh.
Chris Johnston broke down the details of the trade, which was actually multiple trades, and all the effort that went into it, but in the end the most important thing is the Penguins got Derick Brassard for 60 per cent of his remaining salary, Vegas retained that 40 per cent and got very little to do so, and the Senators got a late first-round pick, downgraded their third-round pick, whatever they flip Ian Cole for before Monday, and goaltending prospect Filip Gustavsson.
Brassard, who is on pace for 54 points this season despite playing for the sixth-lowest scoring team in the NHL, has another year on his contract after this one, and will cost the Penguins just $3 million in cap space next season, which is incredible for a high-end second-line centre.
In the rankings project I published in September, Brassard finished as the 36th-best centre in the NHL, comparable to players like Eric Staal and the recently acquired Matt Duchene. To have a player of that calibre for $3 million per season is quite the obscene steal.
Brassard had a rough offensive season last year, scoring on just 7.2 per cent of his shots on goal, and a few people balked when Pierre Dorion said he was Ottawa's best forward analytically, but there was a strong argument to be made that his statement was true, though I'd still go with Mark Stone.
Looking at Brassard's underlying offensive numbers this season, the Penguins are likely very happy right now.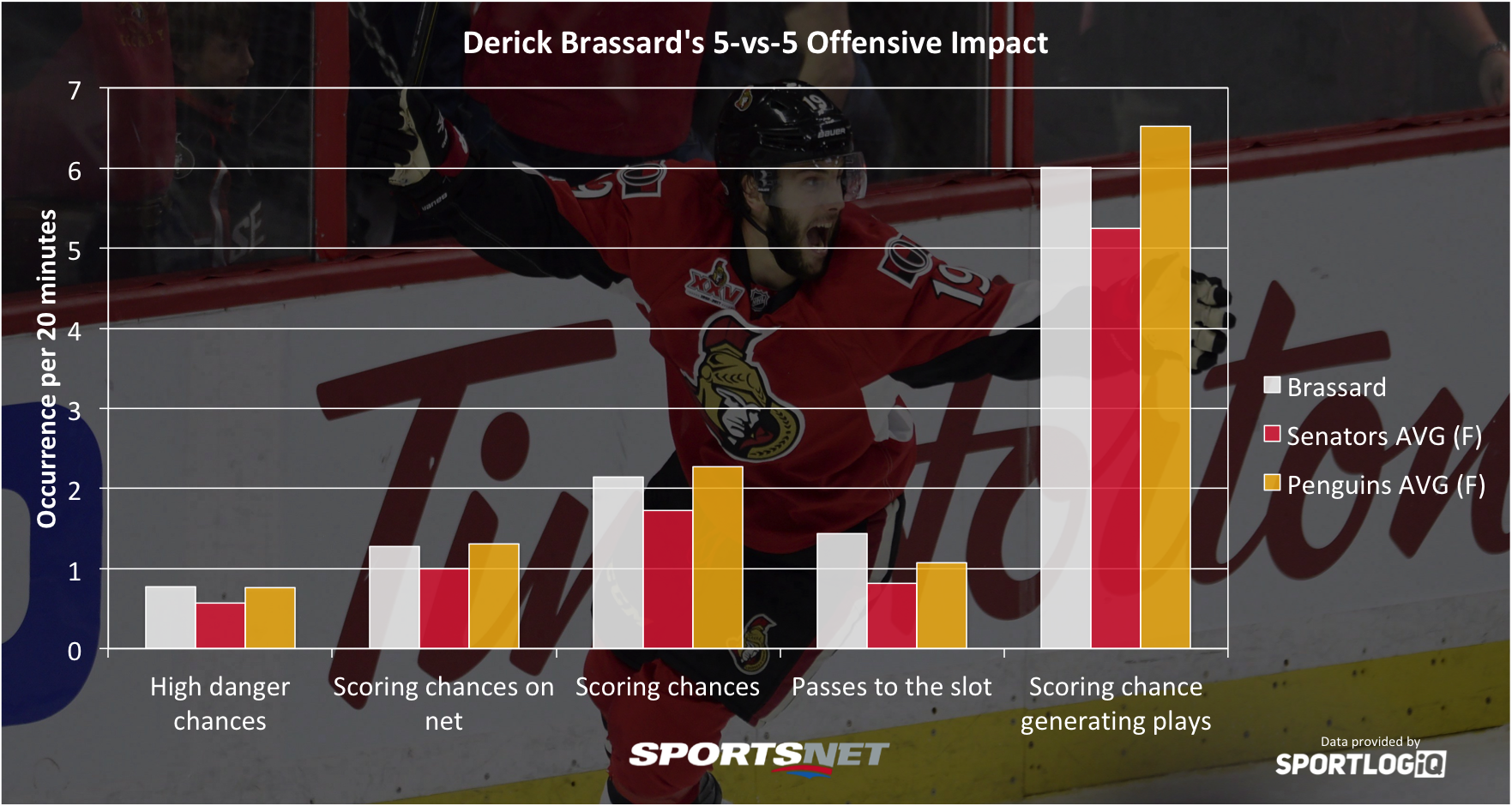 The Senators don't generate much offensive zone time at 5-on-5 (they rank 30th with just 36.7 per cent of their even-strength ice time spent in the offensive zone, while Pittsburgh ranks fifth at 40.3 per cent), and as such it's harder for Brassard to get many scoring opportunities, but he's way above team average both in shot production and playmaking ability at even strength, which should lead to even more impressive offensive numbers with a Penguins team that has the second-most dynamic even-strength offence in the league after the Toronto Maple Leafs.
The combination of the hockey version of a rising tide that lifts all boats and the fact that Brassard is now going to be facing third-line competition looks excellent for both him and the Penguins. Considering that the Penguins often slot Phil Kessel on their third line to get a matchup advantage, he may not even experience a downgrade in linemate quality.
Depending on what kind of package the Senators get for Ian Cole, the return for a centre of Brassard's quality so far is extremely underwhelming, especially when you consider that they gave up a similar player who is five and a half years younger in Mika Zibanejad for Brassard just 19 months ago.
That part of the trade is confusing, but even weirder is Vegas facilitating the whole thing and essentially paying over $2 million in cash for a few games of Ryan Reaves, who is a bottom-of-the-lineup player, and a fourth-round pick.
Jim Rutherford should get an award for whatever he did to convince both Pierre Dorion and George McPhee that this was a good idea.
Then again, maybe Reaves will pull a William Karlsson and score at a 40-goal pace in the playoffs – everything Vegas touches so far turns to gold.
[relatedlinks]