The struggles of Justin Schultz are a microcosm of the problems that the Edmonton Oilers as a team face. It's not just that he struggles to score while being billed as an offensive weapon, a problem which is endemic in Edmonton, but rather that his career path captures a recurring problem for the team: Its players (with a few notable exceptions) don't seem to develop.
This isn't a new problem and it's not confined to a single coach; indeed, shuffling through five head coaches since 2008-09 is a significant part of the problem. From a group that started with Sam Gagner, Andrew Cogliano and Robert Nilsson, and continues to today's duo of Schultz and Nail Yakupov, many of Edmonton's best young players have started strong only to fall-off badly.
---
More NHL on Sportsnet:
Subscribe: Rogers GameCentre Live
Rogers Hometown Hockey | Broadcast Schedule
Sportsnet Fantasy Hockey Pool
---
Let's rewind to that first group. In the summer of 2006, the Oilers were decimated by free-agent defections and by a trade request from No. 1 defenceman Chris Pronger. The team opted to ship Pronger out for a rich package composed primarily of futures; the word "rebuild" wasn't used at the time, but it doesn't take a rocket scientist to figure out that trading a guy like Pronger for a bunch of kids is exactly that. The club struggled in both 2006-07 and in the first part of '07-08, but rode some wacky shooting percentages, a shootout hot streak and Mathieu Garon's lone competent NHL season to a strong finish. That left a lot of optimism in Edmonton, spawned my all-time favourite rose-coloured glasses hockey column, and had then-general manager Kevin Lowe talking up his team.
"Our goal going into the season was to try to make the playoffs, and to also be in a development year," Lowe said at the time. "We didn't accomplish the playoffs—it was a good effort by the boys—but we had probably our best development year in 12 or 15 years. I can't wait for next year."
With his team on the upswing, Lowe turned the franchise over to long-time hockey man Steve Tambellini to manage and moved upstairs into a role less-focused on the day-to-day. It didn't work out, for lots of reasons. We've talked about the smoke-and-mirrors aspect to the Oilers' strong finish, and of course Tambellini helped contribute to the fall, but one key aspect was a lack of development from the four young forwards who played such a key role in 2007-08.
Thanks to the strong work of people like Gabriel Desjardins we know that most forwards hit their scoring peak around age 25 or 26. The biggest gains are made at the youngest ages, so we expect to see steep gains in early years, followed by more modest ones as a player enters his mid-20s. But that isn't at all what happened in Edmonton.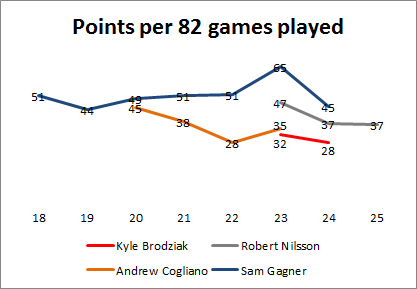 The chart above touches on the careers of the four players who were supposed to be key building blocks for the team. Gagner, sixth overall in '06, was the most critical, and consequently the most disappointing; he broke into the league as a 50ish-point kid with defensive problems at age 18 and exited Edmonton in a trade for a bad contract as a 50ish-point man with defensive problems at age 24. Cogliano, 25th in '05, started brilliantly but tailed off; he was shipped to Anaheim for a second-round selection. Nilsson, 15th overall in '03, had problems away from the puck and ended his career as a buyout; he's since disappointed in Russia and Switzerland.
Watching four promising young players stagnate and ultimately get shipped out for nothing much is a heavy blow for any franchise, but the Oilers' misfortunes didn't stop there; a long list of young players showed promise before ultimately crashing in Edmonton:
Reclamation project Gilbert Brule scored 37 points in 65 games at age 23 in '09-10 (a 47-point pace); he'd play his way to the minors and ultimately get claimed on waivers by the Coyotes.
2009 No. 10-overall pick Magnus Paajarvi scored 34 points in 80 games at age 19 in '10-11 (a 35-point pace) and did it while providing surprisingly capable defence; he'd play his way to the minors before finally being traded to St. Louis.
European scorer Linus Omark had 27 points in 51 games at age 23 in '10-11 (a 43-point pace); he'd play his way to the minors before getting dealt to Buffalo for a conditional pick.
2009 second-round pick Anton Lander played 56 NHL games in a defensive role at age 20 in '11-12 as a first-year North American pro; he'd end up in the minors the next year and in the two-and-half seasons since has yet to match that total.
2012 No. 1-overall pick Yakupov scored 31 points in 48 games at age 19 in '12-13 (a 53-point pace); in the 87 games since he's managed only to equal those 31.
Highly touted free-agent addition Justin Schultz put up 27 points in 48 games at age 22 in '12-13 (a 46-point pace) after dominating the AHL during the lockout; he has 43 points in 97 games since and his defensive game hasn't progressed one iota.
2010 second-round pick Martin Marincin played in 44 games, mostly on a shutdown pairing at age 21 last season, posting brilliant possession numbers and a remarkable minus-two rating on a miserable team; he was cut by the Oilers out of training camp this year and has struggled badly since being recalled.
The staggering thing about the list above is that we aren't talking about scouting or even minor-league development; we're talking about players making the jump to the NHL, showing something, and then collapsing like a dying star. There are some notable exceptions to the trend—Taylor Hall, Jordan Eberle and Ryan Nugent-Hopkins (though his overall game has improved by leaps and bounds, but his scoring hasn't moved with it)—but even ignoring those three we're looking at close to a dozen players who flashed excellence (or at least competence) and then tailed off.
These are individuals, and as such there is no single overarching factor that has derailed each and every one of them, and in some cases (notably Nilsson and Brule) there were good reasons to question whether they were ever as good as they looked at first glance. But there are some common factors at play in many of these instances.
One critical item is coaching instability. Gagner is the poster boy for this; in a seven-year Oilers career he had five head coaches and never had the same one for more than two years at a time. It's not hard to draw a straight line between the revolving door behind the bench and Edmonton's problems developing players.
Another problem is rushing players to the NHL. Edmonton has been a bad team for a long time, and has turned to youth to solve their problems. It's not a healthy dynamic, rather, it's a nasty, self-defeating cycle. One the Oilers can't seem to break, as the decision top pencil Leon Draisaitl in as second-line centre even before training camp this season demonstrates beautifully.
The Oilers are using the NHL as a development league. That's bad. If it is to be used as a development league, it's important that players are handled carefully and consistently; instead Edmonton have tossed them in the deep end and for good measure shuffled coaches on a semi-annual basis. Watching the team operate is a master class in how a losing environment can be perpetuated.